Long-running roots supergroup gets royal reward of guest stars, on new album and at Massey Hall on Saturday.
Nick Krewen
Music, Thu. Feb 23, 2017
Those Nashville connections continue to pay sweet dividends for Toronto-born Colin Linden and Blackie and the Rodeo Kings, who kick off a 14-date cross-Canada tour at Massey Hall Saturday.
Linden, 56, who also resides in the town that the country-music business TV soap opera is christened after, has been with the program since its 2012 inception, frequently appearing as a guitarist and bandleader.
Brought on board by then-executive music producer T-Bone Burnett, with whom he collaborated on Bruce Cockburn's 1994 album Dart to the Heart and the 2000 bestselling film soundtrack O Brother Where Art Thou?, Linden has struck close relationships with both the cast and guest talent that has performed on the show — a perk that came in handy when tapping guests for the Canadian music roots supertrio's latest album, Kings and Kings.
The testosterone-fueled sequel to 2011's Kings and Queens — which featured duets with such musically compatible vocal femme fatales as Lucinda Williams, Emmylou Harris and Toronto's Holly Cole — Kings and Kings' dozen songs rely heavily on the Music City contingent. That includes country superstar Eric Church, Grammy winners Vince Gill and Rodney Crowell, ex-Drive-By-Truckers singer Jason Isbell, Mavericks' lead man Raul Malo.
The last track on the album features vocals from "the men of Nashville" — cast members Jonathan Jackson, Chris Carmack, Charles "Chip" Esten and Sam Palladio. The latter two will join the Blackie crew onstage Saturday — just one more bit of good fortune surrounding this band.
"It's been wonderful in so many ways," notes Linden, who formed Blackie and the Rodeo Kings in 1996 with Hamilton native Tom "Lee Harvey Osmond" Wilson and Vancouver's Stephen Fearing in honour of folk singer Willie P. Bennett.
"We had a long list of people who would be wonderful — a dream list — and in some ways, once I heard the material, I began coming up with some ideas of who might be great for what."
In a separate interview, Tom Wilson said that besides convenience, the reason Kings and Kings is "a Nashville-centric album" was familiarity.
"That community has embraced us to a certain extent," Wilson claims. "They like what we do. They're fans of ours, and that's really why a lot of phone calls were made to those people on the record. Same with Kings and Queens — because they're fans of the band.
"There's a lot of obvious choices in our community that we could have called, but most of them wouldn't piss down our throat if our stomach was on fire. So what are you going to do? You're going to go to the people that are fans. I'm not saying that Vince Gill is completely honoured to be on the Blackie and the Rodeo Kings record, but he's enough of a fan to say, 'Hell, yeah, I'll be right over.' "
Not all guests hail from or live in Tennessee: Bruce Cockburn, Dallas Green, blues singers Keb' Mo' and recent Grammy winner Fantastic Negrito also chime in, as well as one both Wilson and Linden seem particularly pleased to land: Nick Lowe.
"When we were cutting 'Secret of a Long Lasting Love' — even before the tape stopped running — Stephen said, 'Wouldn't it be great to get Nick Lowe on that?' " Linden recalls.
Wilson adds, "It was Stephen's song that we sent over to him. When it got sent back, I thought, 'Holy f–k — this sounds like a Nick Lowe record, something that would be off (Lowe's 1990 album) Party of One. When I was asked my opinion, I said, 'Don't touch it. None of us — none of us — needs to be singing this song. It's done.' Stephen sang some harmonies on it. For me personally, that's a shining moment on the whole record."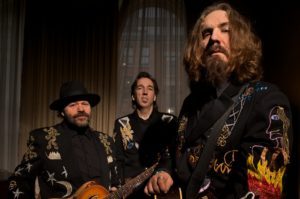 As for Linden and Wilson, who — along with Fearing — have thriving solo careers, Blackie and the Rodeo Kings represents a dream of a busman's holiday. A laughing Wilson spells out why:
"The freedom of not having to go out and play hits and being semi-successful — having one foot in success and one foot in the ditch — serves you well at this time in your life, because you can really fulfil why it is you became an artist — which really is to do whatever you do when you want to do it."
Says Linden: "There's nothing like Blackie and the Rodeo Kings in my life. I love it so much, not the least of which is because it was put together in honour of Willie P. Bennett, who was such a great friend (he died in 2008).
"But I love the freedom that it represents: There's no pretense of us having to do our own songs. It's afforded us to have a chance to a broader audience than we have in our own worlds and it blows me away that we're doing all of these wonderful concert halls and we haven't toured in several years."
For Massey Hall, Nashville cast members Esten and Palladio won't be the only guests.
"I'm not being coy," says Wilson. "There are a couple of people who can't be announced and they're going to be walk-on guests. But these Nashville guys — they can sing the deer guts off a doornail. They're just deadly, talented singers."
Blackie and the Rodeo Kings see TV ties pay off on album and in concert | Toronto Star