Icelandic vocalist completes wintry vibe on Montréal DJ's ambient new album, which spurs creative Rivoli shows this week.
Nick Krewen
Music, Jan. 26, 2017
Eric San, a.k.a. Kid Koala, is a seasonal guy.
For example, the Montréal-based DJ, musician, turntablist and graphic novelist says that he sees music to draw to: satellite, his new ambient Arts & Crafts album featuring Icelandic singer Emiliana Torrini, as a "winter" record.
San, who is enjoying a four-night, seven-performance run at the Rivoli that ends Saturday with a pair of shows, says he's often affected by his environment — for this album, a cold, snowy one.
"It's a balance thing and if you live in Montréal, you do have to weather the five months of winter here — zero (degrees) temperatures and several feet of snow.
"Everything changes: the tempo changes, the sounds in the city change. I think a lot of the music is just directly inspired by that."
San, who has collaborated with everyone from Gorillaz to The Preservation Hall Jazz Band in his roles as DJ, performer and mixer, says satellite is also inspired by some of the albums in his personal record collection that he calls "drawing" records, including lamented Virginia indie rockers Sparklehorse's It's A Wonderful Life and British electronic music duo Isan's Lucky Cat.
"These are records that I can travel with or I can just put on and recycle them if I'm working on a graphic novel or an animated film and I'm trying to stay in the zone, specifically, for several hours," San explains. "I would put on one of these drawing records.
"It was my intent to do one of these records that would hopefully serve somebody to get into a more creative state."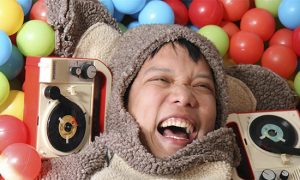 San's creativity sometimes extends itself to the format of his performances, and his stint at the Rivoli is no exception. Wednesday's shows featured an invitation for illustrators to come and sketch to his music; the rest of the run are "satellite concerts," in which the crowd is invited to join in with the performance, via 50 turntable stations in the audience.
The 18 songs on satellite include tranquil instrumentals, sustained musical tones and serene vocals, with San finding Torrini — who sings on seven songs — to be his ideal muse for this venture.
"I'd met her over a decade ago, but we never had an opportunity to work together until 2014," San recalls. "At one point, I submitted this track called 'Nightfall' and Jason Reitman, the director, called me and told me he wanted to use it in his film Men, Women & Children. Then he wanted to reprise it in the credit roll, but he wanted to hear a totally different version with vocals.
"So he was the catalyst."
Torrini wrote the lyrics for the reprise, entitled "Nightfall Pale Blue" and San figured they should do more.
"I've been a fan of her voice since her first record, Love in the Time of Science," he proclaims. "She's one of those really delicate singers . . . she often sings whisper quiet . . . everything really hushed, but she's able to bend all these notes and get all this feeling out of a pretty low decibel level.
"Seeing that a lot of the tracks were ambient and inspired by winter, I was searching for somebody who could get into that headspace. Being from Reykjavik, she knows what a winter vibe is like. The idea of having four hours of daylight was the kind of the zone I was trying hit."
For the Rivoli shows, San — who performs the show with fellow musician Felix Boisvert and visual "chemical puppeteer" Karina Bleau — converts his audience into a turntable orchestra.
"How do we play this wintery, purposefully slow music without putting the audience to sleep?" San wondered. "I didn't want to play to a standing room where they're watching me turn a knob and create a nuance, which is how this record was made.
"So we decided to do seated shows and task the audience with helping us create some of these ambient pieces. There are 50 turntable stations in the audience and one or two audience members per station.
"There's a collection of colour-coded custom tone records that I created, using synthesizers or mandolins or certain tones that I actually use on the album. There's an effects pedal and a fader, so we can play with dynamics such as amplitude, and we have these lights that we can wirelessly cue every station in the room.
"So it's part of a collaborative effort to create really nice crescendos and builds in the music. The audience becomes an ambient orchestra."
Torrini won't be at any of the shows, due to a conflicting European touring schedule and life as an expectant mother.
But San says he's using a magnetic card technology to reproduce her vocals in spirit.
"She's just got one of those voices — what can I say?"