Meaning of Life is a departure for the American Idol winner — one she's been waiting for.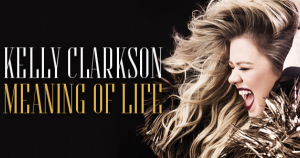 Nick Krewen
Music Mon., Oct 30, 2017
"Character, sass and attitude."
Powerhouse singer, American Idol alum and current The Voice judge Kelly Clarkson nails a description of her new Meaning of Life album, just released, in just four words as she sits across her from her interviewer, resplendent in a black dress.
While she might be succinct with her summary of her eighth album, the 35-year-old Texas native has been long in patience, telling the Star during a recent Toronto visit that this 13-song effort is the one she always wanted to make.
But shouldn't a superstar who has topped the charts with such hits as "Since U Been Gone," "Stronger (What Doesn't Kill You)," "My Life Would Suck Without You" and "A Moment Like This" — selling more than 24 million albums and 36 million singles in the wake of three Grammy Awards — be enough of a proven commodity that she'd be able to dictate the terms of her output?
"Well, I just got out of my Idol contract," Clarkson admits, citing a 15-year relationship with RCA Records due to winning the reality TV music show's very first season.
"It was an arranged marriage — and a very successful one — but I fulfilled a particular lane for that label. Luckily, it wasn't that I hated my life. I like pop/rock and I like a lot of genres, but I sang soulful pop on Idol the entire time, so I don't think (Meaning) is going to be a shock for my fans."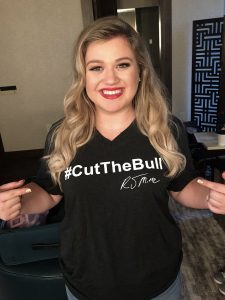 That particular RCA lane didn't include what Atlantic Records saw in her when she started the search for a new label home.
"Whenever I went to meetings with Atlantic and asked them what they wanted to do with me, they were like, 'Man, we'd love to make an album like if Aretha (Franklin) were coming out now in 2017, what would that sound like?'
"And I asked, 'Where do I sign?' "
Clarkson then played them the song "Meaning of Life," a gospel-tinged, rafter-booming soul anthem co-written by Jesse Shatkin (Sia's "Chandelier") and U.K. artist James Morrison that she had been holding for consideration since her final RCA album, 2015's Piece by Piece — and was buoyed by Atlantic's response.
'They flipped out on it and said, 'This is perfect, because it's hard to switch gears with people that have heard you for 15 years singing 'Because of You,' 'Already Gone' and 'Stronger,' etc.' It was a nice song to be able to set the bar for the album."
In terms of Kelly Clarkson albums, Meaning of Life is a bit more brazen, with barn-burning soulful blasts like "Love So Soft," "Whole Lotta Woman," "Didn't I" and "I Don't Think About You" providing plenty of grit and sweat.
Which brings us to the overall reason Clarkson — who performs at the Air Canada Centre on Dec. 9 as part of the iHeartRadio Jingle Ball — was eager to produce an album like Meaning of Life.
"Really, my goal was to showcase my vocals so people will stop telling me, 'My God! I didn't know you could sing!'" she laughs.
"That's the entire reason I made this album. Because a lot of times I'd get mildly offended because I'd perform and people would be like, 'Oh my God, you can sing!' And I'd be like,' What?!'
"It was perplexing me, but then I get it, because when you sing a lot of pop/rock stuff it comes off almost like jingles. A lot of artists can do that. So with this album, I focused on making an album that maybe not everyone could sing, just the strength of my performance. Because that's my part in my art: I don't really fly or dance in concert . . . I love writing, I love singing and I really wanted this album to sound solid."
Either way, the mother of four (two by husband/manager Brandon Blackstock and two from his previous marriage) views this new work as a fresh start.
"I know it's funny but, 15 years later, I feel like a first-time artist," she admits. "It's my first time to pick my label; the first time to pick my entire team and like really go for it. And it's awesome to be at that point in your career, where if it does well awesome and if it doesn't, still awesome. I've been dying to make this for so long that I don't care either way. I'm just very happy."
On the horizon for Clarkson, beside a world tour to support the new album, is a spring 2018 appearance as a coach on The Voice, one of the myriad reality TV music competition shows that seem to be in vogue at the moment.
Clarkson, of course, is the original winner of American Idol, which ended its Fox Network run in 2016 only to be resurrected by ABC for 2018. The Nashville resident says she was approached to be a judge for the new show but had already committed to The Voice.
"I'm like, well, if I have to choose between my husband, who manages Blake Shelton and has to leave us, and our family can all be in the same place, I'm obviously going to choose that," Clarkson explains. "Honestly, I've given 15 years of my life to Idol; I've gone back every season pretty much and I'm so proud of my start, but I'm also pretty excited about sitting in a chair and not seeing or worrying about the esthetic appeal of someone, and just listening.
"Because I love music. I grew up without MTV. I loved artists because I listened to them, which is what I feel like music should be."
With the reality TV music scene seemingly heating up again — besides Voice and Idol, Canada is preparing its own program The Launch and NBC has green-lighted another one called The Stream — is there a chance all these programs may suffer from audience fatigue?
"Well, when are y'all going to stop watching them? "she retorts. "And the other question is, why aren't people more famous from them? And that's because there's a frickin' plethora of them now."
Clarkson agrees that music is often the last concern with viewers.
"I'm going to be honest with you right now: I am 99 per cent of the time told that it wasn't even my singing that drew them to me. People are like, 'Oh, I loved your personality.' It wasn't always about the singing, it's about the selling. But if you think about it, that's also what happens in the industry. That's why some people make it and some people don't, because people gravitate toward them as a person as well. Like country music, for instance, the whole genre is based on lifestyle.
"I will say you're lucky when you get to do it the way I did, because you have all this leverage. You have all these millions of people that already like you, though it's like, what are you going to put out? They're excited, they want something. A new artist doesn't have that. They don't even know you. You have to work for everything.
"There's always going to be a different door and it's whichever door comes in front of you."
Kelly Clarkson pleased that new album shows off her soul | Toronto Star