CUSTOM DESIGNED
 Nick Krewen
GRAMMY.COM
January 2005
Wish you could play the electric guitar like Angus Young or pound the drums like Mike Bordin?
While they may not be able to guarantee you a spot in the AC/DC or Ozzy Osbourne camps, major music instrument manufacturers like Gibson and Yamaha are striving to bring you one step closer to realizing your dreams with their exclusive lines of signature, custom-made instruments.
"It is our finest stuff," proclaims Henry Juszkiewicz, chairman and CEO of the Nashville-based Gibson Guitar Corp., whose product line also includes the familiar Epiphone, Kramer, Baldwin and Slingerland brands of musical instruments.
"Virtually every model that comes out of that business is hand-built because they're constructed in very tiny quantities. They are the vanguard of our production line."
And they appeal to the diehard fan, whether you're an aspiring musician or an avid collector. With the right amount of cash, you can wail along to "You Shook Me All Night Long" on your Gibson Angus Young Signature SG electric guitar ($1900) or use your Yamaha Mike Bordin SD-6455 MB snare drum  ($1079) to ride the rhythm of "Crazy Train."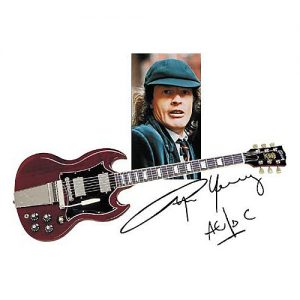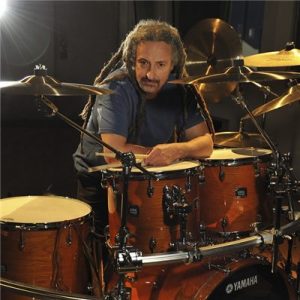 According to Joe Testa, artist relations of Yamaha Drums, the sound of a signature instrument is just as important as its appearance.
"When you're talking about a signature snare drum, it's supposed to capture the sound of that particular artist," explains Testa, whose division imprints include customized products by renown drummers Manu Katché, Dave Weckl and Steve Gadd. "If you're a fan of that artist, one would think that would help sell that drum. That's the thinking behind it."
Jimmy Chamberlin, the Smashing Pumpkins alumnus who recently launched a Yamaha signature snare drum of his own – the SD-2455JC ($699) – says reputation carries influence.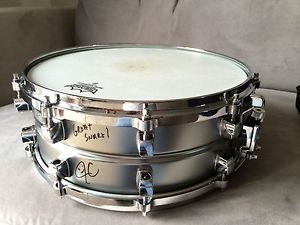 "One of my favorite drums to this day is an old Gene Krupa Radio King," states Chamberlin.
"As soon as you hit it, you know it's his drum.  That's what you do as a young drummer — you emulate your heroes. And anytime you can get your hands on some of their gear, it just gets you that much closer to the mark."
Gibson's Juszkiewicz estimates that custom and signature lines represent only a tiny fraction of his company's annual sales of $300 million – "less than 5%" – but the product associations with such icons as Jimmy Page, Paul McCartney, Emmylou Harris and Earl Scruggs offer instant credibility.
"To have an artist like Paul McCartney or Jimmy Page associated with Gibson just reminds people of the quality," says Juszkiewicz, "We acquire the professionalism and the musicianship of people like Les Paul — who at the age of 90 is still out playing every week — and B.B. King and Joe Pass, guys who are exquisite instrumentalists.
"Equally, the brand stands for excellence, and artists acquire some of that prestige through our relationship."
But are they paid for that relationship?
"We don't pay anybody to play Yamaha drums," admits Joe Testa. "Never have. Once you do that, you dilute the whole meaning of an endorsement. It's embarrassing to say, 'We had to pay this guy to play our drums.' Al Foster and Steve Gadd have been with Yamaha for 30 years because they really believe in the product."
That's not to say some financial consideration isn't a factor. When Paul McCartney agreed to partner with Gibson to issue his Epiphone Signature Texan, the former Beatle only warmed to the idea as a charity fundraiser.
"When we presented it to Paul in the right way, which incorporated benefiting Adopt-A-Minefield, it really made sense to him," says Pat Foley of Gibson Custom, Art And Historic, who liaised with the living legend on behalf of Epiphone.
"A signature guitar to him is an honor, but it's not something he needs to add to his legend."
When Serial No. 001 rolled off the production line 18 months and three prototypes later, Sir Paul auctioned the guitar and raised $50,000 for Adopt-A-Minefield.
An additional consumer incentive is the hands-on involvement of artists throughout the process. Jimmy Page personally selected and tested the first run of 25 Les Paul Honey Burst guitars – but not before spending years helping Gibson perfect the instrument.
"We did a Jimmy Page reissue that had a very unusual electrical set up involving a lot of switching," Henry Juszkiewicz recalls. "Getting it right took the better part of four years to satisfy him.
"But we're highly committed to ensuring that the instrument you buy is exactly the instrument the artist is playing. It takes a lot of work to do that."
Juszkiewicz says a Gibson custom-made signature guitar is also a good value for investor: just recently, Christie's auctioned a Gibson SG electric played by George Harrison for $567,500.
"On average our Gibson guitars have appreciated 12-17% annually," says Juszkiewicz.
As far as signature artists are concerned, Jimmy Chamberlin says the advantages of his Yamaha association range from access to a community of musicians to a natural outgrowth of his current career.
"As time goes on and I'm touring less, I'd like to wrap my head around more developmental drums and get more into the Yamaha R&D department," says Chamberlin, who premieres his signature snare on the Jimmy Chamberlin Complex's upcoming album Life Begins Again.
"But the snare drum is just the tip of the iceberg. We'll do more snare drums. Then ideally, I'd like to see a Jimmy Chamberlin kit down the road."