"I think he would actually enjoy this show," says the Ontario musician of Bowie, who died a year ago Tuesday.
Nick Krewen
Music, Mon.,  Jan. 9, 2017
Canadian singer and songwriter Emm Gryner has crossed the border this week to pay tribute to an old friend on the anniversary of his death.
The Sarnia native is travelling to New York City to participate with other band alumni on Tuesday in Celebrating David Bowie, billed as "A Very Special Concert with Bowie People Playing Bowie Music Bowie Style."
"I think he would actually enjoy this show," Gryner says.
Bowie, who hired Gryner as a backing singer and keyboardist for his 2000 promotional tour and a headlining Glastonbury appearance, died at 69 of liver cancer last year, two days after his birthday and the surprise release of his final studio album, Blackstar.
Gryner is looking forward to the reunion.
"There is the personal side of it," she admits. "I'd like to see the old band, and see Holly (Palmer), who was my best friend during that time of touring. I haven't really looked fondly on a lot of tributes, but this one, I felt it was put together so well in every city, and it looks great and sounds great, and those things are reminiscent of the shows I did with David as well . . .
"Plus, we all got to know each other well. It'll just be really nice for me to say hello and give people a hug. They're all lovely people and they loved David so much."
Set for Terminal 5 in New York's Hell's Kitchen, the tribute will find Canada well-represented. Appearing along with Gryner will be Chris Hadfield. The former International Space Station commander, responsible for the first music video recorded in space — Bowie's "Space Oddity," performed from the International Space Station on May 12, 2013 — will be joining Gryner to play "A Better Future" from 2002's Heathen.
The New York show, which will mark Gryner's only appearance of the world tour, will be the second of six performances to benefit arts education.
The first, hosted by actor Gary Oldman, a close Bowie pal, was held Sunday night on Bowie's would-be birthday at the Brixton Academy in London. Further shows featuring the core group — including guitarists Adrian Belew and Earl Slick, drummers Sterling Campbell and Zachary Alford, bassist Gail Ann Dorsey, pianist Mike Garson, keyboardist Cat Russell and vocalist Holly Palmer — will be held in Los Angeles, Sydney and Tokyo.
"I don't want to say that I knew him that well, really, but the small glimpses that I had of him were always infused with humour," says Gryner. "And a very keen awareness for new music. I remember last summer (2015) we were trading emails about Destroyer.
"I told him, you've gotta hear this new song called 'Times Square'  and he said, 'I just downloaded that!' I think, in some ways, sharing that same musical taste was so cool to me. Just enthusiasm — I think he had that right up until the end."
Unlike many who might have found themselves in the position of being part of the legendary Bowie's touring entourage, Gryner didn't have stars in her eyes when she was hired for the gig back in 2000.
"I always say I was the least qualified person to be in the band, because I never saw myself as a singer: I saw myself as a songwriter who wanted to sing her own songs," recalls Gryner, who had released four solo albums and enjoyed a Canadian hit with "Summerlong"  by the time she was recruited as support singer and keyboardist.
"I was touring in New York at the time, and the Bowie band was looking for another backing vocalist. Holly Palmer was already in the band. She was a new member . . . We became friends and she recommended that I go for this, and I always think it's better to say 'Yes' to things than 'No' usually.
"I figured I'd also learn something. It wasn't like I wanted to be a backing vocalist. So I said yes and the next thing that I know we're on Saturday Night Live."
Gryner, who dated Bowie's son, filmmaker Duncan Jones, for a spell, admits that she wasn't really intimidated by the star — at first.
"I think that sort of developed as I continued on with the band," she admits. "I'm more of a Peter Gabriel person. I was in awe of him at that time. So I really wasn't aware of Bowie's extensive back catalogue. I kind of knew the '80s songs, so I didn't put him on a pedestal.
"And then as we played in front of audiences, it became clear what his effect is on people and how extraordinary he was as a performer. Then he'd tell stories about the '70s and '80s, and it was getting a firsthand account of his history. Then it became like, wow, this is a very special person. I think everyone had their moments of feeling in awe of him.
"At the same time, he would put some people in their place and say, 'Oh, don't be so much of a fan!'" she laughs.
Gryner performed 18 months with Bowie, divided into a couple of promo tours for his album …hours.
Years later, when astronaut Hadfield wanted to perform "Space Oddity," he had reached out to Bowie through his old friend Gryner to seek permission.
"At first, we weren't sure what was going to happen — whether it was going to be a song or a video or whether it would be kept private because of space agency rules, but Chris wanted to make sure it was OK with David that it was going out," recalls Gryner, who played piano on and helped arrange the track.
"With one month left in orbit for Chris, I just sent the song, which we had done by then, to David. He wrote back and c.c.'d his whole team and he said, 'What can we do to help the Astroman?' "
She laughs.
"When it finally came out, David said on his website that he thought it was the most poignant version of the song ever recorded. So I know that he was happy about it."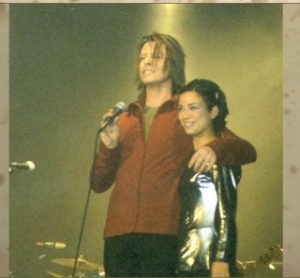 Gryner and Bowie remained email pals up until his passing, and said she had found out about his death through Holly Palmer.
"I was just getting out of bed in the morning and I got a text from Holly, but it didn't say what had happened — it was just a bunch of sad faces — so I thought, 'Oh, something's wrong with her at home.' Then I started getting all the messages and phone calls.
"I felt just shock and sadness. Because, like everyone else, we knew he had just put out Blackstar. He had emailed me a week before. I think it was less of 'I knew him for a little bit,' and more of that general, universal loss that everybody else felt. I haven't really been able to listen to Blackstar since.
"But I'm sure I will at one point and I'm sure the show will be healing in a lot of ways."
Emm Gryner joins David Bowie tribute in New York | Toronto Star