59th GRAMMY nominees Drake, Noah "40" Shebib, Nineteen85, Kyla, and others tell the inside story of the Album Of The Year-nominated Views
MAY 15, 2017 – 2:36 AM
If there's been a more exuberant ambassador for the city of Toronto than Aubrey "Drake" Graham, you won't find them on this planet. While the ever-prolific Drake continues to churn out rhyme after rhyme, rising to the summit of hip-hop's elite with his signature —  and inimitable — sing-rap flow, Drizzy's love of the Six (his affectionate nickname for Toronto) has been riding along in the passenger seat.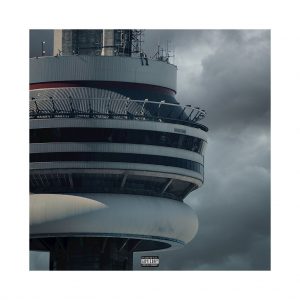 Initially titled Views From The Six, Views is a 20-track love letter to the city Drake holds dear, reflecting his views on relationships and the music industry, among other topics. He worked nearly two years on the album with more than 70 collaborators before he deemed it worthy of release, mixing in hip-hop, pop, dancehall, reggae, and almost everything in between.
Views, the top album in the United States. in 2016, selling 4.14 million album equivalent units according to Nielsen Music, spawned the smash 10-weeks-at-No. 1 hit "One Dance" (featuring Wizkid and Kyla) and offered Drake and his right-hand man, producer/engineer Noah "40" Shebib, a new benchmark to surpass.
Following is the inside story of Views, which was largely recorded in Shebib's Toronto studio. The cover of the album features Drake sitting on the edge of Toronto's 1,815.5-foot-tall CN Tower, fitting for a man who notched eight 59th GRAMMY nominations, including Album Of The Year.
1* –Drake (artist): The album is based around the change of the seasons in our city. So, it starts out in the wintertime and starts out with a song called "Keep The Family Close" and that was basically what I used to tie it all together — winter to summer and then back to winter again. It's just to show you the two extreme moods that we have, because we're very grateful for our summers, but we also make our winters work, and they're harsh. … You start to value your days a lot more when seven months of them are spent in icy cold.
It creates a different type of atmosphere; a different sound in the music. It creates a different type of person, even. And I thought it was really important to make the album here during the winter. I didn't run away from it. I didn't go to Miami or L.A. just because I can. I came here and made the album and witnessed it happen. … There's a lot of elements for us that are very unique to [Toronto], and I try to capture them not only in the actual music, but the layout of it as well.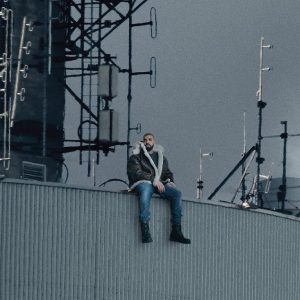 2* – Noah "40" Shebib (producer/engineer): I wanted people to walk [into my studio] and be overwhelmed. I wanted the city to feel a part of this place. I want it to be a very creative atmosphere so when you walk through those doors, immediately you feel comfortable being free [and] that creativity is accepted in this space.
1* – Drake: This album is probably my highest level of vocal performance. I was listening to Stevie Wonder "All I Do" and Alabama Shakes' "Gimme All Your Love" — these songs that really connected with me. I'd come off those two mixtapes [2015's If You're Reading This You're Too Late and What A Time To Be Alive] and it was about being in a club, about having the hottest joints. And this was more like, "What is a cohesive, incredible listening experience? What can I do for this generation to just take and create distance between myself and anyone else and do something that maybe no one else could achieve or accomplish?"
3* – DJ Dahi (producer): I made that beat [for "U With Me?"] maybe two years ago. [Ricci Riera and Axlfoliethc of production trio THC] gave me the beat, and I kinda finished it, gave it more texture, and just completed the idea. I think it's dope. I'm happy with it. When you make a beat and somebody could make it sound better, that's a plus.
4* – Murda Beatz (producer): I made the beat [for "With You"] in the studio with Party [featured artist/producer PARTYNEXTDOOR]. … It was one of the nights where we were just going crazy and I think we made like 12 beats that night and we banged out 10 records. I honestly just heard Drake's bars on the track when it came out. It's a good record. … Not to be biased, but I think it's one of the most fun, energetic songs on the album.
5* – Nineteen85 (producer): We were in London a couple of years ago for Wireless Festival and we kept playing "Do You Mind?" by Kyla, which I sampled on "One Dance." I wanted to figure out how to create that I-don't-care-who's-looking vibe, the vibe of those parties. "One Dance" makes you feel not embarrassed to dance, no matter who you're in front of. There's a void when it comes to that type of feel-good record nowadays — the songs that the Michael Jacksons of the world used to make. Drake always knows how to make people feel.
6* – Kyla (featured artist): I had a really good run with "Do You Mind?" and then Drake called.  When they got in contact, they were originally contacting me for the song for clearance. I didn't hear the track at the time and it was like, Drake's camp has been afraid of leaks, so they said, we'll play it over the phone — tell me if you like it. … We listened to the track and I was all over it. I asked them if they wanted me to rerecord it and they said, "Nope, this is out as soon as you give us the yes." They gave me four days to decide. Literally, as soon as I signed the paperwork, it was out the next day. It was so crazy.
1* – Drake: ["Too Good" featuring Rihanna] came to fruition after we did "Work." … She got in the studio and just bodied it. It was like flawless victory when she sent it back — every nuance, every cadence, everything was perfect. It's just another piece to add to our catalogue, which I'm very proud of. I think we do great music together. It's tough to do guy/girl collabs. … I think that's what makes those records better, though, because there's something genuine there. We're not forcing some story on people.
5* – Nineteen85: I was in my car, listening to a satellite station that plays a lot of smooth-rock deep cuts, and the original song ["Why Can't We Live Together" by Timmy Thomas] came on. By the time I got home, I had basically made the ["Hotline Bling"] beat in my head. 
7* –Timmy Thomas (singer/songwriter): I appreciate the fact that [Drake] used my first original track. … I heard some of the comments [of Nineteen85 saying] we used Timmy Thomas's version and everybody in the room said, "Man, that's it, that's the one." Then they listened to a lot of other beats, so that made me feel good to be able to talk to artists that were not even born that can relate to that type of feel from 1973.
8* – Chris Athens (mastering engineer): I didn't find out [about mastering Views] until about the week before [it was released]. It's very last minute. I think that's partially intentional. They'll tell me a week in advance, "Hey, man, sorry to do this to you, but we need you this weekend." [Editor's Note: Athens previously mastered Drake's If You're Reading This … and 2013's Nothing Was The Same] So I'm like, "OK, here we go, Drake record! It's gonna be a barn burner." Because it has a hard release date.
We got the music maybe 48 hours before it was supposed to be released, and we ended up changing everything about 12 hours before it was supposed to be released. Things changed right up until literally the last minute. I was sending the masters to the label and the label was like, "Come on, we're waiting." It was as late as you could possibly get.
2* – Shebib: It was just me and Drake wanting to do something different and to make a sound that we felt like was unique and it really resonated with people. But that's also the co-production of Drake on that level because he is a producer, by any means. And he's also responsible for that simplicity. He's also responsible for a lot of the sound that I'm heralded as creating, but we created together.
1* – Drake: I hope [Views] brings joy to peoples' lives. I hope that it opens peoples' minds to new things. I've always had this dream of a new set of music that just creates this rhythm like what "One Dance" was — just bringing joy to people is pretty much my goal with this album. 
1. As told to Beats 1 Radio
2. As told to Native Instruments
3. As told to Genius.com
4. As told to XXL
5. As told to Billboard
6. As told to Billboard's "Pop Shop" podcast
7. As told Nardwuar The Human Serviette
8. As told to MTV.com
Edited and condensed for continuity and clarity
Nick Krewen is a Toronto-based journalist and frequent contributor to the Toronto Star and SOCAN's Words And Music. He is also a co-author of Music From Far And Wide and a contributor to The Routledge Film Music Sourcebook. He's a former associate editor of Country Music and was a consultant for the National Film Board's music industry documentary Dream Machine.
Tune into the 59th GRAMMY Awards live from Staples Center in Los Angeles on Sunday, Feb. 12 at 8 p.m. ET/5 p.m. PT on CBS.