NICK KREWEN
The Hamilton Spectator
March 30, 1995
Al Yankovic is a lonely guy.
No wonder he's turned Weird. Who'd expect an individual with an enviable collection of loud Hawaiian shirts and a pathetically sick sense of humor to be the musical equivalent of the Maytag repairman?
Who'd figure that a guy who uses the accordion to provide such parodies of public pleasure as Jurassic Park — a claymation spoof on the Steven Spielberg movie using the music of "MacArthur Park" — and "Eat It" — the edible answer to Michael Jackson's "Beat It" — would be less popular with the ladies than Hugh Hefner's gardener?
Certainly not this writer. Alas, another myth shattered.
"My accordion has kind of always been my main squeeze," says Al, speaking over the phone from El Lay.
"I just live by myself here in the Hollywood Hills with my faithful companion, Harvey The Wonder Hamster."
A slight pause follows, and suddenly, there's the unmistakable sound of a 35-year-old bachelor sobbing over the phone.
"In fact, I'll probably be crying myself to sleep about it again tonight. Thank you for bringing it up!"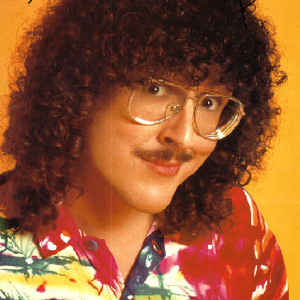 Poor Weird Al. At least Yankovic knows where to lay the blame. It all began when he was a young lad of 13, when his parents pushed him towards polka instead of Pink Floyd, accordions instead of air guitar.
"My parents gave me lessons when I was a kid. They told me that if I played the accordion, I'd be a `chick magnet'," reports Al.
"I trusted them."
These days, the accordion is bringing him nothing but trouble and money. The cash is from a string of farcical follies adapted from smash hits that has kept Yankovic a pop radio favorite for over a decade. Recently, Attic issued a 4 CD retrospective entitled Permanent Record: Al In The Box, which contained a new imitation of Winnipeg rock group Crash Test Dummies' smash "Mmm Mmm Mmm Mmm," retitled "Headline News."
The trouble comes from border crossings, especially at Canada Customs.
"When we take it across the border, my accordion undergoes a cavity search. It's pretty painful and humiliating, but it's just part of the job," shrugs Al.
Anyhow, back to his dormant love life. To combat depression, Yankovic confesses a fixation with food. To support his habit, Yankovic says he eats "almost every day," and sometimes…two to three times a day.
"Yeah, it's become somewhat of addiction with me," admits Al. "I wish I could stop it, but it's the toughest thing to give up, really."
The signs have always been there, of course. His first big single was "My Bologna" back in 1979, followed by "I Love Rocky Road;" the aforementioned "Eat It;"  "Addicted To Spuds;" "Lasagna;" and "Livin' In The Fridge."
As I said before, Al Yankovic is a lonely guy. Anyhow, Al maintains he'd prefer to ingest "huge chunks of gravel" instead, but he's afraid that tabloids would concentrate on getting the dirt on him.
"Maybe I should stick with food," says Al.
Al Yankovic, acknowledged as the pioneer of music comedy video, also tried his hand at movie stardom to become a ladies' man (as well as for fame and fortune.)
His first and only movie, UHF, broke box office records. People who saw it later moved on to the theatre's CD collection once all the vinyl was shattered, and then took out their frustration on computers and fax machines.
Still, Weird Al remains undaunted. As a sign of good faith between a performer and his captive audience, Yankovic began this last leg of his Alapalooza multi-media concert swing a month ago in Alaska…in February.
"The original plan was to hit every place in the world alphabetically," says Al. "And Alaska was right near the top of the list, so we originally began the whole tour there. Halfway through, we realized it was a stupid idea, so we came back to Alaska."
At least he knows how to acclimatize himself to the situation.
"I'm packing all my warmest Hawaiian shirts for the weather," says Yankovic. "I've heard it's a little chilly."
Yankovic fans will be happy to note that their hero — the man who sees the fashion trend of the future as "Hawaiian shirts and Speedos" and would be shattered if he was stranded on a deserted island without his CD copy of Debby Boone's "You Light Up My Life" — has completed the original portion of his next album, and will be working on the parodies following the conclusion of this tour.
Taking a cue from Pearl Jam and other alternative rockers, Weird Al Yankovic intends on setting a new trend in terms of the format in which his next album will be manufactured.
"A lot of artists like Pearl Jam are putting things out on vinyl," says Al. "I could have put out an album on 8-track, but I figure, if I really want to be really retro, I should put my next album out on Edison cylinder."