Sparks talks Gratuitous Sax and Senseless Violins
NICK KREWEN
Hamilton Spectator
March 30, 1995
Credited as the inspiration for British electronic dance pop combos Depeche Mode, Erasure and Pet Shop Boys, Sparks is a modern music anomaly: a California duo that is revered in Europe, but ignored in their own backyard.
With the release tomorrow of their 16 th album, Gratuitous Sax And Senseless Violins, Sparks linchpins Ron and Russell Mael hope to extend their European success to North America.
"With this album we're really going to try to force the issue and not take "no" for an answer," vowed Ron Mael in a recent interview from England, where Sparks is on tour.
Together now for almost 25 years, Spark's profile in Canada and the U.S. has been inconsistent due to record company switches and changing trends.
The band began its career back in 1970 when the Maels were UCLA visual arts students. Sharing a kindred spirit with Frank Zappa And  The Mothers Of Invention, Captain  Beefheart and The Firesign Theatre, they formed a cheeky rock band called Half Nelson. After Todd Rundgren heard their demo and signed them to Bearsville Records, they rechristened themselves Sparks.
"Rather than discouraging any kind of eccentricities in our music, Todd really encouraged it," recalls Mael, who studied graphic design. "We thought, `This is amazing!' Somebody's actually telling us to be more wild than what we're doing. It was incredible in what he did."
As performers, the Mael brothers were compelling contrasts. Russell had shoulder-length curly locks and an untamed stage presence that contradicted Ron's slicked-back short hair, pencil-thin moustache and silent, expression-less keyboard playing. Russ Mael's operatic Tiny Tim vibrato and Sparks' satirical rock edge, however, proved too quirky for American audiences. After signing with Island Records and releasing two albums — Kimono My House  and Propoganda, Sparks split L.A. and relocated in England.
"We intended to go where what we were doing was accepted," explained Mael. "From time to time we were accepted in North America — particularly our song `Cool Places.' But our music tends to be more European, and lyrically, it fits in more with a British view of what lyrics should be or can be."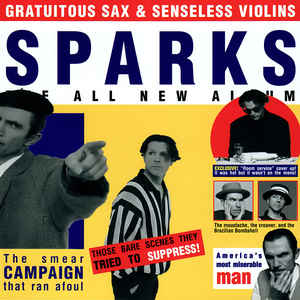 After releasing their album Indiscreet and scoring top 10 U.K. hits with "This Town Ain't Big Enough (For The Both Of Us)" and "Get In The Swing," Sparks fired their band and renovated their sound towards an unlikely direction: dance music.
"It was initially spurred when we heard (Donna Summer's) 'I Feel Love' just loved the way that sounded, with an edgy singer over a real driving computer beat," recalls Mael. "So we approached Giorgio Moroder. We also had felt we had gone at that time as far as we could go with a band format."
Smash hits "The Number One Song In Heaven", "When I'm With You", "Beat The Clock" and "Cool Places" won rave reviews in clubs in North America and Europe, but Ron Mael recalls some critics were less than enamored by the new sounds.
"When we came back to England , our album was slammed by the critics for us going in what they said at the time was disco. We really did it because we thought the combination was something really strong. Over the years, that whole style has become accepted. But at that time, it was a pretty lonely place to be."
Led by the single `When Do I Get To Sing "My Way,"' Gratuitous Sax And Senseless Violins  marks the first new album of electronic dance pop music from the Mael brothers in six years, four of which were spent working on a movie musical based on the popular Asian comic strip Mai The Psychic Girl.
With their entire album catalogue scheduled to be re-released by year's end, and a summer North American tour, Ron Mael feels lucky that Sparks has been able to survive over the years.
"It's good for both of us that things have worked out in music, because I don't think we're really very skilled at much of anything else."