NICK KREWEN
Hamilton Spectator
Thursday, March 2, 1995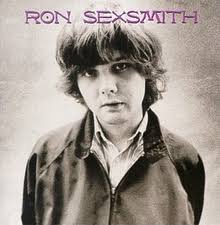 "Secret Heart
What are you made of?
What are you afraid of?"
— from "Secret Heart", written by Ron Sexsmith, © 1995 Ronboy Rhymes Inc./Interscope Pearl Music/Warner-Tamerlane Publishing Corp., BMI.
French fries.
When I first met Ron Sexsmith, his two favorite foods were French fries and Yorkshire pudding — mainly because they were British.
At the time, we were both high school students in the self-proclaimed Garden City of St. Catharines. I was a couple credits short of high school graduation, and elected to relocate from the dismal surroundings of Laura Secord to the hallowed halls of one of the city's oldest schools, St. Catharines Collegiate.
Ron and I had met in music class. I was attempting to learn the finer points of playing the saxophone, and Ron was lugging around a stand-up acoustic bass.
We bonded as friends because we shared a zany sense of humor, trying to outfox each other with a constant barrage of one-liners.
It turned out that neither instrument would end up as our vocation, but Ron had another talent: as a budding singer and songwriter.
Ron's obsession with music was well documented through the friends he hung with. He loved everything British. He adored the Mod movement, primarily idolizing The Who's Pete Townshend and The Kinks' Ray Davies. He formed a band with lifelong chums Phil Van Steeland and Brett Rogers called The Hex, sandwiching rockin' Sexsmith originals in between Who, Beatles and Kinks covers.
More often than not, Ron would carry around a guitar, and after partying at our mutual friend Ralph Martin's place on a Saturday night, would fill requests to hear the latest Sexsmith creations.
"I wish I could say I wrote some good ones," Sexsmith recalls of the times. "My big fear now is that one of these days, Brett or Phil will release some little basement demo, and people will see me for the hack that I was."
While Ron may have needed some convincing about his talents, his friends were assured in their beliefs. His boyish looks, shaggy hairstyle and pale complexion were naturally glamorous, and seemed suited for the stage. He had what we considered to be a great voice. We were all convinced that it was only a matter of time before the name "Ron Sexsmith" would light up a marquee, fill stadiums and concert halls, and sell millions of albums.
As a rock star, Ron Sexsmith was a sure thing.
Fourteen years later, Ron Sexsmith has made his dream come true. Two days ago, he released his self-titled major label debut album on Interscope Records, distributed in Canada by Warner Music. Out in the States and the rest of the world in April, it will be followed a week later by the inclusion of a Sexsmith original — "Good Old Desk" — on a Harry Nilsson tribute album entitled Just Wild About Harry.
So we're both sitting in a Toronto greasy spoon just up the road from Ron's house, reflecting on how he got from Point A to Point B, and it strikes me how the more things change, the more they stay the same.
Although he's 31, Ron hasn't aged. He still possesses boyish looks, a shaggy hairstyle and a pale complexion. And when the waitress comes to the table to take our order, guess what Ron requests?
French fries.
However, Ron's priorities have changed over the years. Now living in Toronto with common-law wife Jocelyne — who has loyally stuck by him for a decade — and the father of two beautiful young children, Ron Sexsmith no longer wants to be a rock star.
The guy who used to scribble out 17 songs during English period has refined his craft to a more intimate, mature style of songwriting: melodic and eloquent.
Actually, the guy who use to scribble out 17 songs during English period is surprised he's made it this far.
"I didn't know music would be a career," Ron confesses as he picks at his fries. "It was strange at high school, because I tried everything — all the shop programs, everything — with the idea that I would find something that I could do.
"Even music I didn't do very well. I was pretty useless on the string bass. I knew I loved to sing, and I was getting better on guitar at the time, but music didn't seem like a career possibility."
Sexsmith gave music a shot professionally for the first time in 1981, when he scored a regular weekend gig at The Lion, a Port Dalhousie pub.
"After I graduated, I needed to make money for Christmas," Ron recalls. "My brother Don suggested I play at this bar that he had been playing. It was encouraging after the first weekend, because I wasn't old enough to be in a bar. It took a bit of nerve, even though I packed the place with my friends the first couple of nights. After I got paid, I figured that maybe this was something I could do – at least to pass the time while I was trying to figure out what else to do."
Ron assesses his potential during his Lion days as "95% enthusiasm."
"There wasn't a lot of talent. I didn't have that much of a voice, and chords were really rudimentary.
"I've got the tapes to prove it," he laughs.
Nevertheless, experience proved to be a worthy teacher.
"I remember the first months were really exciting, because I was really popular for a time at the Lion," he recalls. "I was playing almost every weekend, and getting encores. I blew my vocal chords out every night. I really didn't have a notion of how to sing. I just shouted most of the time. I didn't have any notion on how to deliver a song, how to phrase anything. I was at that stage where if I did a Beatles song, I'd try to sing like the Beatles. It took awhile to figure out what my voice was, and how to put it across."
Referring to himself "a performing monkey," Ron says he was initially disappointed with the crowd's indifference to his originals.
"I found it frustrating," Sexsmith remembers, "Whenever I'd throw in one of my songs, it would never go over. It bugged me. Looking back now, the reason they didn't go over was that they weren't very good. In that situation, people just want familiarity. They want to be able to know the tune.
"As time passed, I didn't want to do any more Neil Young songs. I didn't want to do Creedence Clearwater Revival. Nobody wanted to hear me do 13 verses of Bob Dylan's 'Changing Of The Guard.' So I wore out my welcome.
"Actually, around my son's birth was the first time I actually felt like a songwriter."
In a way, his frustration at The Lion indirectly led to the birth of that son. Broke and perplexed, Ron headed north to Chapleau, Ontario, for a summer of tree-planting.
"I was totally out of my element," says Ron. "A few of my friends had gone tree-planting, and they'd come back with $3000 bucks after working four months. It seemed like an adventure. I thought I could use the money to make a demo or a record.
"Instead, the whole trip changed my life. I met Jocelyne there and we planted a little tree of our own," he chuckles.
"It was a confusing time too. With a baby on the way, I didn't know if I was going to be able to do music at all."
Doubts were eased after Ron relocated to Quebec to be with Jocelyne. Unbeknownst to him, brother Don took a four-song demo Ron had recorded with his summer proceeds around to record companies, receiving a nibble from True North, home of Bruce Cockburn.
"That was one of the first industry responses which got me thinking, 'Maybe I can pull this off,'" Ron recalls. "We moved back to St. Catharines with the idea that two months later we'd be in Toronto. It actually took two years."
Once in Toronto, Ron landed a full-time job as a courier, where he stayed with the same company for six years.
"It turned out to be a good thing, because one thing I knew I could do well is walk," he laughs." My approach to songwriting has always been like the Winnie The Pooh method: kind of walk down the street and hum to myself. Most of the songs on the record were written, at least in part, when I was a courier."
During the courier years he wrote over 200 songs, and hooked up with Toronto producer and performer Bob Wiseman, working for two-and-a-half years on an independent album called Grand Opera Lane. Those sessions also led to work on a prospective Edie Brickell album that eventually evolved into Picture Perfect Morning. Ron formed another band, The Uncool, gigging intermittently in Toronto.
Meanwhile, Daniel Lanois phoned after hearing Grand Opera Lane with words of encouragement, expressing interest in the song "Speaking With The Angel," and eventually producing the second version of "There's A Rhythm" that concludes Sexsmith's debut album.
But the most important call had yet to come.
"The tape ended up opening more doors for me than anything," says Ron. "I guess independent tapes seem to take a little longer to get out to the world. About a year-and-a-half later, I got a call from Geffen Records."
Publisher Ronny Vance offered to sign Ron to Geffen for a publishing and a development deal, but then disaster struck.
"It was the first time anything exciting and concrete was about to happen. Just when I was just about to sign, Ronny's job fell through. Geffen Publishing got sold to MCA, and he was out of a job."
Luckily for Sexsmith, Vance resurfaced a few months later at Interscope, and after flying him down to L.A. for a quick demo session with Peter Himmelman, offered Ron a publishing contract.
A year later, Sexsmith received simultaneous offers from Polydor and Interscope, and signed with the latter in 1993. Last May, he entered Dreamland Studio in Woodstock New York with producer Mitchell Froom (Crowded House, Elvis Costello) and emerged a few weeks later with the basic tracks to the debut album.
Since finishing the album, Sexsmith has received public support from such established songwriting legends as Paul Simon and Elvis Costello. Simon and wife Edie Brickell showed up at a New York showcase, while Costello complimented the album in an interview with the European magazine Mojo.
Whatever the future holds for Ron Sexsmith, he hopes that people will simply accept him for who he is.
"What I'm most comfortable with is the singing and the music part," says Sexsmith.
"But the image stuff … I never really spend much time even thinking about the simple things — like how I should dress. I don't really know what's waiting for me. I've always been sort of awkward. I basically look like the guy who makes the music. That's the way I'm going about it. I hope people aren't disappointed.
"It's nerve wracking, going from anonymity to whatever waits beyond. I just hope it doesn't turn my life completely upside down, because of the kids.
"This is all I ever wanted to do, and if this all falls through, I'll keep doing it. As cliché as it sounds, I just love music. It's how I get through life."