PUBLISHED IN THE HAMILTON SPECTATOR Thursday, December 5, 1997
NEED TO KNOW: THE TRAGICALLY HIP with Rheostatics, Copps Coliseum, Wednesday, December 11. Sold Out.
BY NICK KREWEN
Suppose you gave a performance and nobody came?
According to Rob Baker, guitarist for Canadian rock icons The Tragically Hip, a Hamilton strip-and-rock club was the host for just such an astonishing occasion, much to the band's chagrin.
The era was 1987-1989, when the band had unleashed their self-titled mini-album and were just beginning to roll with material to their first full-length project, Up To Here.
"We played a few classic gigs at Bannister's," Baker recalls over the phone from Quebec City, the afternoon following a two-night sellout in Ottawa on the cross-Canada tour to promote The Hip's latest album, Trouble At The Henhouse.
"At one gig, someone got stabbed in the head, and another got knocked cold right in front of me. It was an eye opening experience for five young lads on their first visit to Hamilton."
However, it was The Hip's follow-up visit that had them truly concerned.
"The second time we played, there was literally no one in the audience. The bartender closed up 15 minutes early. We sat down in front of the stage and played our show.
"We were a little worried," he dryly adds. "You want to see some kind of forward movement."
Baker says the band — which has consisted of singer Gord Downie, rhythm guitarist Paul Langlois, bassist Gord Sinclair and drummer Johnny Fay since its formation in Kingston back in 1993 — made the best of an unfortunate situation.
"Playing to no one is better than having four people in the joint. When nobody's there, you can rehearse. So we rehearsed and then we went downstairs to watch Jello wrestling."
Bannister's wasn't the only memorable Hamilton hot spot for The Hip.
"There was Dallas," said Baker, 34, continuing his trip down Memory Lane.
"Some kind of riot had broken out, and it was just like a Western movie. People were getting chairs busted over their heads, and trays went flying. The next day we read the paper and there was a notice from the police asking for any witnesses."
Baker laughs.
"That was even better than a review!"
While the city made have taken a while to warm up to the band, all is apparently forgiven. Next Wednesday's performance marks the second sell-out appearance at Copps by The Hip in 22 months, and Baker freely admits the date happened because the band likes the city so much.
"We were getting a lot of pressure from promoters to play a third Toronto show," Baker reveals. "We were all grumbling that Hamilton wasn't on this tour. We really like the Hammer. It's a real joy playing Copps — it's state of the art. It's the best in design for accommodating the crew and loading in and loading out. Plus the acoustics are amazing."
The shaggy guitarist says that greedy promoters also got under the band's skin, which is partially why the net proceeds from the concert are being donated to The United Way.
"We try and do something for charity every year," Baker explains. "For us, it's kind of a gravy show — a last minute add-on to the tour. It was funny, because promoters were telling us how the third show in Toronto would really maximize profits.
"So we said, 'Let's play in Hamilton and we'll give away the money.' What could they say?'
What can anybody say as far as the unparalleled success of The Tragically Hip? Each of its full-length albums — Up To Here, Road Apples, Fully Completely, Day For Night and Trouble At The Henhouse — have averaged over 500,000 copies sold, and when you combine the figures of last year's Day For Night tour, Canada Day and Another Roadside Attraction with this year's Edenfest and Trouble jaunts, The Hip have played to a Canadian audience estimated at two-million-strong.
Baker says one of the reasons the band attained its status is by sticking to its guns ever since it christened itself after a segment in Monkee Michael Nesmith's innovative Elephant Parts video, refusing to be derailed by strict bar owners who valued beer sales over musicality and cover material over original.
"We didn't want to be faithful to anyone but ourselves," says Baker. "So our covers consisted of obscure songs that consequently fit in nicely with our original material, so we were able to slip it in easier."
Those obscure covers included archival stuff from The Animals and The Monkees' song catalogues, as well as the odd time "we played side one of John Mayall's Bluesbreakers albums."
Since all the Hipsters attended Queen's University — except for Johnny Fay, who was still in high school — the band found a willing audience, and after non-stop touring throughout the country slowly built a loyal live following.
The band initially signed a distribution deal with BMG Canada, but then secured a direct contract with MCA U.S. after impressing the company's president at the time with their performance at The Horseshoe in Toronto. The groundswell began with the Up To Here hits "Blow At High Dough" and "New Orleans Is Sinking." By the time Road Apples was released in 1991, the band was well on its way to becoming a full-fledged Canadian phenomenon.
However, the chasm between the band's Canadian and U.S. success is still miles apart. Although recent border crossings to Buffalo and Detroit inspire arena-sized sell-outs, earlier this summer the Hip played Nashville and drew 150 people to a small club.
Not that it worries Baker.
"That was the first time we ever played in Nashville, and we were thrilled to get 150 people," says Baker. " The next time we come back, hopefully there will be maybe 250, 300."
Baker says playing an intimate club date to a crowd of strangers can be more fulfilling than playing to an arena full of the converted.
"It's more rewarding than walking into a room of 15,000 people who applaud before you even step on stage. When they aren't there cheering you on, you gotta win them over. Which we usually do."
Still, he says the band cares enough to satisfy the whims of their U.S. record company that they kicked off The Trouble At The Henhouse tour south of the border five months ago.
"We'd been taking a little bit of heat from the U.S. record company guys and promoters that we hadn't concentrated enough effort in the U.S.," says Baker. "So to redirect any of those stinging barbs, we decided to try it. Satisfy our record company, who did sweet dick for the record in my opinion."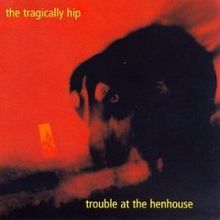 He admits that the band is seriously considering going the independent route for their next album.
"I'm quite confident we can go completely independent, go through our own record company and through our fan clubs and mailing lists."
Again, Baker doesn't seemed too concerned about conquering the U.S. market.
"We've always measured success differently, anyway," he says. "The day we formed and got together in my parent's basement we were successful. The day somebody said, 'Hey, I've got a few lyrics here and we wrote our first few song.' That's success to me."
As for future plans, Baker says The Hip is in the preliminary stages of planning a possible Roadside Attraction for next summer, and will reconvene to do some writing in the new year after the tour ends in Toronto next Friday.
"If we have an album out by the summer, fantastic," says Baker. "We won't rush it. We want it to be the best album we can make. We won't put out something less than our best effort.
"There's some talk about going over to Europe in April. The idea of recording a live album of new material is exciting to me."
For the Hamilton show, fans are also encouraged to bring food donations for The Food Bank. Each received donation will enable the donor to qualify for a draw for a possible upgrade and entrance into The Henhouse, a specially designated seat in front of the barriers located at the foot of the stage.
"Even if you don't get moved up, you'll be contributing to a worthy cause," says Baker. "If you do get the upgraded ticket, it comes with complimentary earplugs, because it's violently loud up there."
Baker says the band's sets have been averaging between an hour and 55 minutes and two hours 15 minutes, and covering the full gamut of the band's career.
And yes, he says, singer Gord Downie is still throwing them the odd curve ball, just to keep them on their toes.
"Every night at certain points he starts making up lyrics, and sometimes he's singing lyrics to an old tune," Baker sighs.
"You'll recognize it if you see the band suddenly grind to a halt, and you see this look on everyone's face that says, 'Where is he taking us now?'"