Veteran rock writer Nick Krewen takes a tour through defunct Toronto concert venue history – from the '60s in Yorkville, to the subsequent decades when the action was mostly around Yonge St., to the rise and apparent decline of Queen St. W.
Nick Krewen and Garnet Fraser
Published on Sun Jan 03 2010
On Queen St. W., the concert scene is changing, and it's leaving some fretful. Hard-rock hangout the Big Bop – home to early shows by Alexisonfire and Billy Talent, among others – is closing at the end of the month, and a few blocks to the east, the Cameron House – site of early gigs by Blue Rodeo, Ron Sexsmith and more – is up for sale, with its future uncertain.
But it was always this way; with a few exceptions, good concert venues typically have a golden age, make a few memories – and then lose their backers, their audience or possibly their liquor licence. The city sees bits of its musical history disappear every year in this way. The Rural Alberta Advantage, 2009's rising stars, cut their teeth at the now-closed Winchester; the Constantines played their first local show at now-gone Ted's Wrecking Yard; Ultrasound, a Queen St. W. venue that was a sentimental favourite of the Barenaked Ladies and the Rheostatics, is now a spa; and much more.
On this page, veteran rock writer Nick Krewen takes a tour through defunct Toronto concert venue history – from the '60s in Yorkville, to the subsequent decades when the action was mostly around Yonge St., to the rise and apparent decline of Queen St. W. There are also newer concert spots at the Garrison (on Dundas St. W.) and Studio BLR (on Lower Sherbourne St.) that are drawing attention; check them out but know that you'll probably be saying goodbye to them, too, someday.
Location: 134 Yorkville Ave.
Known for: A breeding ground for folk and blues music's most influential talents, this sizeable coffeehouse earned a global rep during its hot streak. Oh yeah, and people would actually be polite enough to stay quiet and listen to the music.
Notable headliners: Gordon Lightfoot, Simon & Garfunkel, Neil Young, Joni Mitchell, John Lee Hooker.
Location: 21 Scollard St.
Known for: Flavour-of-the moment world music and pop acts in the midst of 15 minutes of fame, with sporadic detours into not-quite-ready-for-soft-seater veteran acts, sporting crowds of regular Joes, well-coiffed yuppies and the occasional Flock Of Seagulls hairstyle.
Notable headliners: Fela Kuti, Erasure, Herbie Hancock, Berlin
Known for: Its lack of air-conditioning, this humid sweatbox (also known as Rock Pile and Masonic Temple) offered intimate rock in semi-cramped quarters, although the balcony provided first-come, first-serve step-seating. Great showcase space for breakout acts and Rolling Stones rehearsal space until CTV bought it and made itThe Mike Bullard Show studio.
Notable headliners: Led Zeppelin, Stevie Ray Vaughan, INXS and Tin Machine (with David Bowie)
Closed: 1996, although recently resurrected for Polaris Music Awards and a few episodes of Spectacle
Location: Hudson's Bay Centre, Lower Level, 2 Bloor St. E.
Known for: If you were a headbanger when rock `n roll was all spandex, leather and hairspray, Rock `N Roll Heaven – not to be confused with the current North York nightclub – was the place to be: Plenty of mirrors, leather seats, and hot vixens.
Notable headliners: Skid Row, Paul Stanley, Killer Dwarfs, Black Crowes
Location: 121 Carlton St.
Known for: Being a fleabag hotel (although fleas themselves cowered in fear of suffering infestation) and Petri dish of nihilism; a basement perfect for hosting outsider punk/ska/new wave gigs.
Notable headliners: R.E.M., Bauhaus, Bad Manners, Sun Ra
Known for: Being the resident training ground of some formidable Canadian rock bands that went on to sell millions of records, as well as the inspiration behind Mike Myers' Wayne's World franchise ("The Gasworks! Always a babefest," Wayne once exclaimed) and frequent stopped for irreverent comedy duo Maclean & Maclean. Lunch-bucket ambience and etiquette ruled the day in a mishmash of wall-paneling and poster décor.
Notable headliners: Rush, Triumph, Saga, Platinum Blonde
Location: 70 Gerrard St. E.
Known for: Living up to its name in terms of eclecticism: a dark, spacious abode facing Gerrard that housed tastemaker promoters Gary Topp and Gary Cormier, who booked punk/new wave acts like 999 and The Mods with the occasional jazzy Don Thompson/Ed Bickert or folkie Ralph McTell date.
Notable Headliners: The Police, XTC,Ultravox, and what would have been the first Joy Division performance if singer Ian Curtis hadn't offed himself a week before the gig
Known for: One of Canada's most famous jazz and blues venues later stretched into rock in the late `60s and, in the 1970s, punk. Pillar-free, it provided great sightlines everywhere.
Notable headliners: Dizzy Gillespie, Thelonious Monk, Captain Beefheart, Muddy Waters, The Jam
Location: 249 Victoria St.
Known for: Jazz acts with an odd foray into pop and rock in a classy atmosphere. Steps leading up to venue were covered in jazz portraits.
Biggest Attractions: Diana Krall, Terence Blanchard, Cassandra Wilson, John Hiatt
Location: 312 Queen St. W.
Known for: A venerable home for roots and reggae music and spoken-word shows, the Bam Boo had a decent sized dance floor to go with its Jamaican/Thai cuisine.
Notable headliners: Messenjah; Lillian Allen, The Sattalites
Location: Canada's Wonderland
Known for: As an outdoor venue, this 16,000-seater competed with Exhibition Stadium as an incentive to attract folks to the theme park. Hence you could be dazzled with Depeche Mode synth-pop one night; be serenaded by James Taylor the next, then be rocked like a hurricane with the Scorpions or shimmy to the sounds of a heavily choreographed Paula Abdul concert when she was still forever your girl.
Notable Headliners: Neil Young, Kim Mitchell, Barry Manilow
Closed: 1999, but still used sparingly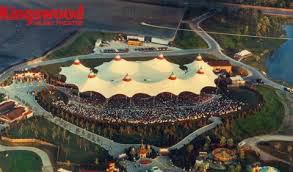 Known for: With a 360-degree revolving stage, this picturesque, hilly 8,000-capacity outdoor venue offered a variety of acts for kids and adults alike without costing an arm and a leg. The scene of a Teenage Head riot and a stellar annual weekend jazz festival that boasted everyone from Oscar Peterson and Ella Fitzgerald to Jaco Pastorius and Pat Metheny, it hosted shows by Blondie, Sharon, Lois & Bram and Bill Cosby with equal aplomb. Sorely missed, in spite of being replaced by the Molson Amphitheatre.
Notable headliners: The Tragically Hip, Tom Jones, B.B. King
Post mortem:  As of 2018, both The Senator and The Concert Hall have been resurrected…