Soundgarden rocks it out at Sound Academy
With tundra-tough riffs and pounding rhythms, Soundgarden rocks it out at the Sound Academy at Polson Pier Friday night.
By: Nick Krewen Special to the Star, Published on Sat Jan 26 2013
It wasn't without a small amount of irony that Soundgarden's opening salvo at the Sound Academy Friday night happened to be "Been Away Too Long."
It's only been a couple of months and change since the Seattle grunge godfathers graced us with their presence at the Phoenix, offering an intimate experience to promote King Animal, their first album of new material in 16 years.
And the highly disciplined quartet of singer and rhythm guitarist Chris Cornell, guitarist Kim Thayil, bass player Ben Shepherd and inimitable drummer Matt Cameron, must really, really like Toronto, because although they could have easily opted for a much bigger venue like the cavernous Air Canada Centre, they decided to restrict the experience to a few thousand people over a couple of nights at the Docks.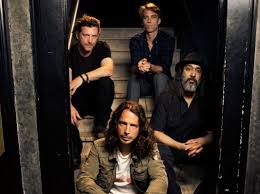 And what concertgoers witnessed was a pretty awesome display of power; Soundgarden is a collective dynamo that always managed to sound bigger than life, rocked with intense ferocity and always delivered beyond expectations.
A case in point was a dramatic reworking of "Jesus Christ Pose," the Badmotorfinger anthem that was introduced and largely carried by the heavy-handed stick work of drummer Cameron. Channelling his inner Keith Moon, Cameron's arms flailed about with octopus efficiency as he banged out so many polyrhythms that it served as both backbone and melody of the performance.
Of course, when you're blessed with a vocalist with lungs and range as powerful as Chris Cornell's, it becomes a transcendent experience.
Whether Cornell was bellowing out a particularly punchy version of "Spoonman," or delivering the goods with a pleasurably sluggish version of "Blow Up the Outside World" that paid off with an emotionally taut chorus, it always seemed to suit the moment.
And then there is master guitarist Thayil, who also seems to offer noodling riffs that are simultaneously lead and filler, stoking the aggressive fire, while bassist Shepherd provides the anchor.
These guys seem to still be satiating the hunger of a long layoff, even though it's been a couple of years since their reunion, and the tundra-tough riffs and pounding rhythms are always a welcome reminder that the best rock is as resilient as it is riveting.
Throw in Cornell's friendly kibitzing with the crowd — at one point he borrowed a sweatshirt from a front-row fan adorned with the word "Canada" emblazoned across his chest — and you have the makings of a very fulfilling, two-dozen song, two-hour-and-10-minute evening.
What can one say? Soundgarden rocks!
http://www.thestar.com/entertainment/music/2013/01/26/review_soundgarden_at_the_sound_academy.html