Rufus and Martha Wainwright lead heart-rending tribute to their mother
Sing Me The Songs: Celebrating the works of Kate McGarrigle.
Published on Tue Jun 25 2013
Folk
Various Artists
Sing Me The Songs: Celebrating the works of Kate McGarrigle (Nonesuch/Warner)
3.5 stars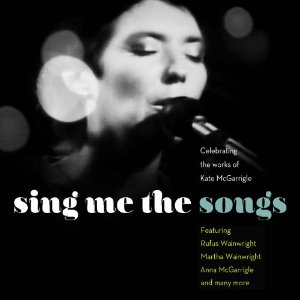 Culled from three benefit concerts in New York, Toronto and London, Sing Me The Songs is 34-tune love-in by the McGarrigle clan and some of their closest friends — and there are a lot of both, spread over two continents — celebrate the music of Kate McGarrigle, who partnered with her sister Anna on record for 30 years, and was taken from this world prematurely by sarcoma in 2010.
Led by her children, Rufus and Martha Wainwright, is as heart-rending as it is poignant, as this was a woman who clearly had so much more music to give. And the love and respect she commanded allowed some for really rare appearances — Linda Thompson appeared with her ex-husband Richard to perform "Go Leave" and Robert Charlebois made a rare Toronto appearance to sing "Dans le Silence" to the doting crowd — to be preserved in her honour.
While some appearances are head-scratching — not sure why late night TV talk show host Jimmy Fallon showed up to sing "Swimming Song" — and also unclear as to why the McGarrigles' good friend Linda Ronstadt wasn't present at least at one of the shows ("Heart Like A Wheel," which Ronstadt made famous, is sung here by Emmylou Harris, Anna McGarrigle, Martha Wainwright and Krystle Warren) — but everyone present, including guests Norah Jones, Antony, and Broken Social Scenesters Kevin Drew, Andrew Whiteman and Amy Millan (also of Stars) — warble Kate's unpretentious folk ballads with heart and reverence.
But perhaps the most touching is Kate's home demo of "I Just Want To Make It Last," a lighthearted plea for the Earth to slow its rotation because time is moving too quickly.
It will create a lump in your throat.
DOWNLOAD: Norah Jones and Lily Lanken sweetly sing "Over The Hill" with just the right amount of wistfulness, but there are many standouts here, including the full ensemble ending the live portion of the record on a celebratory note with "Love Over and Over." Keep an eye open for the accompanying documentary, Songs That Say I Love You: A Concert for Kate McGarrigle, also out this week.
Nick Krewen
http://www.thestar.com/entertainment/music/2013/06/25/sing_me_the_songs_celebrating_the_works_of_kate_mcgarrigle_album_review.html