Classified, Rich Kidd, Measha Brueggergosman, Lights guest on Toronto rapper's first album in 13 years
, Published on Tue Jun 25 2013
Rap
Maestro Fresh Wes
Orchestrated Noise (Fontana North/MapleMusic/Universal)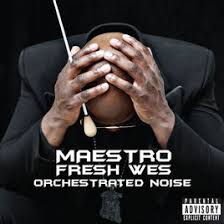 "Before Drake was on the tour bus/Rhymin' with Wayne/I was in the basement/Vibin' the Cane/ I'd be your Rap Prime Minister …"
As he recites those words on "Black Trudeau," one of the killer joints on Orchestrated Noise, his first new full-length album since 2000's Ever Since, Toronto's Maestro Fresh Wes speaks the truth: he was Canada's first domestic rap music breakthrough, scoring a massive hit with "Let Your Backbone Slide" and its corresponding album, Symphony In Effect.
Twenty-five years later, Orchestrated Noise is a case of the master teaching the students, who in turn teach the master. Over all that time, hip-hop has evolved, thanks to artists like Jay-Z and Drake, Eminem and many others who you can bet spun early Wes Williams efforts on their turntables, to embrace top-rated production values.
Maestro takes all those lessons learned and applies them to Orchestrated Noise, an album very much designed to reveal that not only does Wes still have game, he's at the top of it.
Mingling old school contemporaries like Saukrates, Kardinal Offishall, Brand Nubian's Sadat X and Public Enemy's Chuck D., with more recent disciples King Reign, Classified, Rich Kidd and k-os, and also recruiting disparate musicians ranging from opera singer extraordinaire Measha Brueggergosman, Lights, Saidah Baba Talibah and Sam Roberts among others, Williams weaves an 18-cut masterwork that is both autobiographical ("Black Trudeau") and fictional (the operatic "Symphonia Destino"); introspective ("The Conversation") and motivational ("Reach For The Sky (Try)"); philosophical ("Timeless") and sociological ("Weekend"), and resonates with maturity and gravity.
In short, Orchestrated Noise bridles with the energy of a confident man who's reborn and looking to reclaim his crown. And with the strong mash-ups of music and monologue — every note is meticulously planned — Maestro Fresh Wes might just pull it off.
DOWNLOAD: There are many to choose from: the ultra-dramatic "Symphonia Destino" with Breuggergosman's harrowing soprano underscores a case of mistaken identity with tragic results; "Reach For The Sky (Try)" loops the Blue Rodeo ballad "Try" as Wes "returns like the Phoenix" in this inspiring number; "Pyramids In The Sand" is a survivor's anthem for the ages
.
Nick Krewen
http://www.thestar.com/entertainment/music/2013/06/25/maestro_fresh_wes_at_top_of_game_on_orchestrated_noise_album_review.html