Versions of this article ran in Southam newspapers after May 13, including the Hamilton Spectator
Nick Krewen
If your parents were a pair of famous folk icons, you might just be a little intimidated about embarking on your own recording career.
Not Rufus Wainwright.
Already hailed by hip lifestyle magazine Details as "one to watch in '98," the Montreal-born piano-playing son of Kate McGarrigle and Loudon Wainwright III (remember "Dead Skunk?") isn't flinching from any heritage pressure as he launches his self-titled debut album of flamboyant romantic pop on Tuesday ( May 19).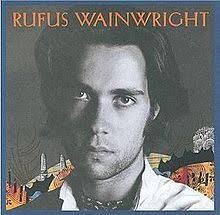 "I really don't feel the weight," explained Wainwright recently from Vancouver.
"It doesn't really concern me, because what I do is so very different from both of my parents stylistically."
Unlike the warm guitar-driven imagery of mom Kate and aunt Anna, and the acerbic candor of dad Loudon, Rufus Wainwright's extravagant, beguiling collection of heartfelt love songs are colored with a cinematic piano parlour tint that reveals a love of cabaret. His soaring tenor is somewhat reminiscent of the late Harry Nilsson.
"I've always been a big fan of Kurt Weill and the Berlin thing for sure," confirms Wainwright,
"I'm not really too familiar with Harry Nilsson."
Wainwright explains that his songs are musical mirrors, reflecting everything from passionate love affairs — "I don't want to smell you and lose my senses" — to losing friends to AIDS "Looking at hospital Victoria/Feeling as helpless as The Elephant Man."
"I don't want to hold you/ And feel so helpless. I don't want to smell you and lose my senses. And smile in slow motion. With eyes in love."
I twist like a corkscrew. The sweetness rising. I drink from the bottle weeping, why won't you laugh. Why can't you laugh?
Gave me all your loving one day. You gave it all and almost faded away. Well I'm going to take this sad ( un=reddish-you ) in my arms tonight. Looking at hospital Victoria, Feeling as hopeless as the elephant Man. Wish you were here to chain you up without shame, in my arms tonight."
"What I tend to do is glorify my personal life," he says. "It might seem a bit oblique, or lavish, but all the songs have stemmed from personal experience.
"I like to make the mundane fabulous whenever I can," he laughs.
Wainwright credits his parents with helping him find his voice.
"In fact, I was really encouraged by my parents to go out and find my own way of doing things musically and artistically, which they taught me because that's what helped them survive so long.
"That's the motto: Whenever you're different than anybody, you'll stay ahead," he asserts.
Only 24, Rufus Wainwright has been performing professionally half his lifetime. Raised by his mother in Montreal after his parents divorced in 1977, Rufus began piano at the age of 6. At 13, he joined Kate & Anna McGarrigle on tour and garnered his first two award nominations, a Genie and a Juno for Most Promising Young Artist.
"That was a horrible disappointment not winning that Juno at age 13 against Daniel Lanois," he jokes. "It is a distant memory because I was so young."
Soon after, Wainwright began honing his craft with a weekly residency at a Montreal cafe, often accompanied by sister Martha.
"I played mostly a place called Cafe Sarajevo, this weird cafe run by Bosnian Croats," says Wainwright. "They'd let me play once a week. It was a great experience, because one thing I knew that was lacking in the music world was a small instrument cabaret. I saw an opening.
"I wanted the idea of an intimate evening with a long show and an involved atmosphere where you could sit and listen for two hours."
Simultaneously, Rufus and Martha learned to develop thick skin as constant music fodder for their songwriting parents.
Loudon in particular could be downright cruel. In "Bein' A Dad," one of many songs written about his children, he admits "They're easy to frighten and lie to."
"It can be embarrassing sometimes," Wainwright admits. "Anytime I hear something that my parents write, you never know when it's going to grab you.
"It's happened to me several times. Sometimes I just enjoy the song and don't really think much of it. Occasionally it can well up and be difficult, but not really from annoyance, just emotion."
Yet Dad has his generous side. He hooked Rufus up with celebrated L.A. arranger Van Dyke Parks. Parks took him under his wing, helped secure a contract with Dreamworks — the fledgling label owned by the powerful Steven Spielberg, Jeffrey Katzenberg and David Geffen triumvirate — and beefed up the theatrical appeal of such songs as "Foolish Love" and "Matinee Idol" with lush orchestration.
"The next thing you know I was doing a big record, string sessions at Capitol Records and staying at the Chateau Marmont in Hollywood Hills," says Wainwright.
"It was brick-in-the-face sudden. It was like hitting a wall, but a nice wall."
Now in the midst of a promotional tour that will see him play selected dates across Canada, Rufus Wainwright has high hopes for the album Rufus Wainwright , recorded over 18 months in Los Angeles and whittled down from 52 songs to a dozen.
"I hope it just really inspires people to do what they want: be original, get in touch with your more dramatic side and don't worry about being too flamboyant or romantic," says Wainwright, who is gay.
"Let the little fairy in you fly!" he laughs.
Wainwright says his sexuality won't be used as either a platform or a springboard for his career.
"I don't really have an agenda as far as that's concerned," he states. "I do want to encourage young gay people to be themselves. I don't think being gay is a big deal, frankly. There's much more hype than it deserves."