PUBLISHED IN THE HAMILTON SPECTATOR Thursday, July 13, 1995
NICK KREWEN
Gord Downie really likes Hamilton.
In fact, when the 31-year-old singer of The Tragically Hip and his wife were looking for a new locale to live a few years back, they almost moved here.
"I know a lot of good people there," said Downie Monday during a rare phone interview from outside The Hip's Kingston rehearsal space.
"I just having a feeling that if I moved there, I'd start to learn about cars or guitars or motorcycles, all these things that are out of my range. But they're things I'd love to learn how to do. I've driven around there a lot, and I've found it a very beautiful place."
While the Toronto-based Downie and his wife keep their future options open, the singer and musical partners Rob Baker and Paul Langlois on guitars, Gord Sinclair on bass and drummer Johnny Fay should be swinging through town next Thursday on their way to Cayuga. They're headlining the second version of Roadside Attraction, a smorgasbord of innovative Canadian and international acts, at the Speedway, for a show that was added by popular demand after the concert at The Markham Fairground sold out in days.
The term "popular demand" is worn as comfortably as a pair of sneakers when used while discussing The Hip. Considering this is the second cross-country tour for the Kingston quintet in five months following February's string of 19 sellouts, sales and attendance figures reveal just how deeply entrenched the Tragically Hip is enmeshed in the Canadian psyche.
Sales four each of the band's four MCA albums — including their latest, Day For Night — have surpassed quintuple platinum (500,000 copies), with only their self-titled EP lagging behind at a respectable 200,000. If all Roadside Attraction dates are sellouts, then almost 450,000 Canadians will have seen The Tragically Hip perform in 1995.
Recently, with a U.S. deal freshly cemented with Atlantic Records, The Hip has been increasing their boundaries of appeal. On the evening prior to winning an unprecedented third Juno as publicly voted Entertainers Of The Year, The Hip performed to an audience estimated at 18 million on the NBC staple Saturday Night Live. In Europe, the band opened four dates for The Rolling Stones, and in the U.S., they recently finished some high profile gigs for Jimmy Page and Robert Plant's unledded Zeppelin tour.
"I liked it, and didn't like it, to be honest." replies Downie, 31. "I definitely found it amusing that within the space of a month we opened up for the Led Zeppelin guys and The Stones. After doing the Stones, I couldn't help but think that it was very fateful somehow — that some Jedi Master somewhere had decided that we needed this as the next stage in our education. For that reason alone, it was totally profitable.
"With Page and Plant we did 30 minutes a night, and that, practically speaking, is just not enough time. Forty-five minutes to me is the optimum, but anything less than that is a real physical challenge. As far as playing to their crowd, that was neat. We've never really done it before, and I think we needed to do it."
Downie says while it's impossible to measure the impact of performing on Saturday Night Live, he concedes it was an interesting experience.
"We did reach a wider audience with SNL, but it's hard to know what attracts people to your band in the long run," muses Downie. "Ultimately with our band, it's word of mouth. It seems to be the largest cause of The Hip outbreak — if we can align ourselves with a virus. The SNLthing, on a personal level, was easily the most intimate gig we've ever done. It's just you and the Cyclops, you know. You're looking at this camera, and all of a sudden, less becomes more. The gesture of a finger takes the place of a gesture of a whole waving arm."
According to Downie, intimacy is the desired result The Hip strive for at a concert.
"Even with 15,000 people in a hockey rink, you're still trying to get it so you don't feel like an alien creature, because that's just death on stage," he explains. "You can make it work for you, but at a certain point, you have to commune with the people that have paid money, and that's the exciting part."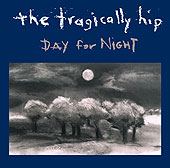 An enigmatic frontman who often seems caught up in a hypnotic trance when he's on stage, Downie admits he's transported to another world when he performs.
"On a great night, it's a throbbing mass of colors," says Downie. " And I don't mean that to denigrate the audience in any way, shape or form. But I think they would probably agree that's the release they're looking for, too. There are people that pay more money than the ticket price to get the same effect, be it in a sweat lodge or fasting for four days, or eating strange mushrooms and communing with their Gods — which is not to say that's us.
"On a great night for me, I don't really notice (anyone). On a bad night, I can see every face, and they're all snarling. That's not pretty."
Downie says he's excited about Roadside Attraction both musically and for its communal spirit.
"It's a fun project for us," admits Downie. "It's sort of a dream job, because you're able to phone up musicians and say, `You may not have heard of us, but we definitely like you, and we'd love you to come play with us in Canada.'
"I'm pretty excited about this bill, and you're seeing that sense of community within, and amongst musicians. When we were coming up – six to 10 years ago – it didn't exist. The climate was – climb over each other to get to the top. It was never really comfortable to us. You were sort of trained to get to know other musicians, but not to get too close. I know that the idea of trying to help other bands out took a little while for people to get used to. Now it's just a given, and that's cool. The pendulum is obviously swinging back."