Companies generate big business with upscale artist tour buses
GRAMMY.com
Nick Krewen
August 20, 2009
Talk about a sweet ride.
If you happen to see a top-level entertainer's coach rolling down the highway, you can be certain the star hurrying to their next gig within it — be it Justin Timberlake, Taylor Swift or a member of the rock band Rush — is traveling in style and comfort.
"We use high-end materials," says Joey Hemphill, the chairman, treasurer and co-founder of Nashville-based Hemphill Brothers Coach Company, which specializes in leasing tour coaches, as well as designing and installing their interiors in the shells sold to them by bus manufacturer Prevost. Hemphill's client roster includes artists such as Beyoncé, Josh Groban, Madonna, Mötley Crüe, and Pink, among others.
Major artists might be relaxing in a queen- or king-size bed in the coach's spacious stateroom at the rear of the bus. The upscale restroom might include a private shower, granite flooring, upscale plumbing fixtures, and a marble sink counter.
The rest of the bus may feature comfortable bunks for an entourage of musicians, singers or dancers; a state-of-the-art Blu-ray-equipped entertainment system; the finest in durable carpets and upholstery; plush leather seating for the lounge; and maximum storage space.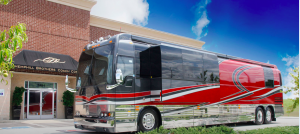 "It's comparable to what you would put in a high-class home as far as the quality that we use, but it's very limited space so we have to be careful and practical," says Hemphill, who started the company on a $50,500 loan with his brother Troy in 1980.
He also says they can oblige the occasional unusual request.
"Well, we did have Harry Connick Jr. Fed-Ex us an upright Steinway [piano] to put in the bus," says Hemphill. "When he first called, we said, 'We'll be glad to put in a keyboard.' But he said, 'No, I want a real piano.'
"So we had to take a windshield and some of the interior parts out and use a forklift to get that piano in the bus. The driver loved it because he had a concert while he was driving down the road."
Hemphill says he's also fitted some of his coaches with "tanning beds, workout equipment and treadmills."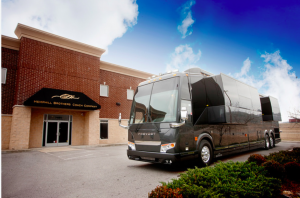 Obviously, these opulent tour buses aren't cheap.
"The bus shell costs in the range of $450,000 to $500,000, and about that much again to decorate the interior," says Steve Zeigler, national director and western regional sales manager, bus shell division for Prevost, a leading passenger coach manufacturer.
It's a two-part operation. Prevost — headquartered in Sainte-Claire, Quebec, Canada — manufactures the exterior and bus shell, then sells them to converters and leasing companies such as Hemphill.
"We start with that same commercial vehicle, and for our entertainment buses we build what we call a conversion shell," Zeigler explains. "That is basically a unit built for the entertainment industry. It's on the same platform as say a new Greyhound bus, but the height is taller inside so they can fit bunks in there.
"So our customers buy the shell from us — and then they get it converted inside to either a crew bus, which is 12 or nine bunks with a lounge in the back and a lounge in the front; or a star coach, which is a bedroom in the back, maybe a couple bunks, bathroom, galley and maybe a large living lounge area in the front.
"Those are the buses that'll be leased for tour." Perhaps acknowledging the obvious, Zeiger says, "Very few entertainers actually own a bus."
Founded in 1924 and solely owned by Volvo Bus Corporation, Prevost manufactures Greyhound coaches, including a special 45-foot XLII Entertainer model and a H3-45 VIP Star Coach geared toward the traveling artist and their crew.
Zeigler says Prevost has a capacity to build "up to 1,000 buses a year," and estimates the company controls approximately "98 percent" of the entertainment market, despite taking a slight hit due to the recession. "Our entertainment market is probably off 20 percent in 2009 over 2008, and it'll probably be flat or just up a little bit next year," he says.
"We do about 300 shells a year and about 300–350 seated buses a year. It's fairly easy for us to change our production level."
Once Hemphill receives the order and the shell, much work is done in-house and usually requires a 12-week turnaround.
"We have our own selections of fabrics, wall coverings and interior layouts," says Hemphill, whose firm can also provide drivers, insurance and 24–7 maintenance. "We'll design a coach to fill their needs. It will be their coach."
As far as the continued profitability of their business, Hemphill says he and his brother have observed a truism about recessionary times.
"My brother and I have noticed that in times when there's a recession or an economic downturn, people need to be entertained," he notes. "They may not be able to take that European trip, but to go to a concert, hear their favorite bands and get away from their troubles for a few hours, people still want to be entertained, laugh a little bit and just have a good time.
"So we haven't seen a real downturn in that segment of our business."
(Nick Krewen is a Toronto-based journalist who has written for The Toronto Star, TV Guide, Billboard, Country Music and was a consultant for the National Film Board's music industry documentary Dream Machine.)