Just 48 hours after announcing he was coming to town, Prince gave the crowd a mixture of his hits and new material – reinterpreted on a purple electric grand.
Nick Krewen
Sat., March 26, 2016
Prince at Sony Centre For The Performing Arts, March 25, 2016, 7 p.m. show
Three stars (out of 4)
It probably comes as little surprise that Prince, the legendary singer and songwriter who is as prolific as he is enigmatic, is as big a monster on piano, technically speaking, as he is on guitar.
For close to 90 minutes during the 7 p.m. show at the Sony Centre for the Performing Arts — his second two-show appearance at the venue within 10 months, announced only 48 hours earlier — the Minneapolis native revealed his prowess on the ivories as he performed a variety of hits, covers and yet-to-be-released material on a purple electric grand.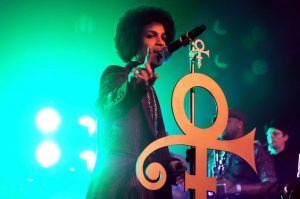 It's not that anyone doubted the multiple-Grammy-Award-winner's ability to dominate another instrument as well as the 57-year-old wields a guitar; it's just that most haven't had a chance to see him work it proper, since the axe is usually his contraption of choice. And when he has turned to keyboard performance in recent years, it's usually to embark on a medley of some of the abundant hits he's harvested over a 38-year career that's been spread over the pop, rock and R&B genres.
So it was somewhat revelatory to hear just how radically Prince would interpret some of his more memorable numbers during this "fleshing out" performance known as the A Piano And A Microphone tour.
Keeping his $325-a-seat, no-cameras-or-cellphones-allowed audience waiting until 7:45 p.m. mark, he emerged leaning on a cane and sporting a slight limp. The adorned-in-yellow Prince plopped on the bench, shouted, "Toronto, in case you didn't know, let me tell me where you are," and launched into a couple of verses of "I Would Die 4 U," one of several numbers he'd perform from his landmark 1984 album Purple Rain.
Plump staccato chords pumped the song's aggressive rhythm as a gigantic distracting kaleidoscope of colourful psychedelic patterns were projected on a screen behind Prince. He then jumped into "Baby I'm A Star" before a stream of arpeggio-type runs melted into a ballad rendition of the rarely performed "Dolphin," segueing into an almost hesitant take of David Bowie's "Heroes:" slow, powerful and a melody that was counterpoint to the original.
But that's how Prince worked most of the evening: he wouldn't necessarily conclude a song, but weld it to the next number — a continuous stream of musical conscience that he moulded at will. He never announced or talked about the songs he was about to play; he'd just noodle at the piano and a hint of a melody would emerge. "I Could Never Take The Place Of Your Man" was one such occasion, slowed-down to a tour-de-force ballad, heightened by Prince's effortless falsetto.
The Bill Withers chestnut "Use Me" was a spicy, funky vamp that veered for a few dozen bars into "Feelin' Alright;" "Love U But I Don't Trust U Anymore" was sung sadly and forlornly; and "Black Sweat" benefitted from an industrious, groovy workout.
Ever the showman, the one-time Toronto resident (he was married to a local woman for five years) hardly sat at the piano for the entire stretch. At times he stood to forcefully pound the piano even harder, and at one juncture, quit "How Come U Don't Call Me Anymore" mid-song to strut around the stage — proving his cane was just a fashion accessory — before resuming the song for dramatic effect.
Some songs — "Little Red Corvette," "Starfish and Coffee" and "Raspberry Beret" — didn't vary too much from the originals (although a low-key "Dirty Mind" was worked into "Corvette"), and the newer aggressive songs, "Purple Music" and "Free Urself," found Prince coercing the crowd into singing the chorus of the latter for a full two-minutes while he removed himself from the stage, returning for a stirring rendition of "Nothing Compares 2 U."
As the 20-song show concluded with a satisfying, soulful "Purple Rain" (and if you're wondering how he recreated the stunning guitar solo at the end of the song on piano, the answer is he didn't), one received the impression that Prince could perform an entire concert on bagpipes and kazoo and he would still sell out the venue, because the live concert results would be magically fresh, intriguing and invigorating, as he proved time and again Good Friday night.
In this regard, there's little argument that Prince is King.
Prince shows Toronto crowd he can play a purple piano as well as the guitar | Toronto Star
Postscript: Little did I realize at the time that I was witnessing Prince's fourth-final concert. I was vacationing in China when I received word from a friend back home that Prince had shockingly passed away. A number of media outlets were trying to desperately get ahold of me and I couldn't get a line out of the country to get back to them. Ended up being interviewed by NBC and a Saskatchewan radio station because of the cane mention in my review. I had the privilege of seeing the man play on 10 different occasions in Toronto, London, Ontario, Nashville and at his own Paisley Park soundstage in Chanhassen. Wish, as does everyone, that we could still watch him perform.