Absent singer spurs eclectic Blackcreek performers to shake up lineup.
Pink Martini is still led by Thomas Lauderdale, centre blond, but singer China Forbes won't be here.
Nick Krewen
Special To The Star,
 Published on Tue Jul 19 2011
First of all, let's get the disappointment out of the way, Pink Martini fans.
When Portland, Oregon's eclectic 13-piece "little orchestra" headlines a triple bill that includes fellow Oregonian, trumpeter Chris Botti and Toronto's own rumba flamenco guitar king Jesse Cook at the Rexall Centre this Wednesday, singer China Forbes won't be among them.
The culprit? Vocal nodes.
"She's going to have the surgery in August, so she's taking the time off now and is at home preparing for that surgery," says Pink Martini bandleader Thomas Lauderdale, who anticipates group co-founder Forbes to be fully recovered for a spring 2012 return.
"It's devastating for the band, but it's also an opportunity to work with different singers. I've always wanted a variety show, so this is a chance to try some of them out and also feature some individual members of the band."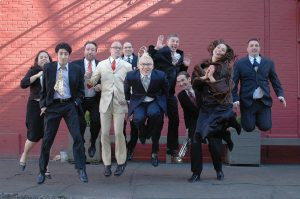 The good news: the substitute that Lauderdale has lined up for the Toronto show (part of the BlackCreek festival) and a few other summer dates to handle the chic, cinematic and lounge-influenced multi-language, multi-styled repertoire that embraces his "United Nations 1962 house band" aesthetic is lauded American jazz singer Lucy Woodward.
Lauderdale, 41, is also trying to lasso a couple of well-known Canadian divas to join in on the fun, as he did for a recent Montreal show when Martha Wainwright sang a few numbers.
"It'll be Lucy and there's a chance there might be a couple of others, but I'm still working on it," he promises down the line from Pittsburgh.
"In New York, there will be a rotating group of six to eight singers at different times. I feel like I'm auditioning for The Gong Show or The Muppet Show."
Although there's no new album in tow (the combo's last effort was 2010's seasonal Joy to the World) Pink Martini's milieu of brass, strings, harp, piano, guitar, bass and percussion will dip into its genre-bending four-album original and obscure catalogue for songs that jump from classical and bossa nova to lounge pop and stoic Japanese folk, often in the native tongue of that particular song.
"It keeps it much more interesting," says Lauderdale, who first met Forbes when both were studying at Harvard. "A lot of us have studied different languages over the years and there's a global mindset and attitude that everybody in the band buys into when it comes to entertaining.
"Each of the songs is so different from the next, so it's more entertaining from the standpoint of being a musician and learning different styles, rhythms, languages and sounds from different parts of the world, instead of playing one kind of style in one kind of way."
Lauderdale's own story is an interesting tale of politics and music becoming not-so-strange bedfellows. A classical pianist who worked in city and state politics, he became bored by the music being played at political functions, and decided to provide his own solution.
"I started the band to provide an extra soundtrack to mostly democratic and progressive causes," he recalls. "So we'd do concerts for the environment or affordable housing or civil rights or schools, libraries, that kind of thing."
Their debut performance occurred in 1994 after Lauderdale watched a rerun of Pee-Wee's Playhouse Christmas Special and took note of an act called The Del Rubio Triplets, three mini-skirted sisters in their seventies who performed covers of hits like 'Walk Like An Egyptian' and 'Whip It."
"I brought the Del Rubio Triplets to Portland to do a successful series of concerts in nursing homes, retirement homes and hospitals," he recalls. "At the end of the week, they needed an opening act and so I started the band — to open for the Del Rubio Triplets during a concert for civil rights. That's how we started."
Starting with 1997's Sympathique, Pink Martini has released its entire output on Lauderdale's Heinz label, sold more than three million albums and traveled the world.
"Hopefully we inspire a bit of hope in an increasingly bleak world, and try to find some optimism and respite from war and poverty," says Lauderdale of Pink Martini's music and performance.
His unfulfilled bucket list wish?
"The dream would be able to lure Doris Day out of retirement and get her to sing with us."