Nick Krewen
Special To The Star,
Published on Sun Apr 22 2012
Rock 'n' roll is supposed to be larger than life. Last night at the Air Canada Centre, Nickelback made it seem mammoth.
Operating under the notion that bigger is better, the four deans of lustful, bone-crunching rock offered the estimated 14,000 in attendance (and pop star Avril Lavigne) everything that one would expect from a dazzling marvel: lots of fireworks, an impressive light show, the occasional explosion and even a rotating stage that hovered more than 15 metres above its audience.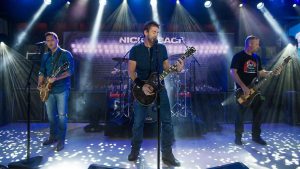 And that's not even mentioning the humongous triple-tiered stage fitted with the expected hi-tech video screens and requisite treadmill ramps that took up a good quarter of the arena and stretched out into a V so even those in the nosebleeds could get a good glimpse of their favourite Canadian band in action.
Of course, all the bells and whistles would be worthless if lead singer and songwriter Chad Kroeger didn't deliver on a number of other fronts, including creating crowd-pleasing hits like "Someday," "How You Remind Me" and "When We Stand Together" containing more hooks than a pirate convention.
But as much as this was about bombast, the talkative Kroeger served more as the genial emcee than bona fide rock star, joking with bandmates Ryan Peake (guitars), brother Mike Kroeger (bass) and Daniel Adair (drums) and engaging the crowd in several singalongs.
It's hard not to like the guy, who was confident enough in his musicianship and singing ability to deliver tornado-paced tongue-twisters like the lyrics for "Something In Your Mouth" alongside more lazy-tempoed ballads like "Lullaby."
But perhaps the key to Kroeger's success is that not only does he understand his audience's tastes — that's why he and his band have sold more than 50 million albums around the world, and counting as the latest, Here And Now, is still relatively fresh out of the gate — but he understands that rock 'n' roll is an exciting bastion of escapism that doesn't have to be cerebral.
So it was coddling to the masses, as uplifting numbers like "Photograph," "Bottoms Up" and even angry anthems like "Burn it to the Ground" allowed folks to sing, dance and vent their problems.
Nickelback's opening acts were equally up to the task, although they delivered less visual flair than the headliners.
In their first Toronto appearance since their 2002 split and 2010 resurrection, Bush — led by the genetically gifted Gavin Rossdale and one of three opening acts Nickelback hired for the tour — focused on reacquaintance rather than promoting their recent recording return The Sea of Memories.
With the familiar guitar riffs of "Machinehead" ringing throughout the auditorium, Rossdale was a bundle of energy, anxiously set to reclaim the territory that Bush forfeited a decade ago, and he wasted no time in cradling the crowd in the palm of his hand with such popular gems as "Little Things" and "Glycerine," his razor-edge voice losing none of its rock-star allure during his inadvertent hiatus.
But Rossdale left nothing to chance just in case fickle pop audiences had forgotten him. During a rendition of the Beatles' "Come Together," Mr. Stefani wandered through the crowd, knowing a little human touch tends to go a long way.
Seether poured fire on their opening number with an intoxicating version of "Gasoline" and never looked back, the three-piece South African combo of singer and guitarist Shaun Morgan, bass player and guitarist Dale Stewart and drummer John Humphrey delivering solid vibes through their own aggressive brand of heavy rock. Their love of musicianship shone through such crowd faves as the acoustic-driven "Country Song" and the pulverizing "Rise Above This."
My Darkest Days drew the short end of the stick, entertaining a small crowd due to the doors opening late, with a four-song set to showcase its lust-driven material.
http://www.thestar.com/entertainment/music/2012/04/22/nickelback_burns_up_acc.html