Native Musicians' Influence Dates To Early Jazz
August 7, 2006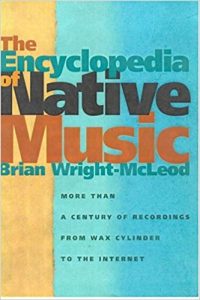 Encyclopedia Of Native Music contains 1,800 entries on Native American musicians
GRAMMY.com
Nick Krewen
She discovered Frank Sinatra and Bing Crosby, mentored jazz legend Billie Holiday, influenced Tony Bennett and was one of the first female singers to professionally perform with an orchestra. But one of the truly obscure facts about jazz singer Mildred Bailey — known as "Mrs. Swing" at the peak of her popularity in the 1930s — concerns her Native heritage.
Born Mildred Rinker in Tekoa, Wash., her mother Josephine hailed from the nearby Coeur d'Alene reserve in Northern Idaho and often took her daughter on the 37-mile journey to reconnect with her roots.
Although generally viewed by history as Caucasian, Bailey's indigenous ancestry is a detail not lost on Brian Wright-McLeod, a Native musicologist who devotes four pages of his 1,800-entry Encyclopedia Of Native Music (University of Arizona Press) to the singer's numerous achievements.
"You've got decades of people who were phenomenally creative in the mainstream that nobody saw as Native," says Wright-McLeod, who also includes "Rockin' Chair," Bailey's signature song, especially written for her by Hoagy Carmichael, as one of 72 tracks on the encyclopedia's companion 3-CD anthology The Soundtrack Of A People, issued late last year by EMI Music Canada.
"At one time in this society, if you weren't white you were black, regardless of if you were Native, Mexican or anything. So it's pretty intriguing to rifle through that history and make sense of it."
Bailey, of course, isn't the only North American Native to make an impact: Well-known rock and folk icons ranging from Robbie Robertson (Mohawk) and Buffy Sainte-Marie (Plains Cree); to seminal jazz artists such as Louis Armstrong trombonist Russell "Big Chief" Moore (Akimel O'odham) and be-bop co-founding bassist Oscar Pettiford (Choctaw, Cherokee, African American); to contemporary visionaries such as Vancouver techno-trip-hop priestess Kinnie Starr (Mohawk) and jubilant Los Angeles self-proclaimed "Afro-Latin mashers" Ozomatli (Chicano) have played or are continuing to play influential roles in today's music.
"It's just the tip of the iceberg," contends Wright-McLeod, whose comprehensive encyclopedia and companion album cover more than a century of recordings and a geographical scope stretching from the Arctic to Central America. "It's incredible. I'm still uncovering material and information."
The seeds for the twin projects were planted more than eight years ago through Wright-McLeod's dual careers of music journalism and as host of "Renegade Radio," a weekly two-hour campus station broadcast devoted to Native music and issues that  — rechristened as "Electric Powwow" — moved to Sirius Canada satellite radio earlier this year.
"I was often being asked about where information is on different artists and different recordings, that sort of thing," recalls Wright-MacLeod, a Toronto resident of Dakota-Anishnabe lineage. "There was a lack of resources and nothing available for people to have their questions answered."
Wright-McLeod started making a list and found that various paths often led to profound discovery. "I'd get people, programmers and listeners saying, 'Oh, did you check out this guy who used to play with Louis Armstrong — Chief Russell Moore?' So I'd get into that and find out that other Native people had played jazz with them in the '30s, '40s, '50s and '60s," he notes.
He also appreciated the resiliency of artists creating music in oppressive times. "You don't have to look too far back to see how outright racism was government policy in both Canada and the United States," states Wright-McLeod. "It was illegal for more than three Indian people to meet on the street, otherwise it would be viewed as seditious. You couldn't leave the Reserve without a pass. The restrictions were huge.
"Today it's just taken for granted that you can go out and play music or make a record."
Wright-McLeod says his reference guides will hopefully enlighten and educate about a widely misunderstood cultural phenomenon. "There's just as many native people who don't know the history of this stuff," he admits. "It's often cited that Buffy Sainte-Marie or Redbone or XIT was the starting point, but it's been going on ever since wax cylinders came into use. So many Native people were recording back then that we were at the ground floor of the recording industry."
The author also wants to dispel the stereotypical notions of "drums and flutes, the typical tom-tom beat that you find in Western movies." As Wright-McLeod explains: "There were various vocal forms that had intricate patterns and didn't depend solely on the pentatonic scale. There were harmonies and stringed instruments like the one-stringed Apache fiddle.
"People also have a misconception — and I did at one time too — that a lot of Native music is derived from black slave music. The call-and-response actually came from the whooping crane and they patterned the music after the harmony they had with nature."
As for The Soundtrack Of A People, which he spent five years assembling, Wright-McLeod calls the collection anything but definitive. "With respect to the CD, there were tons of artists who I would have loved to have on there," he admits. "Redbone is absent, but at the same time there's Morley Loon, who is from James Bay and influenced artists like Innu duo Kashtin.
"Some artists weren't available or I missed them because it's such a huge project, but if somebody's favorite artist isn't on the compilation, they're certainly there in spirit."
With future plans including a CD-ROM and a possible television series, Wright-McLeod hopes that The Encyclopedia Of Native Music and The Soundtrack Of A People will lead to a deeper appreciation and respect of such Native musicians as Jesse Ed Davis, John Trudell and Mildred Bailey.
"It's worthwhile to document our history, otherwise it's just going to disappear," he declares.
(Nick Krewen is a Toronto-based journalist who has written for The Toronto Star, TV Guide, Billboard, Country Music and was a consultant for the National Film Board's music industry documentary Dream Machine.)