B.C. band comes up with the accidental concept album, a testimonial to an outcast.
By: Nick Krewen Special to the Star, Published on Fri Nov 30 2012
Well, Mother Mother certainly didn't waste any time.
A mere 18 months after the quirky Vancouver alt rock band issued its third album Eureka and relentlessly toured North America to support it, leader Ryan Guldemond led his troops back into the studio and created the September-released The Sticks.
Now back in their serious road warrior mode — Mother Mother headlines at the Kool Haus Saturday night with fellow Vancouverite Hannah Georgas opening — the resourceful quintet has broken some new ground with the latest recording.
The Sticks defies Mother Mother convention, or rather non-convention, in that it's the first concept project Guldemond has penned: a testimonial for the social outcast who has tired of modern society and wants to escape — permanently.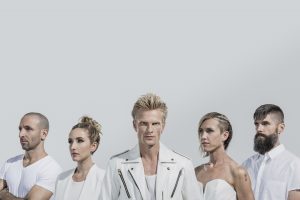 "That concept kind of happened accidentally," admits singer, guitarist and songwriter Guldemond, who describes his writing style as "gravitating towards the dark, the cynical and the sardonic."
"But it's nothing that hasn't been going on in my life the whole time. It feels like it's been 30 years of introspection, and being relatively at odds with the peripheral man-made circus that is our lives, in society and things especially that we use to function and to be passively entertained and to poorly communicate with.
"As of late, as technology booms, it seems that that stuff gets deeper in the quagmire."
Topically, even though songs like "Bit by Bit," "Waiting for The World to End" and "Dread in My Heart" tend to dwell on negativity, Guldemond says he's not offering a glimpse into his soul.
"That's just the way I see things," he insists. "It's not like any anecdotal thing which sparked the writing. It's just that's how I see the modern world.
"These days, in this era, when things are getting pretty fast and serious just in terms of technology and cyberspace, I guess it was more on my mind. So that's how the outpouring of the modern protests came to be.
"But I don't write from a personal place in terms of my story. It's not like stuff happens to me and I need to write about it in order to purge myself of any of its taint. Usually my stuff is quite fictitious and story-based."
Musically, The Sticks features more streamlined rock arrangements that don't twist and turn as frantically as some of the band's earlier works, which would often swerve from pop to jazz or country on a dime, dive into a few measures of unusual time signatures, but fall in line thanks to Mother Mother's sublimely executed, notoriously tight musicianship and gilded three-part harmony.
It is an amazing band that includes his sister Molly Guldemond (keyboards and vocals), Jasmin Parkin (keyboards and vocals), Jeremy Page (bass) and Ali Siadat (drums) — and when he speaks to its future, Guldemond is downright hopeful.
"The beautiful thing about forecast in the arts is that the sky is truly the limit," he explains. "And so eight years ago I was very open to the eventuality of international stardom eight years later — now, today.
"But I was also open to the whole thing flopping. I had equal beliefs in both of those outcomes. And that's the neat thing about it — it's so extreme. Even tomorrow, something crazy might happen — someone might blog about something, or maybe everyone will decide that it's not a viable music — this Mother Mother sound — and that's what really differentiates the arts from every other trade."
After the Juno-nominated Mother Mother wraps this Canadian tour in Vancouver on Dec. 19, Guldemond says the game plan is to return to "the deep, dark abyss of the United States of America," where he hopes to make further inroads and "make some more fans."
The band's desire for mainstream popularity "has been a slow incline and I think that's really good," he says. "That really grounds you as a band.
"Obviously the fast ride can look appealing, and should that happen, I don't think anyone's going to object. But our career has been a slow ascent, and that's really positive.
"Retrograde is something to be wary of — even moving laterally can feel like backwards motion. I'm just happy that that hasn't come into the career arc yet."