Suit and Tie singer's new album really could have used the hindsight of an editor.
Nick Krewen
Special to the Star
Published on Tue Mar 19 2013
Justin Timberlake
The 20/20 Experience (RCA)
2 stars
Second only in studio secrecy to the recent re-emergence of David Bowie, Justin Timberlake ends a six-year music hiatus with The 20/20 Experience, only his third solo album since he managed to buck the trend and successfully transition himself from boy band heartthrob to serious musician.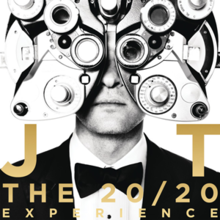 Yes, he of the charmed and soulful falsetto is the go-to guy of the moment: he's been Teflon-coated by the masses as girls still seem to swoon in his presence, even though he's now married to actress Jessica Biel; he's established himself as enough of a box-office pull to regularly command top-billing movie gigs, and his infrequent appearances on Saturday Night Live are really the only reason to tune into a show whose expiry date lapsed a good two decades ago.
But The 20/20 Experience is where the streak unfortunately ends. Clocking in at over 90 minutes, with no musically romantic canoodling,this album badly needs the hindsight of an editor.
Much of the album is devoted to long, slow, jams that occupy three-or-four minutes of midsong meander, where time and direction seem to have been misplaced and forgotten, before a tune slouches towards its inevitable conclusion.
The opener, the 8:02 "Pusher Love Girl," is symptomatic of the overall problem: a dull dirge of a track that plods along at a midtempo slog lasting five minutes, before a false ending and equally dull coda drag our carcasses another 400 meters after its initial impact. Just when we feel we've escaped with minor scratches, Timberlake repeats the line "I'm a junkie for your love" ad nauseam until the song reaches its merciful resolution.
Then it's off to "Suit & Tie" land at the same tempo, before it picks up the pace into a decent five-minute groove. But whether it's the effervescent pop of the fizzy "Strawberry Bubblegum" (8:00) or "Spaceship Coupe," the ridiculously silly Prince-inspired ballad of orgasmic alien lust (7:17), this album simply stretches the material to its thinnest membrane.
Timberlake can't take all the blame — some of it must be given to another "Timber" — noted producer Timbaland, who has hit a rut in overseeing the release of this dreck.
In truth, the melodies and some of the arrangement ideas suggest that there's a decent album in here somewhere.
Cutting it back even an hour would have made The 20/20 Experience seem more than justified.
DOWNLOAD: "Let The Groove Get In," a cool percussive-driven Spanish-flavoured hip-shaker that is the only song here that merits its seven-minute time span.
Nick Krewen
Justin Timberlake's The 20/20 Experience bloated and dull: album review | Toronto Star