2 of 2 provides slightly more nutrition than Timberlake's first 20/20 Experience
By:
Nick Krewen
Music,
Published on Tue Oct 01 2013
Turns out that hindsight is 40/40.
After musically resurfacing back in the spring with the tepid first volume of The 20/20 Experience, a faux soul album laden with much more fat than meat in its mediocre 90 minutes, the tandem of golden voice Justin Timberlake and producer Tim "Timbaland" Mosley is hoping to compensate on 2 of 2 by pumping up the adrenalin factor.
But does livening up a sequel with slightly aggressive rock, heavier beats and more pronounced electronic grooves make for a better effort?
That's a loaded question. It only takes the second song, a buzzing synth triangle-infused slab of automated funk called "True Blood," for a past mistake to return to haunt the two Tims: a 9-and-a-half minute marathon that could have easily been snipped at the 6:30 mark due to its unnecessary wandering off the thematic grid.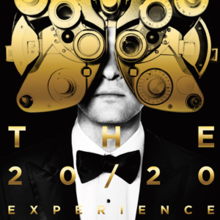 Even though the subject matter of the 12 songs here (or 14 if you have the deluxe edition) is about as flossy as Timberlake's GQ spread in the CD booklet, what arguably favours 2 of 2 over its predecessor are two things: his lack of concern with retrofitting and some memorable melodies.
The previously explored topics of love, lust, heartbreak and romantic head games are complemented by tighter melodies and choruses, and good ones abound: the sonic slap of "Only When I Walk Away" boasts a can't-miss chorus that sticks in the craw; "Drink You Away" combines killer, gospel-tinged guitar-and-organ interplay with a clever lyrical reference regarding an alcohol-induced Jack and Jill nursery rhyme couplet; "Cabaret" invites our own Raptors ambassador Drake to throw a couple of choruses about a sexual tête-à-tête amidst a melee of scattershot rhythms; "Take Back the Night" finds Timberlake fleshing out old school R&B with appetizing string arrangements in perhaps his most commercial song on the album, and "Amnesia" offers a hypnotic groove whose only misstep is overextension by about 90 seconds or so.
If you overlook producer Timbaland's inflated kitchen-sink production — again, the main culprit here is the messy "True Blood" — 2 of 2 provides slightly more nutrition than the first 20/20 Experience.
It'll still sell a boatload, but if JT represents the modern-day standard of R&B, a serious re-examination of soul music is in order.