Published in the Kitchener-Waterloo Record on January 23, 1998
By Nick Krewen
For nine years, Seattle's Jim Rose has been touring his "Circus Of The Scars" around the world.
Barnum and Bailey it's not. The Jim Rose Circus doesn't ride elephants or swing on trapezes, and if you're looking for three rings you'll more than likely find them attached to the sensitive portions of a troupe member's anatomy.
Promising everything from "thrills, chills and doctor bills" to chainsaw stunt teams and a human cannonball demonstration, Rose guarantees a show to dismember. His merry band of social mutants will impress you with physical feats that will leave you amazed, amused, astounded…and probably a little nauseous.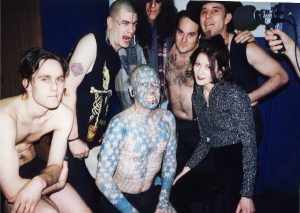 But it's clear that Rose, 41, loves his work, and even an early morning interview reveals a little of the carnival barker within as he describes his chief attractions.
"I've got one lady that's 36-24-36," says Rose, "And that's just one leg! You feel the earth shake when over 800 lbs. of female human flesh collide. "There's the Amazing Mr. Lifto, the unconventional weightlifter! He will make Arnold Schwarzenegger cry. Nipples, tongue, ears, nose and the part of him that's most Mister will lift up incredible parts of weight!"
Over the next few minutes Rose promotes The Armenian Rubber Man "who has hair in places monkeys don't," as a human pretzel who will "slither through the head of a 1970's model tennis racquet" — and another wrestling match, this one between Mexican transvestites.
"A ticket's good for a seat, but you'll only use the edge!" he cries. "Not since Christians were fed to the lions has a show been this dangerous and entertaining!"
It's an experience that's been enjoyed by hundreds of thousands. It was the toast of 1992's Lollapalooza and the talk of the 1994 Nine Inch Nails tour.
The troupe — which includes his wife Bebe and "The Enigma," the jigsaw-tattooed character who starred with Rose on the most popular episode of The 'X' Files — have already proven their ability to draw capacity crowds of 17,000 in Melbourne, Australia; 13,000 in Sydney; 11,000 in Barcelona, Spain ; and 14,000 in Edinburgh, Scotland.
Their growing demand has caught the attention of theatrical investors and organizers.
"This is our last real intimate type of show," Rose announces, "The people who do Riverdance and Stomp have picked us up. We'll be doing theatre shows until 2001."
Conceivably, Rose followers may one day experience the surreal satisfaction of seeing Rose's name in lights on a Broadway marquee.
"I beat Stomp's record in Australia and Spain this year for attendance, so if that holds up for the rest of the world, that might be likely," chuckles Rose.
"I think the reason for the success of The Jim Rose Circus, the reason why people keep coming back, is because they laugh a lot. It's a dangerous cartoon. It really shouldn't be taken that seriously. It's kind of like John Waters meets P.T. Barnum."
Rose almost ended his career prematurely when a Belgian publicity stunt for a "Don't Eat Meat" campaign went awry. He successfully jumped his motorcyle over 27 cow carcasses at a meat packing plant but wiped out upon landing, wrenching his back and spending four months in bed recuperating.
"That just gave me all the time in the world to realize that this is really the only thing I want to do."