The last time Grammy-nominated, Americana music siren Iris DeMent released an album of original songs, Lisa Marie Presley had divorced Michael Jackson; Diana, Princess of Wales was still among the living and social media was restricted to email.
Not that it matters to the DeMent faithful who will pack Hugh's Room to the rafters this weekend for a pair of shows to hear the latest reality-twanged gems from the Arkansas-born, Southern California-raised U.S. songstress, 16 years in the making.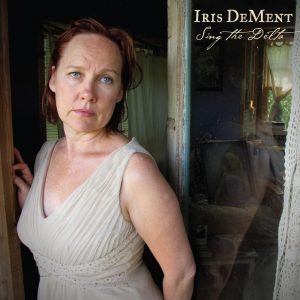 They're just happy to have some new music, lovingly brewed from the 51-year-old's creative carafe of unwavering honesty, infused with the emotion of love, life and loss, stirred from the grinds of folk and country and serenaded with DeMent's wholesome, fragrant Southern drawl, a voice that evokes Carter Family influence, is equally at home in coffeehouses and honky tonks, and is steeped in hope, melancholy, defiance, and magnolias.
"Out of all the songs I wrote over the last 15 years, I wrote 11 that I felt some folks would be the better for hearing," DeMent says down the line from the Iowa home she shares with her husband, fellow songwriter Greg Brown, explaining the gap between 1996's The Way I Should and her brand new Sing the Delta. (A 2004 album, Lifelines, was primarily gospel covers.)
"You know, I'm not interested in making records just for the sake of making records. I have other things I enjoy doing that entertain me, stimulate me. I'd rather go make an amazing pie and please five people than put out a record that doesn't speak to anybody's heart."
The youngest of 14 children in a Pentecostal household, she decided when she was only 7 or 8 that songwriting would be her vocation. "When I was a kid, I remember being outside and making up a song about a rose bush and a light bulb went off in my head. I have this vivid memory of this amazing sense coming over me, that I was looking at this thing in front of me, having a feeling about it, and realizing I was expressing something about it that no one else ever had.
"I remember feeling really excited about that. I think I always wanted to write songs (but) for and I always struggled trying to write songs. For some reason, they didn't come easy for me and I didn't actually complete a song that I felt good about until I was 25.
"It was slow coming to me, but when I wrote 'Our Town,' I knew, OK, this is really what I'm going to do. The door's been opened for me. I got my call that day, and it hasn't gone away."
The piano-driven numbers on Sing the Delta are consistent. Whether it's the bereavement rendered in "The Night I Learned How Not to Pray," or "Mama Was Always Tellin' Her Truth," a loving but complicated ode to her late mother, consistently tug at the heart strings, stemming from a world so confidential that DeMent doesn't even play them for her husband.
"I don't play them for anybody first," she reveals. "I just go out and play them. I have never done that. If I can't believe in the song and feel it in my body and in my heart, then it doesn't matter if somebody else says it's great or it sucks. What difference does it make?
"There's just that little voice in me, that, once I have faith in something, I have faith in something – and it doesn't generally waver much. I've always been very private — that's kind of my secret world, writing, and I've never been inclined to share that with anybody, to tell the truth, until the songs are done and I'm out there singing them for somebody."
Although she's happy to tour whenever she gets the chance, she restricts her performances to weekends, having a daughter in school. "I have a daughter in school and I waited a long time to have my child, and I'm really not interested in missing out on too much of it." But that means DeMent can't afford to hire a band.
"You'll have to do just do with me. I'll stomp my feet extra loud or something as the drummer."