NICK KREWEN
Hamilton Spectator
March 14, 1996
At one time, Iggy Pop was rock 'n roll's quintessential angry young man.
It was a common sight at his concerts to watch Pop flail about on stage, throwing on-stage tantrums, lacerating himself with glass and lashing out at the audience. A punk prototype whose behavior later set the stage for the antics of The Sex Pistols and Richard Hell & The Voidoids, Iggy & The Stooges set the late 1960s and 1970s on its ear with wild, spontaneous rock concerts that made headlines for their depravity.
These days however, James Jewel Osterberg finds that his artistic alter ego has less angst in his pants with each passing day. Even his new album, Naughty Little Doggie, finds the man who once sang "I Wanna Be Your Dog" barking optimistically about the future. Iggy Pop isn't so angry anymore.
"It happened in the '90s," admits Pop, 48, his black leather pants and knit shirt offsetting his dyed blond locks as he reclines in a chair at his record company's office in Toronto.
"It had been brewing for a long time. In the '90s, I was going out and playing, and for the first time in my life, people were smiling. They were moving their heads in a certain way, moving their shoulders, slamming — people were enjoying the stuff. And I thought, 'Wow! Cool. Why am I so angry? Wait a minute. This changes everything!'"
Pop, whose vitriolic albums usually include such titles as "Search And Destroy" or "Mr. Dynamite," softens his stance considerably on Naughty Little Doggie.
"Are there any vendetta songs on this record?" Iggy asks rhetorically. "I don't think so. Like everybody else, I have my problematic situations, and I have a certain amount of fatalism, but there's not as much anger. The stuff that used to make me pissed off I tend to ignore now, because I have something else I can do, an alternative. I'm getting a lot of work."
Yes, apart from maintaining his status as rock 'n ' roll icon, Iggy Pop is working towards becoming a movie star. He's had bit parts in John Waters' Cry Baby and Tank Girl, and a few months ago completed his biggest role in The Crow II.
Music remains his first love, and just because Iggy may be mellowing in some aspect doesn't mean he's above promoting controversy. He's already raised the ire of a few female journalists with his song "Pussy Walk," a lecherous ode to teenage girls, though he feigns innocence.
"I had no idea I was going to create such a fuss!" says Pop, his mischievous grin stretching from ear to ear.
"It really pressed a button, didn't it?"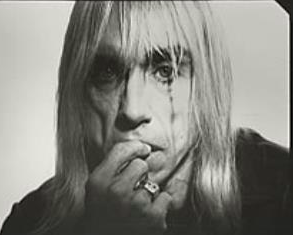 Pressing buttons is something Iggy Pop has mastered since he left his trailer park home in Ypsilanti, Michigan, dropped out of university and went to work in a record store.
"I thought, I'm going to be a real musician. I'm going to give my life to this," recalls Pop. " At which time I started educating myself musically. I was listening to classical music, opera, ethnic music of every description — which is now called world music.– rockabilly, R&B, blues, everything good. At that point, God, rock 'n 'roll sounded really puerile, you know? Really silly and cheap. But my aspirations were those directions."
Iggy Pop had already formed his first band, The Iguanas, in the tenth grade, but it was upon meeting high school dropouts Ron and Scott Asheton that he decided to form The Stooges. According to Iggy, the first Stooges performance not only ordained him the godfather of punk, but the den mother of industrial music.
"The first Stooges gig I wore golf shoes, and had a galvanized sheet of aluminum under my shoes, miked with contact mikes, which I danced on and made a rhythm that went with drums," remembers Pop.
"The drums were oil drums that I salvaged from a junkyard. Instead of playing snare drum, I had the guy playing timbales. Instead of sticks he used mallets. Then we had a large instrument I call the Jim-O-Phone, after my given name, which was a big conical tube I found in a junkyard. Depending on how far down you put a microphone into it, you would feed back at different frequencies. It was really irritating. And I was using a Waring Blender and I played vacuum cleaner."
Pop says he wore an aluminum Afro wig and whiteface, and that the music was based on "belly dance music I liked, because I always had a weakness for North African music."
He retreated to the more familiar format of guitar, bass and drums when he got a recording contract with Elektra Records.
"I thought, s—, we'd better get some songs," says Pop.
Although the band only recorded three albums ending with 1973's David Bowie-produced Raw Power, Pop is flirting with the idea of reuniting them for a future album and tour.
"I wanna get in a room with them, and see what's there, in terms of new music" says Iggy. "I don't see any point in doing the usual tour, playing the old songs, that sort of thing. I wanna do something new because they're all friends, you know. It doesn't seem right to close the book."
Pop's drug-addled days are also a thing of the past. Although he doesn't regret the days of pumping his body full of chemicals ranging from LSD to heroin, he dispels the notion that his indulgences helped spur his creativity.
"It helped block up and lock out the other stuff, so that I could concentrate," says Pop, who detoxed himself in the early '80s. "There is an enormous burden of rut and worry and chitter chatter that we all carry through, and it gets in the way. That's where the drugs would help. There came a point where I used to have to have them to calm down, you know. I would just get so much energy, and I needed it just to calm down.
"You have to have health of some sort to make something good, I think, musically. You can't do it out of total illness and depravity."
Now considered the poster child of rock survival, Iggy Pop says he enjoys his status in rock 'n roll history.
"It's been very convenient for me," says Pop, who plays Toronto April 12. "I'm very happy to be fitted in the big picture. I get a lot of respect now than I didn't get from general society, and I enjoy it. It makes things a lot easier for me in customs.
"I enjoy it, and I feel I've earned it. "