GRAMMY Hall Of Fame Inspirations: Gotye
From the sublime to the adventurous, GRAMMY winner reveals a chain of GRAMMY Hall Of Fame recordings that influenced his idiosyncratic brand of pop music
MAY 15, 2017 – 2:36 AM
(To commemorate the GRAMMY Hall Of Fame's 40th Anniversary in 2013, GRAMMY.com has launched GRAMMY Hall Of Fame Inspirations. The ongoing series will feature conversations with various individuals who will identify GRAMMY Hall Of Fame recordings that have influenced them and helped shape their careers.)
Even before he and his duet partner Kimbra were awarded GRAMMYs in 2013 for Record Of The Year and Best Pop Duo/Group Performance for "Somebody That I Used To Know," Gotye had already struck pay dirt with the song in his native Australia.
In fact, this unforgettable xylophone-driven chart-topper had earned Gotye — or Wouter "Wally" De Backer, as he was christened by his parents — six ARIA Awards before the song broke globally and became a YouTube viral sensation that has now surpassed 480 million views.
But the question that everyone wanted answered from the Belgian-born Gotye is whether this acerbic recollection at an alienating breakup stems from personal experience?
"It was, but it wasn't one relationship," says Gotye, who also took home Best Alternative Music Album at the 55th GRAMMY Awards for Making Mirrors. "If anything, I'd say the whole song unfolded from that first line, which is: 'Now and then I think of when we were together.' That's not so much about one girl and one relationship, but maybe all the relationships I've had for the past 16 years — just different moments, I suppose. There are three or four different lyrics in the song, so there are a bunch of memories and it's embellished with a little bit of fiction.
"But in a way, I think the song is more about that place of confusion, at least in my character's case, an almost schizophrenic vacillation between, on the one hand, kind of romantic reflection, and bitter angst — the way you remember something being. Because both viewpoints are unreliable and call the other into question, I think the song is not so much about, 'Oh, it's such a bad relationship and now I hate you,' but is more about how time can confuse and fog up so much memory that sometimes acknowledges how you feel.
"That's the way a lot of listeners feel about both characters, although I think maybe more people relate to the Kimbra character as more of an anti-hero, while I come across as something maybe less likeable."
While a follow-up to Making Mirrors is still pending, Gotye reflected on six GRAMMY Hall Of Fame recordings that not only inspired his own musical journey, but serve as a reference point for his idiosyncratic brand of pop music.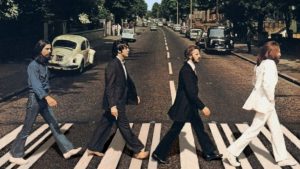 Abbey Road
The Beatles
Apple (1969)
Album
Inducted 1995
"When I was a kid, it was one of the only pop records in my mom and dad's record collection of mostly classical music, but [also] a lot of world music and French-language stuff. I discovered Abbey Road fairly early on. I wore it out playing it on my parents' turntable. And if I listen to it anywhere else, I still expect the same jumps and pops and cracks at certain points in songs — I got used to hearing them as a kid. I kind of realize that it's a pretty great record to hear early on, considering how diverse it is. All Beatles stuff is pretty much amazing, but that record remains one of my favorites.
"'The End' is one of my favorite songs of all time. I think the wonderful thing as a kid is that you don't have all these expectations and prejudices where your musical tastes didn't fit — you don't have as many reference points. It's an album that's so Technicolor, and really so wild, that sometimes because of how memorable and how important the Beatles were, it's easy to forget how weird they can be and how odd their records really are when you think of them as complete pieces of music. That was a wonderful thing as a kid to hear, because it fundamentally established the sense that you can do all sorts of things on a record. Abbey Road is still my favorite Beatles record and I go back to it a lot to reference how far-reaching a global pop record can be."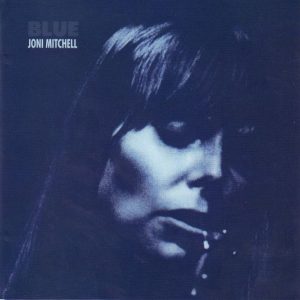 Blue
Joni Mitchell
Reprise (1971)
Album
Inducted 1999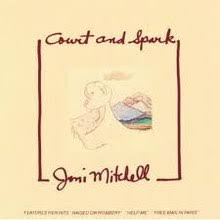 Court And Spark
Joni Mitchell
Asylum (1974)
Album
Inducted 2004
"I think Court And Spark is my favorite of Joni Mitchell's records, but Blue comes very, very close. Her voice is so incredibly nimble and expressive, her turn of phrase so finely honed. Blue is my reference for whether a performance really feels in the moment and alive, and it's beautiful how the record undulates from sorrowful moments to ones of irrepressible joy.
"But Court And Spark's harmonic complexity and fusion-influenced sound palette are sublime, and I love the band arrangements and the way the harmony branches out.
"Blue is Joni capturing so many sublime moments I always have to listen to the entire record."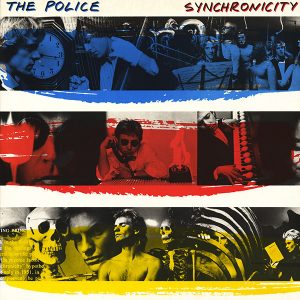 Synchronicity
The Police
A&M (1983)
Album
Inducted 2009
"The energy in Stewart Copeland's drumming on the opener 'Synchronicity I' is off the hook! The album also features so many great, memorable songs from Sting, and fantastic vocal performances as he delivers them. I love that Copeland and [Andy] Summers' quirky songwriting contributions — 'Miss Gradenko' is Copeland's and 'Mother' is Summers' — are early on the A-side of the record. 'Wrapped Around Your Finger' is one of my favorite Police tracks of all time. Hugh Padgham's production is excellent throughout the record too."
Rumours
Fleetwood Mac
Warner Bros. (1977)
Album
Inducted 2003
"Rumours is perhaps Fleetwood Mac's finest album, although I love the sprawling quality of [1979's double album] Tusk. The combination of voices and individual songwriting styles is so complementary here, and there's a particularly genius moment when everything drops away to just the bass line near the end of 'The Chain.' Christine McVie's 'Songbird' breaks my heart every time I hear it."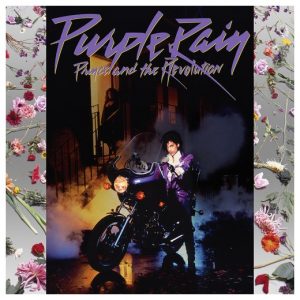 Purple Rain
Prince & The Revolution
Warner Bros. (1984)
Album
Inducted 2011
"For a record that was such a popular smash, it really sounds quite odd, but that's one of the things I love about it: the swampy factory reverb and clumsy playing in some parts recalling heavy metal. Prince's consummate LinnDrum programming on incredible pop songs like 'When Doves Cry' and 'I Would Die 4 U' are also memorable. And, of course, the title track to close was the ultimate '80s power ballad. His voice is so insanely versatile and engaging, Purple Rain makes you ponder: If only more pop records were this adventurous and strange."
(Nick Krewen is the Toronto-based co-author of Music From Far And Wide: Celebrating Forty Years Of The JUNO Awards, a contributor to The Routledge Film Music Sourcebook and has written for The Toronto Star, TV Guide, Billboard, and Country Music. He was a consultant for the National Film Board's music industry documentary Dream Machine.)