MAY 15, 2017
(To commemorate the GRAMMY Hall Of Fame's 40th Anniversary in 2013, GRAMMY.com has launched GRAMMY Hall Of Fame Inspirations. The ongoing series will feature conversations with various individuals who will identify GRAMMY Hall Of Fame recordings that have influenced them and helped shape their careers.)
In 1976 when founding Eagles member Don Henley announced to a roomful of radio programmers during a playback of Hotel California that the album's title track would be the first single, then-lead guitarist for the Eagles Don Felder expressed his concerns.
"I said, 'C'mon, Don, radio will never play it,'" recalls the Gainesville, Fla., native, who wrote the song's music. "You couldn't dance to it. It had a one-minute introduction and it stopped in the middle where there were no drums at all. It had a two-minute guitar solo at the end of it and the song in its entirety was six minutes long. So, I said, 'I think it's the wrong single. It's an FM track.' And he went, 'Nope, that's going to be the single.' And I've never been so happy to be so delightfully wrong."
"Hotel California," co-written by Felder, Henley and Glenn Frey, went platinum and won a GRAMMY for Record Of The Year in 1977. The song and album of the same name were inducted into the GRAMMY Hall Of Fame in 2003 and 2008, respectively.
But Felder said the song's global impact struck him during an October 2012 performance at the United Nations.
"There were about 400 heads of state from countries all over the world," he recalls. "I walked out and played 'Hotel California' and everybody in the place gave me a standing ovation, and half of those countries don't even speak English. To me, it was a little tap on the shoulder as far as how globally effective that song has been. … It was phenomenal to have been part of such a great collaboration. I'm very grateful."
With a total of three GRAMMY Hall Of Fame-inducted Eagles recordings to hang his hat on, below Felder reveals the five Hall Of Fame recordings that inspired his own career.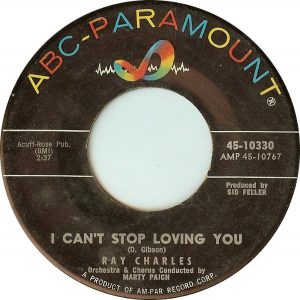 "I Can't Stop Loving You"
Ray Charles
ABC-Paramount (1962)
Single
Inducted 2001
"Early on, one of my favorites was Ray Charles. I remember hearing 'I Can't Stop Loving You' in the early '60s and thinking, 'What an unbelievably soulful voice.' In those days, the Deep South was extremely segregated. They had white radio stations that would only play white music. They went off the air usually around sundown, and if you had a crystal radio set, and the weather conditions were good between Florida and Nashville, you could dial into WLAC [-AM in] Nashville and hear Ray Charles, B.B. King, James Brown, and Little Richard. During the day you'd hear Pat Boone singing "Tutti Frutti" and at night you'd hear Little Richard doing it and the hair would stand up on your arms. And Ray Charles — not only was he from the South, not far from Gainesville, Florida — but he had that same charismatic, magnetic energy in his voice, his writing and his playing that inspired me.
"Shortly after I moved to Los Angeles, I was looking for work and I happened to be invited to Ray's studio, and sat in and played on a couple of his demos. I didn't charge him a dime for it. I was on cloud nine to be working in the same room as Ray Charles, one of my huge idols. Ray's earlier works were some of my biggest influences, especially 'I Can't Stop Loving You.'"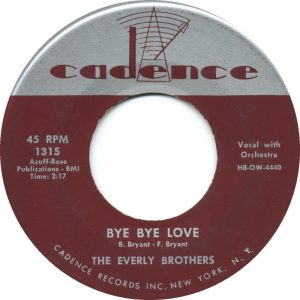 "Bye Bye Love"
The Everly Brothers
Cadence (1957)
Single
Inducted 1998
"Growing up in the South with a lot [of] white radio stations, the Everly Brothers were one of my favorite vocal duos. In fact, I used to try to emulate the Everlys in my little shows at junior high school and Saturday afternoon matinees at the Florida Theatre in Gainesville, which cost 25 cents. There was a 2 p.m. show for kids and before the show anyone [who] had any talent could get up onstage while the curtain was still closed and perform. So, I would be there with my little electric guitar and amp and I would play a Roy Orbison song or an Everly Brothers song. The kids at my junior high used to tease me and call me 'Don Everly' instead of Don Felder.
"I would say 'Bye Bye Love' is one of my favorite influential songs to this day, and ironically, they were so in sync with their harmonies that they sounded like one person. That approach to hearing and formulating harmonies stuck in my head, so when I joined the Eagles my ear was trained to be able to hear a vocal that way. And although there were more than two people singing, it was the same synchronicity of trying to get everybody to lock up so that all the syllables happened at the same time."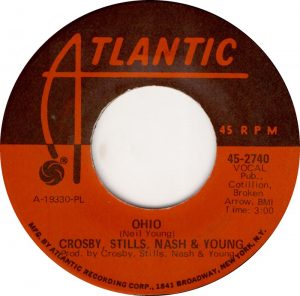 "Ohio"
Crosby, Stills, Nash & Young
Atlantic (1970)
Single
Inducted 2009
"'Ohio' captured that whole feeling of the '60s in one couplet — a protest song against the government and political and police control. It was shortly after the Vietnam War, and it had a great strength, energy and spirit about it that came out of all those vocals together.
"Ironically, not only did I play with Stephen [Stills] when we were children, but one of the first acts I got hired for when I got to California was [David] Crosby and [Graham] Nash. I got hired to do Stephen's parts, which is such an irony that I can't believe it. I didn't say anything to David or Graham about me even knowing Stephen or growing up with him. Then we went to Denver, where Stephen was living at the time, played this big outdoor show — this was probably '73 — and Stephen came and sat in. He just walked onstage, looked at me and said, 'What are you doing here?' And I replied, 'Being you.' We reconnected and have literally been good friends ever since."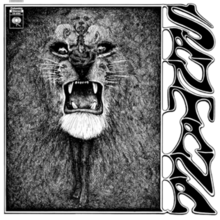 Santana
Santana
Columbia (1969)
Rock (Album)
Inducted 2012
"When I moved to New York and was in my jazz fusion band, Flow, we would spend our weekends driving to Goddard College in Vermont to take in this big gamelan festival. … It turned out that Santana was playing in the cafeteria one weekend. And I thought, 'Oh, this is going to sound like a mariachi band,' but I saw Carlos [Santana] early in his first album incarnation and was blown away. Growing up in Florida, there was always a very Cuban percussion influence in the music in the South — not in the rock music but down around Miami [with] Latin [music].
"When I saw what Carlos had done in taking rock music and merging it with [a] Latin influence, I just fell in love with it. I thought that was one of the most brilliant concepts really on record at the time. I started following him, listening to his records, stealing guitar licks from him, anything I could. I just really admired his creativity. The intensity in that live show in that small cafeteria left quite an impression on me as far as taking ideas that were somewhat off-center and pursuing them musically. Much like Miles [Davis] had influenced me early on to phrase like a horn player, Carlos influenced me in the concept of taking musical collaborations of different cultures and trying to merge those together."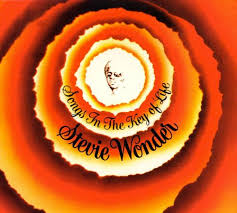 Songs In The Key Of Life
Stevie Wonder
Tamla (1976)
Album
Inducted 2002
"Another huge influence was Stevie Wonder. I remember being at a Teen Time dance and hearing Little Stevie Wonder's 'Fingertips Pt. 1' on this jukebox. I had that same reaction that I had to James Brown and other artists [who] have [an] incredible energy and intensity. Later, after having been baptized into the wonderful religion of Stevie Wonder through 'Fingertips Pt. 1," [I heard] Songs In The Key Of Life, [which] was just phenomenal. He's an artist [who] is able to step outside of the normal world of conceiving songwriting and write really sincere, beautiful melodies and lyrics in his own genre, that nobody else thinks about. Nobody writes that way, nobody plays that way — he's just a unique soul.
"I remember sitting in a hotel room [in] about '74, or maybe '75, in Philadelphia with the Eagles, and I [had] to learn mandolin because Bernie Leadon was leaving the band. It was up to me to assume all of the country sounds — mandolin, banjo, pedal steel — so I spent extra time learning these instruments that I had not grown up with. So, I'm playing 'Cripple Creek' on mandolin and someone knocks on my door. I get up, open the door and it's Stevie Wonder and his guide. They were checking out because they had done a show the night before, but he'd heard the mandolin echoing in the hallway and wanted to come hear it. He comes walking in, sits down, and here I have to play mandolin for Stevie Wonder. I wasn't a virtuoso mandolin player by any means, so I just played for him and he smiled and really enjoyed it."
(GRAMMY winner Don Felder garnered 12 GRAMMY nominations and four GRAMMY wins as part of the Eagles, including Record Of The Year in 1977 for "Hotel California," which also earned him a nomination for Song Of The Year. His latest solo album, 2012's Road To Forever, peaked at No. 27 on Billboard's Top Heatseekers chart.)
(Nick Krewen is a Toronto-based journalist and co-author of Music From Far And Wide: Celebrating 40 Years Of The Juno Awards, as well as a contributor to The Routledge Film Music Sourcebook. He has written for The Toronto Star, TV Guide, Billboard, Country Music, and was a consultant for the National Film Board's music industry documentary Dream Machine.)