MAY 15, 2017 – 2:36 AM
(To commemorate the GRAMMY Hall Of Fame's 40th Anniversary in 2013, GRAMMY.com has launched GRAMMY Hall Of Fame Inspirations. The ongoing series will feature conversations with various individuals who will identify GRAMMY Hall Of Fame recordings that have influenced them and helped shape their careers.)
Before he became a GRAMMY-winning country artist, Darius Rucker was best known as the singer and rhythm guitarist for Hootie And The Blowfish, the GRAMMY-winning South Carolina pop group whose debut album, 1994's Cracked Rear View, yielded five hit singles and two GRAMMY Awards, including Best New Artist and, according to Rucker, a complete surprise victory in the Best Pop Performance By A Duo Or Group With Vocal category for "Let Her Cry."
"We didn't think we'd win the group vocal category with TLC's 'Waterfalls' as our competition," Rucker recalls. "We thought TLC [were] going to clean up everything. But I remember it so vividly. It was KISS, in makeup for the first time since the '70s, and Tupac Shakur presenting our second category, and when Tupac announced, 'My boys, Hootie And The Blowfish,' well, to know we were multiple GRAMMY winners was something that you dream about, but how many people actually get to achieve it?
As a country artist, Rucker realized a lifelong dream when he was invited to become a member of the Grand Ole Opry on Oct. 2, 2012, during his Opry performance at the Ryman Theatre in Nashville, Tenn.
"When I started in country music, I told my management that I wanted to be a member of the Opry and that it was something very important to me," says Rucker. "For so many years, I felt I was a pop guy trying to be a part of country music. When I got my Opry membership, I knew I was in the family."
Fresh from picking up Best Country Solo Performance for "Wagon Wheel" at the 56th GRAMMY Awards, Rucker details five GRAMMY Hall Of Fame recordings that get his musical wheel turning.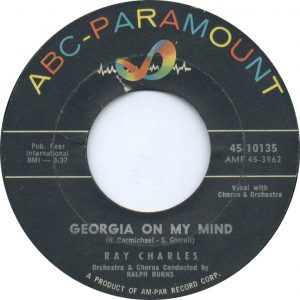 "Georgia On My Mind"
Ray Charles
ABC Paramount (1960)
Single
Inducted 1993.              
"Ray Charles was so important to me as a kid and my mom was such a huge Ray Charles fan. I think 'Georgia On My Mind' was one of those songs that shaped me as a singer when I was younger — I'm talking 7 or 8 years old. I remember 'Georgia …' being one of those songs where I was just sitting around the house, put the record on with my mom, had people over and started singing. That was my go-to record when I was ready to entertain my family. It was one of those early impact songs for me, along with a bunch of Al Green stuff."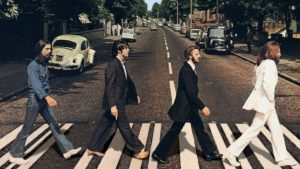 Abbey Road
The Beatles
Apple (1969)
Album
Inducted 1995
"Abbey Road is my favorite album of all time. To me, there's nothing even close. That's my favorite record and I've listened it a million times. … I've sat in my high school and sat in my room discussing it, especially in college, and been totally moved by it because the songwriting and the George Martin production [are] great on that record from start to finish. It's a record that I only put on when I have enough time … to [listen to] the whole thing.
"The first side boasts such great songs, and the second side medley — the mix of all those songs sounds so perfect, as if they're all written to go together. Then you wait a few seconds after 'Carry That Weight' and they play 'The End,' and you think, 'Man, that's the way you're supposed to end a record!' It's perfect."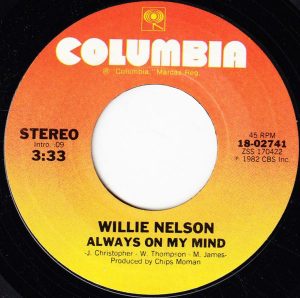 "Always On My Mind"
Willie Nelson
Columbia (1982)
Single
Inducted 2008
"I had an aunt, who, God rest her soul, was a huge Willie Nelson fan, and that song for me has always been about as perfect as you can get, not to mention the vocal. Willie sounds absolutely amazing on that song. I remember singing it as a kid, and I remember even now when it comes on the radio or I [play] it on my iPod, you try to sing it like Willie and you can't. Nobody can sing it like Willie. It's one of those early songs, for me, that reminds me just how much I love country music. I couldn't hear it enough.
"And the delivery: You feel every word that Willie's saying. You really feel the love that he has for this woman that he can't be with. That song does it for me and definitely influenced me tons growing up."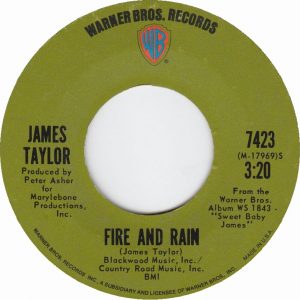 "Fire And Rain"
James Taylor
Warner Bros. (1970)
Single
Inducted 1998
"'Fire And Rain' for me means so many different things. I've always been a James Taylor fan and I've worn his Greatest Hits out a million times, but that song is special to me.
"When I first heard 'Fire And Rain,' I didn't know what it was about. I [now] know it referred to someone in James' life that had died in a plane crash. That made the song [much] more poignant for me. My grandmother had also passed away. My aunt lived around the corner from us, and we all went around to my aunt's house after we heard the news. The sun came up, and I figured it was time for me to go home — I was 16 or 17 — and at the house [we had] this light switch that when you flipped it, the stereo would switch on. So, I walked in, flipped the switch and 'Fire And Rain' came on the radio that instant. I will never forget the impact of that moment, because the song was perfect for that moment. And whenever I heard the song on the radio after that, it just took it to a whole new level for me."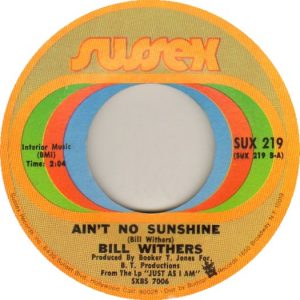 "Ain't No Sunshine"
Bill Withers
Sussex (1971)
Single
Inducted 1999
"Bill Withers was one of the reasons I wanted to sing. As a kid, I wanted to sing those Bill Withers songs — 'Lovely Day,' 'Grandma's Hands' and especially 'Ain't No Sunshine.'
"It's another one of those songs that makes you feel. I remember losing a girlfriend in college and putting on 'Ain't No Sunshine' and crying like a little baby because that song was so true. And Bill Withers' vocals are wonderful. The writing, the genius to have the repetitive breakdown of 'I know, I know, I know' — you start singing it live and everybody starts singing it because they know it. That's one of those songs that I'd sit back after I'd sing it and go, 'Man, I really want to be a singer someday.'"
(Darius Rucker won his first two GRAMMYs in 1995 for Best New Artist and Best Pop Performance By A Duo Or Group With Vocal for "Let Her Cry" with Hootie And The Blowfish. He won his first GRAMMY as a solo artist at the 56th GRAMMY Awards on Jan. 26 for Best Country Solo Performance for "Wagon Wheel.")
(Nick Krewen is a Toronto-based journalist and co-author of Music From Far And Wide: Celebrating 40 Years Of The Juno Awards, as well as a contributor to The Routledge Film Music Sourcebook. He has written for The Toronto Star, TV Guide, Billboard, Country Music, and was a consultant for the National Film Board's music industry documentary Dream Machine.)
GRAMMY Hall Of Fame Inspirations: Darius Rucker | GRAMMY.com