Fabled Toronto rock trio, doing two dates Oct. 14 and Oct. 16 at the ACC, still learning things on new album.
By: Nick Krewen Special to the Star, Published on Wed Oct 10 2012
Twenty albums and nearly 40 years in, Toronto hometown heroes Rush are continuing to defy the odds.
Despite creating a musical niche that courts intellectualism, prides itself in technical proficiency and continues to influence the musicians of tomorrow — as Rush has for practically any rock instrumentalist in styles ranging from hair metal to fusion since 1976 — Geddy Lee, Alex Lifeson and Neil Peart have never received the collective accolades many feel they deserve, despite selling an estimated 43 million albums.
But the trio's latest work, Clockwork Angels, might change all that. A concept project — admittedly a Rush specialty — that rolls out a steampunk-inspired sci-fi tale about searching for personal validation in an ocean of disenchantment, is markedly different than any work that has come before it in the band's canon, on several fronts.
The most obvious: sonically, where Rush (now a nominee for the Rock 'n' Roll Hall of Fame) invests in a more streamlined sound that focuses less on impressive technique dominant on earlier albums and more on the song, an assessment of Clockwork Angels that Lee doesn't discard.
"I think the density was a problem in the past," admits singer and bass player extraordinaire Lee, 59, during a phone interview from his Toronto home conducted the week of the album's release. The band plays two shows at the Air Canada Centre on October 14 and 16.
"I think there were times where the dynamics weren't balanced due to a desire to jam so much in, and I think that also comes from confidence in the melody. When you have a strong melody, it gives you a strong backbone to the song, and then you can serve that melody with the musical moment.
"That's a slightly different approach and we were definitely very judicious about how many overdubs to use and when we were gilding a lily, so to speak. It was something we worked hard at trying to achieve."
Another tactic rarely used in the meticulous execution that has garnered the members of Rush reputations as impeccable musicians: Spontaneity.
"It was something we learned on the (2010's Time Machine) tour," Lee agrees. "In those very few moments we allowed ourselves to improvise, there was a certain amount of heat from the three of us just going for it at the same time.
"That's kind of elusive in a recording situation because you get sidetracked by structure and the quality of the melodies and the sound, and you forget about this capability that you have, which is to play at a furious level, and we wanted moments of that, for sure.
"That informs the writing to a certain degree. When Alex and I would do some jamming in order to write new songs, we would try to keep that in mind of those moments that we were feeling on stage.
"So that was a direct connection and benefit to this album to be spontaneous as a result of touring."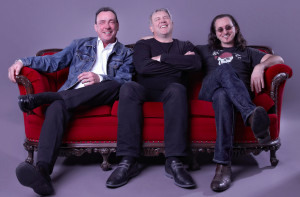 It's certainly a practice Lee can envision Rush pursuing for future recordings.
"I'd like to, because it's a very comfortable place," he says. "On this record, you can really see the three instruments at all times. It doesn't get clouded over by the arrangements, and I think we've allowed ourselves to become sometimes more producer than three-piece rock band. I think that loses the essential thing that makes us an interesting band."
Another big difference was their approach: the Clockwork Angels songs "Caravan" and "BU2B" were released in 2010, long before the album had taken shape. It's the first time Rush had pre-released any preview material from an unfinished project.
"At that point, we had written about five songs, and we had a kind of story arc, if you will, but a lot of the pieces were still to be written and very much in the embryonic stage," Lee recalls. "And originally, we weren't sure if we'd have enough time to record anything before the tour started. So it just felt wrong, in some way, to go out without any new material.
"So we said, let's see if we can make two songs, record and release them, because the way albums are made now and the way music is delivered to people is so different. There really are no rules anymore.
"We went to Nashville, because it was the only studio that was good enough and available, spent two weeks recording, the Gods smiled on us, and it all worked out.
"We were able to have our cake and eat it too: Taking those two songs out and touring them as much as we did, and seeing the reaction that people gave us really built confidence that we had a great start to making the record. We expected to tour for about three months and then finish the record, but the tour turned out better than we expected from demand and from our own playing point of view.
"We didn't feel it was right not to bring that to all the Rush fans. Before we knew it, we'd lost a year and a half from where we'd started."
Along the way, Lee, guitarist Lifeson and drumming lyricist Peart discovered the advantages of gestation.
"It's nice to have that time period to look back at those songs you wrote and see if they hold up," Lee states. "Of the five songs we wrote almost two years ago, four of those songs held up very well, and one of them did not hold up at all. That's a good thing, too: as a songwriter, I think time is your friend in that sense."
If Lee sounds surprised that public demand to see the trio in concert is still high after all these years, it's because he is.
"In this kind of economic world we live in, I never take it for granted," he admits. "You never know if people's tastes are going to change. We know we have a hardcore fan base. But the kind of show we like to take around is really a big expensive item.
"You've got to make sure that you're doing enough shows that can pay for the tour and enough people are going to come out. Now, it's easy to say, 'Yeah, every tour is going to be a sell out,' but you really don't know that for sure."
This week's homecoming will be bittersweet; the band's first collective Toronto appearances since the January 25th passing of noted local photographer Andrew MacNaughtan, a man professionally associated with Rush since the 1986 Power Windows tour and a close friend who introduced Neil Peart to his wife Carrie.
McNaughtan's last assignment was in Los Angeles shooting Clockwork Angels album photos for Rush, and Lee says his death of a heart attack hit the band hard.
"It was really awful and a horrible shock," Lee recalls. "And it's still hard to believe that he's not around to enjoy this thing."
http://www.thestar.com/entertainment/music/2012/10/10/geddy_lee_on_the_sustained_rush.html