Ed Sheeran performs as if every show is his last, injecting his songs with an elevating jolt above what is heard in his recordings.
Nick Krewen
Music, Published on Fri Sep 19 2014
Ed Sheeran
Air Canada Centre
Thursday, Sept. 18, 2014
The singer and songwriter of "The A-Team" brought his A-Game to the Air Canada Centre on Thursday night.
British ginger-haired dynamo Ed Sheeran is unlike any other contemporary pop performer who has amassed a giant mainstream following: He entertains solo, largely relying on his acoustic guitar, a few looping pedals, a couple of microphones, and an occasional lapse into rap to deliver his melodically riveting love songs.
In an era when slick choreography and expensive bells-and-whistles production is now pretty much commonplace, Sheeran doesn't depend on flying through the air while strapped to a harness or unleashing fireworks to deliver his thrills.
Aside from a few panels hanging over the stage to bring some visual aids to a few of his songs, as well as projections of him doing his thing, Sheeran's concerts are refreshingly free of artifice.
He simply strolls up to the microphone, straps on his guitar, and unleashes his passion, ordering his audience – in this case, a 13,000-strong alchemy of 90 per cent teenage-to-post-secondary-aged female to 10 per cent male – to sing along if they know the words, "make them up if you don't," and sing like there's no tomorrow.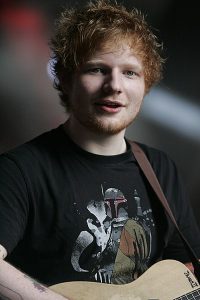 Which is no surprise, considering that this lone wolf performs as if every show is his last, injecting his songs with an elevating jolt above what is heard in his recordings.
In fact, he could almost trademark his performance style as "Sheeran intensity," a trait that was marked from the kick-off of "I'm A Mess" from his sophomore album X (interpreted as "Multiply," just as his first North American release + stands for "Plus").
What began as a wistful number about longing suddenly leapt in potency as Sheeran ferociously strummed his guitar, used it as a beatbox and looped the rhythms to build the song to a thunderous climax.
This was a repeated practice throughout the nearly two-hour, 18-song show, as Sheeran, master manipulator that he is, worked the pedals and guitars to his advantage to accompany himself and feed the power of he moment.
Yes, there's a little trickery involved: For songs like "Thinking Out Loud" or even his more popular "Give Me Love," there were sounds coming out of the speaker that could have only been pre-recorded, whether they were harmonies or maybe the occasional acoustic guitar, although he tried to create them live and incorporate them into his arrangements wherever possible.
But it's one thing to deceive the audience through a lip sync and another to actually use effects as more of an embellishment to an arrangement when you don't have the personnel to add to the sound. To his credit, Sheeran resorted to this device so sparingly that it seemed more necessity than contrivance.
Not that the audience seemed to mind. They happily enjoyed their role as the call-and-response choir, filling the cavernous ACC with their soprano voices and serenading Sheeran almost as often as he was serenading them.
Whether it was the intimacy of "One," heightened by Sheeran's soft falsetto, and the quiet romanticism of "Kiss Me" (the only time during the show when you could have heard a pin drop at the ACC) or storming through the boisterously aggressive "You Need Me, I Don't Need You" – and here, much of Sheeran's machine-gun rap delivery was lost in the ether – there was always the sense that this was a man in full control of the moment.
It may have led to a lack of spontaneity, but this seemed to be a plus, or +, for the Ed Sheeran army.
For a performer who employs math symbols for his album titles, he leaves no house divided.
Ed Sheeran delivers an A+ solo show at the ACC | Toronto Star