GRAMMY HALL OF FAME RECORDINGS
Songs Of Leonard Cohen
Songs Of Leonard Cohen
Columbia Records
Released: December 26, 1967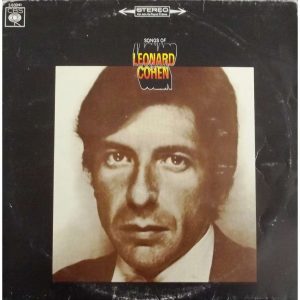 Nick Krewen
GRAMMY.com
August 25, 2014
Perhaps it's no coincidence that the year the world was introduced to Leonard Cohen, songwriter and recording artist, Canada was celebrating its first century as a nation.
For both Cohen and Canada, 1967 marked new chapters filled with rebirth, hope and a promising future: Cohen already claimed a global following as an acclaimed poet and novelist, thanks to such celebrated literary works as 1961's The Spice Box Of Earth anthology of prose and the novel Beautiful Losers (1966) (whereby The Boston Globe compared him to James Joyce).
The field of music was the Montreal native's to conquer, and before he entered a New York studio in May to record Songs Of Leonard Cohen, he had a head start: Judy Collins had furnished versions of "Suzanne" and "Dress Rehearsal Rag" on her own project, 1966's In My Life, and actor Noel Harrison had released "Suzanne" as a single with modest success.
In many ways, folk singer Collins was directly responsible for Cohen's debut album: not only did she help the poet convert from songwriter to performer with an appearance at the Newport Folk Festival, she also invited Columbia Records legendary A&R man/producer John Hammond to the show, and within a short period, Cohen was signed.
Consisting of 10 tunes, including the eventual classics "Suzanne," "Sisters Of Mercy," "So Long, Marianne" and " Hey, That's No Way To Say Goodbye," Songs Of Leonard Cohen wasn't an easy album to make, by all accounts.
Cohen preferred his arrangements simple and adorned only with his acoustic guitar; producer John Simon (The Band, Simon & Garfunkel), parachuted in after original producer Hammond was unable to continue the sessions, wanted to add accompaniment.
"John Simon wrote some delightful arrangements like the one to  'Sisters of Mercy' still based around my guitar playing," Cohen told Sylvie Simmons for her book I'm Your Man – The Life of Leonard Cohen. "I wanted women's voices and he came up with some nice choirs of women. We did have a falling out over 'Suzanne;' he wanted a heavy piano syncopated, and maybe drums.  That was my first requirement, that I didn't want drums on any of my songs, so that was a bone of contention."
In a BBC interview about the album sessions, Cohen also pleaded awkwardness in adapting to accompanying musicians.
"I didn't really know how to sing with a band, with really good, professional musicians that were really cooking," he admitted. "I would tend to listen to the musicians rather than concentrate on what I was doing, because they were doing it so much more proficiently than I was."
By the time he had finished recording the album in New York on November 9, there had been many takes: an estimated 20 of "Suzanne" and 24 of "So Long, Marianne." He had also snuck Kaleidoscope, an uncredited band featuring guitarist David Lindley into the studio, unbeknownst to Simon.
Songs Of Leonard Cohen wasn't an instant hit: it actually took 22 years to sell 500,000 copies and turn gold, but it did introduce the 33-year-old Cohen as an inimitable, distinct voice, or as Uncut has described him, "the laureate of romantic gloom and erotic distress," a man whose monotone intonation revealed longing, romantic conflict and gifted imagery, providing a lasting and sober tonic to the free-flowing escapist vibe known as The Summer of Love.
The album serves as a template of inspiration for self-expressive songwriters around the world.