Danger And Irony Are The Keys To Penn & Teller's Illusions
Nick Krewen
The Toronto Star
November 2, 1998
If you ever find the urge to visit Stan Laurel's grave at the famous Forest Lawn Cemetery in Hollywood Hills, why not stop by the Penn & Teller tombstone just four plots over?
Penn & Teller? The brilliant, bent illusionist comedy duo whose entertainingly unorthodox sleights-of-hand have earned them frequent invitations back to Letterman and Leno? That tall pony-tailed motor-mouth who spews fountains of scientific rhetoric while his shorter silent partner commits unspeakable atrocities involving severance and perforation…usually on himself? Dead?
You probably didn't even know they were sick.
Rimshot, please.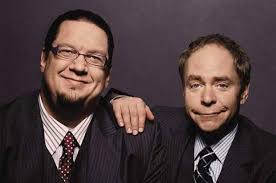 Not to worry. The Las Vegas-based duo is alive, well, and still coming to Mississauga's sparkling new Living Arts Centre November 5-7 for three side-splitting shows. And the burial plot is part of an elaborate prank, one of many to be found in the latest Penn & Teller literary masterpiece How To Play In Traffic (Boulevard Books, $26.95).
"Believe me, the kind of bribery and machinations you have to go through to get a gravestone in Forest Lawn when you're not dead, is very, very difficult," asserts Penn Jillette, the vocal half of Penn & Teller, over the line from Boston.
"That one is called The Eternal Card Trick. If you happen to be visiting Forest Lawn Cemetery with whoever your traveling companion is, you get up and do a card trick. You have the person select a card, look at it, and you tell them what card it is but you fail. They're told to keep that card and put it in an envelope, and remember it forever. They slide it in their pocket, and you say, 'Gee, it's supposed to work. I don't know what's wrong.'
"When you're at Forest Lawn Cemetery and you go by Stan Laurel's grave, four gravestones over is a gravestone that says 'Penn & Teller — Is This Your Card?' And the card is there.
"It's a card trick that'll last forever."
Okay, so they are sick. But it's a trait that has had audiences from Vegas to Vancouver rolling in the aisles, wincing at the often gruesome stunts that usually target Teller as a sponge for punishment, but laughing in spite of themselves. In his 23-year association with Jillette, Teller has been tortured, impaled, drowned, had an 18-wheeler run over his face, and if you remember the 1988 Emmy Awards telecast, been flattened by a washing machine.
Teller, who unexpectedly gives phone interviews, reveals in a separate conversation that he and Penn love living on the edge.
"I'll tell you what we do," confides Teller in warm tones of radio tenor. "We do like things that smack of danger. That's not for any manipulative purposes. We just like it. The reason we like it is because that's what pretty much gives any spice to theatre or drama. There needs to be the drive of life and death, or some such thing, for you to get excited about it."
Named 1996 Magicians Of The Year by The Academy Of Magical Acts in Beverly Hills, Penn & Teller refused to be pigeonholed.
"The problem is nowadays the classic definition of a magician is an actor playing the part of a magician," offers Jillette. "That's what stage magicians are, although we don't fit into that category.
"Magic, as a rule, is fantasy. It's childish, and in a very strict sense, non-intellectual. What we do is irony, very adult in the sense that kids will like a lot of the spectacle, but the basic ideas essentially deal with irony and are very intellectual. That is what separates us from magic acts.
"Our stuff is all based on, `This is a swindle. This is a scam.' How you perceive it is very, very important.
"Do I believe in magic? Our show is as skeptical as pro-science, as anti-superstition as I believe any show has ever been. Even Houdini at the peak of his skepticism I don't think touched us."
Teller views the partnership as the continuation of an almost extinct showbiz tradition.
"Where else do you see teams nowadays? Comedy teams are dead. Bands, with the exception of The Rolling Stones, seem to last two or three years at the most."
The jury is still out as to whether Penn & Teller will ascend to the immortal stature of an Abbott and Costello, but through a series of live shows, books and TV specials — including their upcoming ABC-TV special Penn & Teller's Home Invasion is set for November 11 — they're working on it.
Six-foot-six Penn Jillette was born in 1955 in Greenfield, Massachusetts, and is the loquacious former street juggler who goes for the jugular whenever the duo appears. The unseen voice of Comedy Central, things that you should know about Jillette: He's a fan of San Francisco performance artists The Residents, an Internet columnist for Excite, and plays bass guitar in Captain Howdy, the band he shares with New Jersey alternative rock musician Kramer.
The professionally mute five-foot-nine Teller — he legally eliminated his first name eons ago — was born Valentine's Day in 1948 in Philadelphia and is a former high school Latin teacher. He started his quest for silence as a rebellion against magician-speak, learning his trade by working frat parties at Amherst College. Carrying in some exterior floodlights and plugging them into the wall, he'd start swallowing double-edged razor blades with nary a word.
"For some reason, it clicked," Teller says. "Lo and behold, the kids would set down their cups of beer, momentarily remove their hands from their girlfriend's breast, and pay attention to what I was doing so I could earn my $35. It was really the beginning of a whole long fascination with the idea of performing without speaking."
Teller knows his specialty: clarity.
"When you go to a show, you don't really care very much about the kind of clarity that is inherent in my speech. So forcing me to do all that clarity without me ever saying a word, there's some little chemistry thing going on there. I don't know what it is, but I'm not apt to question it."
They met in 1974, and formed two-thirds of performance troupe Asparagus Valley Cultural Society. Whittled down to a duo in the early '80s, Penn & Teller perfected their act off-Broadway and in San Francisco. One of their earliest bookings saw them spend 19 days in August 1983 juggling and performing magic at Canada's Wonderland, renting a basement for accommodation.
"Teller remembers this vividly," laughs Jillette. "And Teller doesn't remember anything. He's got a mind like a chicken. There must have been some action in that basement for him, because it's just gone away from me."
For their Living Arts Centre appearances, Penn & Teller promise everything from healing polyester to a "seance opera" invoking the spirit of Houdini.
Circumstances beyond their control will prevent the performance of two of their most popular tricks. One is The Forklift Card Trick, where Penn & Teller commandeer forklifts to sort and stack a deck of sheet metal cards.
"We do it currently in Vegas, but we can't bring it on tour because so few stages that we perform on will support the weight of the forklifts," explains Teller.
The other is The Bullet Catch.
"Gun laws," says Jillette. "We use real .357 Magnums. In England and in Canada, we haven't been able to do it."
This is not to intimate that their live show will be any less fascinating.
Teller says there are plenty of equally colorful tricks up their sleeves.
"We have the vanishing bunny rabbit and a chipper shredder — you know, one of those large metal, lawn devices that you throw your sticks into and they come out as useful mulch?"
We're not sure if we want to know.