Nick Krewen
Special to the Star
Published on Mon Jun 11 2012
If you want something done right, do it yourself.
John Barrett's realization of that credo resulted in the formation of combustive garage-rock combo Bass Drum Of Death.
"In high school, I was always in bands, but I started doing (stuff) by myself because I was the one managing it and still wanting to do something," explains Barrett, whose band appears at the Wrongbar on June 15 at 10 p.m. as part of the NXNE lineup.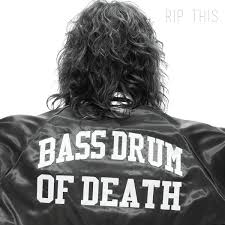 "It was always, 'This guy couldn't do this, and this guy didn't want to do this,' and after awhile, it became, 'I'll just do it my way, all by myself.'
"They were selfish reasons, but you gotta be selfish sometimes."
After a few years, however, Barrett decided it was time for a little expansion, and in 2010 added Colin Sneed on drums.
"Touring by yourself is kind of depressing sometimes," jokes Barrett, of Oxford, Miss.
"And it came to a point where I'd play shows straight up by myself and wanted it to sound bigger.
"So I got Colin involved, and we were a two-piece for about three years. And the last two or three U.S. tours we've done as a three-piece with my buddy Print Choteau, who plays guitar.
"So now there are two guitars and drums."
Barrett, 24, explains that adding more bodies allows him to faithfully realize the 11 songs on GB City, Bass Drum of Death's first full- length album on his hometown Fat Possum Records, a record company best known for signing Mississippi blues artists.
"The way I recorded the first record, it was just two guitar parts in tandem in stereo," Barrett explains. "And then I'd add the lead over the top. With two guitars, it allows the lead parts that are on the record to come out when we play live.
"As a two-piece, you really can't do that — it's all pretty much power chords."
Barrett's musical interest started early. "I had my first toy drum set when I was 3, and always loved music," he recalls. "I remember being super young and loving the absolute (stuffing) out of Huey Lewis and the News.
"Then when I got into the sixth grade, I bought Sonic Youth's Daydream Nation on a family trip to Chicago. I'd heard about them through Nirvana, which was my favourite band. Then it just kind of leapt from there."
Currently working on a second album he hopes to release in the fall, Barrett has placed the GB City song "Get Found" on the 2K Sports' Major League Baseball 2K12. Though appreciative, if he had his choice, his songs would be placed on "any version of FIFA.
"It's the only game I play, and fights have almost broken out at our house because of FIFA. We take it pretty seriously."
http://www.thestar.com/entertainment/music/2012/06/11/drumming_up_a_career_in_garage_rock.html