Artists are assisting athletes and helping sports franchises build their brands and succeed beyond the scoreboard
After the Boston Red Sox clinched the World Series at Fenway Park for the first time since 1918 this past October, all eyes in Major League Baseball seemingly switched to the issue of free agency, and particularly, Robinson Cano.
Cano, the New York Yankees' starting second baseman since 2005, requested a 10-year, $310 million contract to remain in pinstripes and then jumped to the Seattle Mariners for a 10-year, $240 million pact, is arguably the off-season's biggest story. But the more intriguing tale may belong to the behind-the-scenes negotiator who helped seal the deal: Jay Z.
The 19-time GRAMMY winner's reputation as a business mogul almost equals his standing as one of rap music's most successful artists. In addition to his multi-platinum recording career and lucrative concert tours, Jay Z's full-service entertainment company Roc Nation and various other ventures — ranging from his first men's fragrance (Gold Jay Z) to a since-sold stake in Barclays Center — have inflated his personal net worth to a reported $500 million.
Professional sports is the latest domain Jay Z has conquered, and since launching Roc Nation Sports with partner Creative Artists Agency in 2013 and being certified as a licensed NBA and MLB agent, he's signed a high-profile athlete roster that includes Cano (co-represented by Creative Artists Agency Sports); New York Jets quarterback Geno Smith; Oklahoma City Thunder all-star Kevin Durant; WNBA Tulsa Shock sensation Skylar Diggins; New York Giants wide receiver Victor Cruz; and Cano's former teammate, Yankees all-star pitcher CC Sabathia.
This isn't his first brush with sports: In 2003 Jay Z bought a minority share of the then-New Jersey Nets, and sold it last year after helping to instigate and oversee the team's relocation to Brooklyn, N.Y.
And Jay Z is not the only high-profile music figure expanding into professional sports ventures.
In September 2013 Maple Leaf Sports and Entertainment CEO (and former AEG President/CEO) Tim Leiweke appointed Aubrey "Drake" Graham as the NBA Toronto Raptors' new "global ambassador." The rapper's role will include helping re-brand the team and advising on everything from changing the uniform color scheme to creating a new Raptors logo in time for the 2015–2016 season.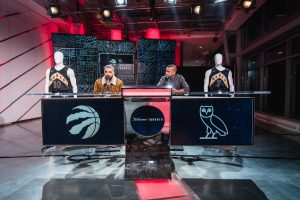 The association has already made an impact. At a sold-out "Drake Night"-themed Raptors game in January, the GRAMMY winner handed out free specially designed limited-edition T-shirts to members of the crowd (19,800 in attendance) and introduced the team's starting lineup.
As the celebrity face of the Raptors, Drake is also expected to draw mass media attention to the 2016 NBA All-Star Game, which will be held in Toronto for the first time.
"I've supported the franchise through our ups and downs," said Drake in a 2013 ESPN report. "More than anything, I'm a Toronto guy. I'm a city guy. I care about the city more than anything in the world."
Even 2014 Rock and Roll Hall Of Fame inductees KISS are getting into the game. In 2013 frontmen Paul Stanley and Gene Simmons became co-owners of L.A. Kiss, an Arena Football League franchise that will kick off its inaugural season March 15. The duo have had a hand in everything from designing the team's uniform to lending ideas for promotion and branding and consulting about the team's operations and personnel.
Whether it's ownership, participation (remember country superstar Garth Brooks' spring training runs with the San Diego Padres and New York Mets?) or consulting, the cross-pollination between music and sports has always fostered a healthy respect between members of each profession.
However, Paul Palmer Jr. II, a marketing professor and lecturer at Indiana University's Kelley School of Business, suggests that these latest moves may be borne of ego, risk and necessity.
In the case of Jay Z, it's a new frontier.
"For musicians and entertainers, there's an evolution and an overlap that's occurring," says Palmer. "You have people who have grown up in a specific arena with a specific talent. Many of them realize, 'I can be a $5 million performer here,'  or 'I can expand and encompass much more than what I do. I want to broaden my appeal to either more consumers or more vehicles and venues to reach consumers.
"'And what if I go from just being the person who provides talent to someone who can actually evaluate, discover, refine, and produce other talent?' That's the lucrative part of the business. That's where it advances beyond being a single person to being someone who is more evergreen, more universal and [has] longer staying power above and beyond just being a piece of entertainment."
With Drake — and Jay Z's earlier role with the Brooklyn Nets before he was forced to relinquish his interest due to his entrance into the sports agency business — it may very well be about survival.
"Teams that engage music celebrities get a significant amount of value," says Palmer.
"If you look at Forbes, you'll see that MLB has about $7 billion a year in revenue; NFL's about $9 billion; NBA's about $3.7 billion; and the NHL's about $3.4 billion. Those four sports are worth about $21 billion in revenue.
"In this tough economic market, there is intense competition for the entertainment dollar, the discretionary funds that we hope sit in all of our wallets. Attendance in the major leagues has been flat to declining. Attendance in the NFL has been down 3 to 4 percent annually since 2007, the all-time high. All those fannies in seats, those are dollars — they're not just the price of a ticket, but include the concessions, parking [and] apparel. You're not just missing the revenue of that seat that sits empty. You're missing the revenue potential of all those extras."
Palmer, whose 20-year background includes executive marketing positions at Hasbro Toys, American Greetings and the Procter & Gamble Company, says celebrity association "breathes life into your franchise when you partner with those type of celebrities.
"Sports today has moved beyond what happens between the lines or what's on the scoreboard," he explains. "It's about building brands and connecting brands with consumers. People like Jay Z and Drake understand how to do that. They have a creative approach with connecting with — and growing — their consumer bases. They've had to do it to evolve their business models all the time: broaden their conscience; broaden their media vehicles, and that's something that current sports has struggled with recently."
Taking social media into account, Palmer feels the sky is the limit in terms of music celebrity partnerships with sports franchises.
"I think Drake has around [14.4] million followers, and remember, all those followers are potential consumers," says Palmer. "If I'm owner of the Raptors or any sports team, I've got to consider listening to someone who has been able to get [millions of] people to follow their every move daily in 140 characters or less."
(Nick Krewen is the Toronto-based co-author of Music From Far And Wide: Celebrating Forty Years Of The JUNO Awards, a contributor to The Routledge Film Music Sourcebook and has written forThe Toronto Star, TV Guide, Billboard, and Country Music. He was a consultant for the National Film Board's music industry documentary Dream Machine.)