Story by Nick Krewen | November 2, 2016
Meet the Quentin Tarantino of country music – without all the blood, gore and violence, of course.
Dean Brody, the 13-time Canadian Country Music Association Award, four-time SOCAN Award, and two-time JUNO Award winner, name-checks the renegade Pulp Fiction and Hateful Eight Hollywood filmmaker on the title track of his sixth and newest album, Beautiful Freakshow, and marvels at his ability to be a rebel.
"I love Quentin Tarantino movies," says Brody at the SOCAN Toronto office, on a day where he performed for SOCAN staff. "He's one of the greatest directors of all time. He knows all the rules, but he breaks them, and gets away with things he shouldn't get away with. I think that's so cool."
"I'm very visual, so I think that helps in my songwriting. It's a totally visual thing to me."
The same could be said regarding Brody when it comes to rule-breaking in country music – a genre where artistic gambles are rare. Brody has written a number of songs that almost defy categorization, or at least stretch the boundaries of what's considered "country."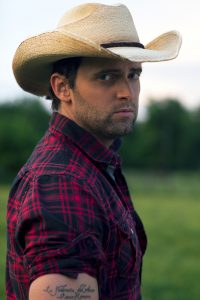 Witness "Upside Down" and "Bring Down the House," from Brody's last album, Gypsy Road: the former includes a whistling, Celtic-flavoured intro, crunchy guitars, and a lyric about "being high"; the latter is a banjo-driven, hard-edged love story about mismatched misfits who shouldn't work out romantically, but do.
"Bring Down the House" – the song that won Brody 2016 CCMA honours in the Single, Video, Songwriting and Top Selling Single categories – was unorthodox enough that both Brody and his producer Matt Rovey feared showing it to Ron Kitchener, Brody's manager and the owner of his label, Open Road Records.
"We were shitting our pants a little bit about it, like, 'How are we going to do this?'" says Brody. "We got all our tunes together, and at the very end we said, 'Ron, check this one out. We kind of did it for shits and giggles.' And he loved it, he was all over it. It made us a little nervous; radio's tough, I think. It didn't chart as high as my past songs, but it's definitely the biggest song of my career."
Beautiful Freakshow continues Brody's inventive streak: the title song veers from an Ennio Morricone Spaghetti-Western whistle into a bunch of directions, not the least of which is a hip-hop verse by Halifax rapper Shevy Price.
"I was actually listening to some Nicki Minaj at the time, and just the way her delivery is so good," Brody explains. "It's almost nasty how she has so much attitude. I thought this song would be really cool if you had this farmer country guy with this girl exhibiting tons of attitude. So right away, I'm thinking Nicki Minaj.
"I contacted a friend of mine, Marc Perry, who knows the East Coast urban music scene. He said, there's a girl in Halifax, part of the underground scene; her name is Shevy. I showed her the song, and she said, 'Oh, this is really cool. What kind of dark place did you go to, coming up with this song?' And I said, 'To me, it's happy. I love this song.' But she really dug it, and we recorded it at her studio. She did her thing and it just came together. When we were building it, we didn't know what the end product would be. With that song, I would say we don't even go off the path, we go off a cliff… and see what happens."
There's also the roaring-rock country of "Bush Party," the slap-rhythm shuffle of "Soggy Bottom Summer," the reggae lilt of "Beautiful Girl," and what he calls the "almost-too-country" song "Time" that offer another collection of diversified styles from Brody. "I do love exploring the edge," Brody admits. "Music's fun, and I like trying different things."
Here's where another Tarantino comparison applies: Brody's songs are cinematic.  He needs to picture it in his mind before committing it to creation. "I need a visual," he says. "I can't write a song just based on words or feelings. I have to have a visual, or a metaphor. I think even all my love songs are metaphors. I need imagination… and an instrument."
So it might not be surprising to learn that Brody has four screenplays on the go, further kindling the pictorial aspect of his music. "I'm very visual, so I think that helps in my songwriting," he says. "It's a totally visual thing to me. Like in 'Blueberry Sky,' I see it all: the trestle bridge, and the rain, and getting stuck underneath it. Running off the Grandma's porch with the girl. The Greyhound bus pulling up to the guy who's working in the shop, grease on his hands. The girl getting off the bus and she needs a ride. There's no taxi, so he grabs the tow-truck keys, takes her to her Grandma's house, and they end up spending the summer together. They look like a picture to me: A Forrest Gump/Robert Zemeckis kind of imagery, you know?"
What he doesn't necessarily need is a songwriting partner, although he'll occasionally reach out to one if he feels the song needs that push. After writing by committee for an extended time, he's content now to be a lone wolf.
"I wrote in Nashville for six years, co-writing, and for whatever reason, my ideas aren't the ones the guys in the room go with," says Brody. "So I'd end up going home and writing something else. Because when someone triggered my mind to go in one direction, they'd end up going in a different direction. I'm just weird that way; my process is very private. I also feel more like an editor than a songwriter."
Brody rarely sits down and finishes a song in one session. "I'll pick up a guitar in the morning and just noodle around," he says. "If I find one or two lines, I'll slap it down on my iPhone and then I'll go do yard work, or something like that. Then I'll come back at lunch, pick up the ukulele and try the same song again. Maybe I'll get the start of a chorus, and then I'll get bored and go do something else. I've found that creatively, I do really good with spaces. With just little bits of time. When I force myself to write in three-hour segments, I get burned out.
"And then there's perspective," he continues. "I get way too close. I can get it in a good direction, and when I come back, I feel like I can see it with fresh eyes, and chop things off or add something. So perspective is huge for me. But I know writers who can keep that eagle-eye perspective during a three-hour session, whereas I lose it. I have to come back the next day to see what they're seeing."
If there's one type of song Brody doesn't spend as much time on anymore, it's the ballad. "They're my favourite songs to write, but they struggle at radio," he says. "Even when I look at streaming and downloads and stuff, I wonder if fans appreciate ballads as much as I do. So I think I've changed direction a little bit there. I'll spend a little more time on those fun songs, those happy songs."