Far from the madding crowds, sound hunters search the wilderness for an elusive ingredient for their recordings — absolute silence
Nick Krewen
The Ottawa Citizen
Sunday, July 25, 1999
It's another long, sweltering day in the tropical rainforest, and Kevin O' Leary is on safari.
With an assistant who doubles as photographer at his side, and more than 30 kgs of gear each strapped to their backs, they trek deep into the dense jungle. With bugs buzzing around their sweaty faces, the two walk, climb and stumble over rugged terrain, stopping only when a location suitable is found.
Reaching a clearing, they set up camp, unloading their weapons of choice: a $10,000 binaural microphone encased in a mannequin head that sits upon a tripod; a digital audio tape recorder; a pre-amplifier; and a sack of batteries.
Another time Mr. O' Leary might be in a dense patch of Guatemalan rainforest. Or in a remote marsh nestled deep within Algonquin Park.
Kevin O'Leary is a hunter of sounds, and if successful today, he'll bag a new collection for a series of compact discs under the moniker Earth noise. Founded four years go by Mr. O' Leary, Toronto-based Earth noise specializes in location recordings of indigenous people, parks, swamps, and other nature spots.
"I create audio travelogues," says O'Leary, 39, who was raised in Hamilton. "I'm trying to take the listener on a journey, on an experience, and the best way to do that is to recreate the places aurally."
Mr. O'Leary isn't the only opportunist attempting to cash-in on Mother Nature.
For the past five years, Sanctuary CDs, a balmy hybrid of gentle instrumentals composed by former Glass Tiger keyboardist Sam Reid combined with sounds of trickling brooks, ocean waves and twittering birds recorded by engineer Ernest Lyons, have been an unqualified success.
In Canada, Mr. Reid's first Sanctuary album A Day Remembered  recently achieved gold status, representing sales of 50,000 units. Six more titles have brought Sanctuary close to 500,000 copies. The Sanctuary series is available in India, Singapore, Australia, Colombia, the Czech Republic, Denmark, Greece, Portugal, Spain, Japan and Thailand. Mr. Reid hopes for U.S. distribution later this year, and figures there's no shortage of universal appeal.
"There is no language restriction because it's instrumental," says Mr. Reid, 35, who releases his albums here through agreements with EMI Music Canada and Holborne Distributing.
The popularity of nature and environmental sound recordings — especially when combined with soft, unobtrusive music — is on a dramatic rise as people turn to them for escape, comfort and relaxation.
It's the quiet industry that's making a big noise internationally, and Canada is leading the way. Global sales for aural retreats are estimated at $250 million, according to industry insiders.
Canadian pioneers such as Toronto-based Solitudes, Ltd., and Newmarket's Holborne Distributing Company control the largest share of the market, mixing Beethoven sonatas with the sounds of ocean spray, setting a tranquil original acoustic score to the pitter-patter of raindrops, chirping insects and rumbling thunder of a rain forest, and sporting titles like Rhythm Of The Sea, A Day Remembered  or Sounds Of Algonquin.
"Solitudes and us are the two biggest players, and it's a multi-million dollar business," says Duncan Swain, president of Holborne, a family business founded 30 years ago by his father Frank.
Canadians are world leaders in this sound field, dating back to the solitary efforts of Montreal-born, Toronto-based portrait and wildlife photographer Dan Gibson.
In 1946, Mr. Gibson was the first person to record nature sounds for use in films. Today at 77, a spry Mr. Gibson still ventures into woodlands and swamps to record sounds for Solitudes, the label he co-founded 18 years ago. He has already released six albums this year in conjunction with various Canadian composers.
The early years were technologically challenging and full of improvisation, recalls Mr. Gibson, a Canadian Film Award winner who was recognized with the Order Of Canada in 1994 and honoured with a Special Achievement Juno in 1997 for his pioneering efforts.
"It wasn't easy. Nothing was compact and they had to lug with them a large car battery and other electrical components to power their sound equipment.
"When we were in a canoe, we'd hang a chain over the side, and that gave us a ground. We'd get a hum otherwise. But we managed to get recordings."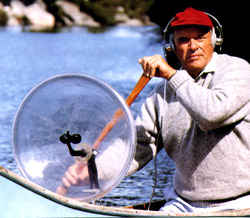 Eventually his company, Dan Gibson Productions Ltd., produced more than 200 highly regarded nature films and TV series as Ways In The Wilderness  and Audobon Wildlife Theater .
He tested the market for nature records in the '60s but found sales modest. By the 1970s the budding "Green" movement translated into a steady orders from the West Coast.
Reid and O' Leary are profiting from the latest recording industry sales boom. It's not being spearheaded by the London underground techno scene or by a group of Spice Girl-influenced ingenues flaunting the latest pop trend, but by the soothing, pastoral sounds of the great outdoors.
"The stock of sound effects were very lean and skimpy in those days," recalls Gibson, a Canadian Film Award winner who was recognized with the Order Of Canada in 1994 and honored with a Special Achievement Juno in 1997 for his pioneering efforts.
"You could get tractor noises and airplanes, but birds and wildlife were really hard to come by. That prompted me to start with some very primitive equipment, go out in the field and make some recordings for our nature films."
In 1981, at age 59, Dan Gibson established the Solitudes imprint and initially released recordings featuring only the natural sounds he had collected.
When son Gordon joined the business in 1986 and suggested marrying music with ecology, sales exploded. "As soon as you get into music, you broaden your field tremendously," concedes the elder Gibson.
Gordon Gibson says Solitudes is a healthy business, but declined to provide sales figures.
Since natures CDs are sold in both music and non-music retail outlets, monitoring sales is nearly impossible. "Our niche market is really the gift industry," says Holborne's Mr. Swain. "We started to develop it outside of the record market, because the record industry just didn't understand this type of thing. So it's not tracked through your usual record industry methods — gold and platinum sales, even though many individual titles do that and much better."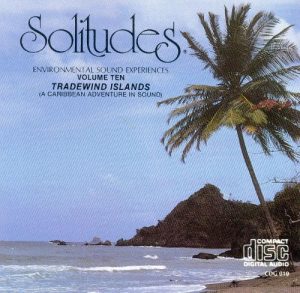 Grant Mackay, a partner in Toronto-based Oasis Productions is a bit more forthcoming. He estimates his business earns in the neighbourhood of $500,000 annually, mainly from sales in France and Germany, as well as from Britain and the United States.
"It's quiet, and off-the-beaten path, but it does well," confirms Mr. Mackay, 40, who records his own concoction of ambient and environmental music under the pseudonym Stephen Baccus.
Oasis had been distributing nature-related labels for 10 years, but Mr. Mackay says his company recently moved into full-time production.
"We find not only is it more profitable, but it's grown so much that we can't do both anymore. Instead, we're exporting Canadian talent abroad."
So who buys them? "There really is no type," says Louis Bova, 40, chief buyer for Sam The Record Man's flagship store on Yonge Street in Toronto. He claims sales of environmental recordings are "a nice little steady section of the store."
"I think everyone expects the typical "sprout-eaters," but it's just people, like pregnant women, looking to relax. Everyone has different reasons for getting on board. It seems to fit a lot of niches, not just for sitting there in lotus position and meditating."
Kevin O'Leary discovered just how popular sound-and-nature recordings were while leafing through his friends' record collections. Mr. O'Leary says he was surprised to find environmental recordings tossed in amongst the Metallica, Garbage and Holly Cole. "It almost seems to uncool to have them in a way. They don't seem to fit in with most people's record collections. It's something that they have stored away and play for themselves."
Mr. O'Leary began his recording career as a producer for Brampton's CFNY radio in the early '80s, where he once lived on a Ferris wheel for three weeks as a promotional stunt. A seven-year tenure as executive producer of the CBC radio concert series Hot Ticket  followed. When he took vacations, he travelled to exotic locales and backpacked.
"I'm a person that likes to go outdoors, travel and experience nature," he says.
"I'd take a little portable DAT recorder and a microphone into the woods, and experiment recording sounds. When I had extra time, I'd drop them into my computer's hard drive and play around with them. When the CBC collapsed for me, I just dove into it. I decided at that point to try and make Earth noise."
Mr. O'Leary got hold of a sophisticated binaural microphone and organized his own two-man expeditions locations ranging from Guatemala to the Gwaii Hannas, located in the Queen Charlotte Islands, off Canada's West Coast.
"It can be brutal," says O' Leary. "When the sun comes up, things come alive. So I'm usually up at 3:30 a.m. to search for a location. I record for a couple hours in the morning, have a bite to eat, then scout all afternoon for a different location and other sounds."
After he returns from his sonic expeditions, Mr. O'Leary meticulously logs 30 to 40 hours of tapes, and spends weeks in post-production digital editing suites.
"The noise pollution is quite amazing," he reveals. "I've been in the middle of the Algonquin and heard planes, or you go to a rain forest and hear chainsaws. A lot of stuff gets scrapped."
Sam Reid has similar problems. In his tiny, quiet boathouse studio on a bank of the Holland River just a hundred metres from his home north of Newmarket, Mr. Reid prepares to mix music for one of three upcoming Sanctuary projects.
Mr. Reid –a tall, handsome fellow whose turtleneck sweater, jeans and rubber boots makes him look more like a fisherman than a musician — estimates he spends an average 100 hours mixing each of the albums he's created with Ernest Lyons, a 49-year-old Irish sound engineer and weekend pub singer who used to work sound for The Mercey Brothers.
"Sometimes Ernie will bring me ambient sounds, and even though he's in remote areas, planes still fly overhead," Mr. Reid laments. "We cut those sounds out. That's the beauty of working in a digital format."
Plaques of gold and platinum records from his Glass Tiger days line his studio walls. The economic 14 x 16-foot space contains a $200,000 arsenal of Macintosh computers, emulators, synth modules and recording equipment, and it's an environment where Reid prepares to demonstrate his magic.
He flicks on his Mac computer. Through programs such as Pro Tools and Logic, Mr. Reid is able to digitally organize and edit sounds. Within seconds, his computer screen projects three separate blocks of squiggles similar to those created by a polygraph needle. He presses a button and a pair of speakers regurgitate the sounds of chirping birds against a backdrop of running water and a nylon string guitar.
"If this bird comes in too early, I can move him and slide him around in time," he demonstrates, clicking his mouse and "dropping" the sound of the bird into a later part of the emerging score.
"It's composites. To me, there's no difference between doing this and putting in a guitar solo in the right place."
Mr. Reid says he also likes to include live instruments such as guitar, cellos and pennywhistles, rather than merely synthesizers, to humanize the sound. But sometimes even the creator is fooled.
"Usually I open some of the windows here in the boathouse when I'm mixing," he explains. "If I'm dealing with nature, there's so much activity on The Holland River — ducks and geese and frogs — that sometimes it's hard to distinguish between what's coming out of my monitors and what's flying by my window."