Neil Peart launches solo album tribute to iconic drummer Buddy Rich
NICK KREWEN
The Hamilton Spectator
October 20, 1996
Neil Peart admits he's been in no rush to release a solo album.
One of Canada's foremost drummers and lyricists who has built his worldwide reputation exclusively with Canadian power rock trio Rush over 22 years and almost as many million-selling albums, Peart launched the band's first outside project earlier this week.
Entitled Burning For Buddy, it's a big band tribute album to legendary drummer Buddy Rich, who died in 1987.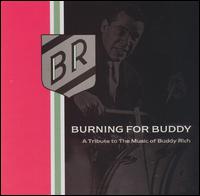 The first volume of three to be released over the next year, Burning For Buddy was recorded with 18 of the world's most respected drummers and various alumni of the Buddy Rich Big Band, using Rich's book of charts.
Although the Hamilton-born Peart acted as producer and played on the Duke Ellington  composition "Cotton Tail," don't expect this project to start a new trend of Rush solo albums.
The 41-year-old former Beamsville resident simply isn't interested.
"This was just a whimsical little side project," said Peart last week in Toronto.
"I've had no long standing ambition for a solo album, and this represents no frustrated wish on my part to do one."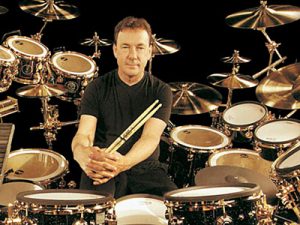 Now making his home outside Montreal, Peart says Rush — which includes guitarist Alex Lifeson and bassist and vocalist Geddy Lee — has always satisfied him artistically.
"Rush is all embracing to us," says the Juno Hall Of Fame inductee. "It was something we addressed at the very beginning. Whenever Alex or Geddy has brought a piece of music that might have been considered for their own projects, we've always ended up using it for Rush albums. There's never been any leftover songs."
Peart — a staunch perfectionist — says the initial reason for recording the album was to rectify what he felt was a defective performance in 1991 when he was invited to New York to be part of a benefit big band concert to raise money for the Buddy Rich Memorial Scholarship Fund, established for the musical education of promising young drummers.
"It didn't come out perfectly, and I realized that what I needed was more controlled circumstances," said Peart. "I'd always thought that somebody should make a Buddy Rich tribute album, get hold of some charts, and do it properly. And then I realized that I'd probably be the only one to do it."
The opportunity to realize the dream presented itself in January, when Geddy Lee announced his wife was pregnant and Rush was going to curtail the Counterparts tour a month earlier than originally planned.
"Usually I'm out cycling in Africa during the break, but I decided that this time I wanted to record a big band album!" exclaimed Peart, and promptly contacted Cathy Rich, Buddy's daughter, and Liam Birt, Rush production manager — to co-ordinate the project.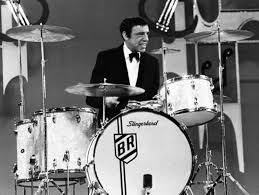 Two weeks of studio time at New York's Power Station was booked for May, and such drum legends as Kenny Aronoff, Billy Cobham, Steve Gadd, Manu Katche, Joe Morello, Simon Phillips, and Max Roach responded to the call.
Peart and pals recorded 39 songs and over three hours of music by the time it was over, at an expense of $250,000 that came mostly from Peart and his Anthem recording company's own pocket.
Not everybody asked agreed to be part of it. Both Phil Collins and Charlie Watts of The Rolling Stones declined, and several drummers were omitted because they were in Europe at the time.
And not all the material was Rich's. Bill Bruford brought an original big band composition called "Lingo", while Steve Ferrone showed up with an arrangement of the Average White Band's "Pick Up The Pieces". Both made it onto Burning For Buddy.
Although Peart says he didn't fully appreciate Rich until he researched some of his charts, he's learned the late drummer irrevocably changed the artform with his larger-than-life presence.
"It doesn't matter if you've heard Buddy Rich, he's influenced your playing," explains Peart. "The first drummer I was amazed by was Billy Cobham, who was taught by Tony Williams, who was taught by Elvin Jones before him. You don't have to know that torch of genius that Billy Cobham was carrying, and the sparks of genius in those previous incarnations, were forged by Buddy."