Billie Joe Armstrong, Norah Jones Talk Foreverly
GRAMMY-winning artists discuss their Everly Brothers tribute album collaboration and recall past GRAMMY glory
MAY 15, 2017 – 2:36 AM
With 14 GRAMMYs between them, no one saw this coming: Green Day's Billie Joe Armstrong and Norah Jones have teamed for Foreverly, a duet album that doubles as a tribute to the Everly Brothers.
And it's not simply a rundown of Everly Brothers hits. Foreverly is a tribute to a lesser-known album in the Everly Brothers catalog, Songs Our Daddy Taught Us, which was released in 1958 as the duo were breaking into the mainstream with such hits as "Bye Bye Love" and "Wake Up Little Susie." Songs Our Daddy Taught Us, while still brimming with Phil and Don Everly's crisp, inimitable harmonies, was filled with dark, traditional tunes that were the antithesis of the duo's more popular fare.
Released Nov. 25, Foreverly features all 12 tracks on the original album, including the single "Long Time Gone," which showcases the album's retro-style arrangements and the unlikely yet pleasant pairing of Armstrong and Jones' voices.
In an exclusive GRAMMY.com interview, Armstrong and Jones discussed the genesis of Foreverly, the dark lyrical nature of the original songs and fond memories of their respective GRAMMY histories.

What's the story behind Foreverly?
Billie Joe Armstrong: I just fell in love with the record [the Everly Brothers' Songs Our Daddy Taught Us]. The first time I heard it, I didn't know that they had made this record in the middle of a string of pop hits that they had in the '50s, and I love that stuff. And I loved the harmonies and started getting into the stories and how dark they are, and the old traditional songs that they were singing. I love digging deep as far as music history [and] rock and roll and folk and the blues and stuff. And when I heard the song "Oh So Many Years," I thought, "Man, it would be cool to do the whole album with a girl." My wife recommended Norah, and I thought it was a great idea.
Norah Jones: He called me and he really wanted to do this project — I guess he had it in mind for a while, but I was just off tour, so I was really tired. You know, a whole album is different than just committing to doing a song with somebody. So he kind of talked me into it, because I love the Everly Brothers, I love this kind of music. I love close harmonies. I was a little bit tired and not really ready to jump into a whole thing, but these are the kind of songs I love singing and they just kind of sing themselves, you know?
There really isn't anything really difficult or hard to them. So we agreed to go into the studio for just a couple days, and we ended up doing five days just to try it out — no pressure, and if it didn't work, it didn't work. We never really had sung together. Who knew if it would gel?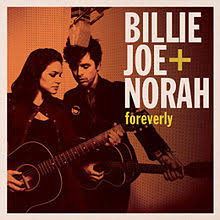 And when did it gel?
Jones: It took us a minute to find each other and sing well together. It happened pretty quickly, but there was definitely a tiny learning curve for us with each other. We just had to learn how to look at each other and follow each other's phrasing.
Armstrong: I think it happened when we did "Long Time Gone." That's when [we said], "Man, that sounds beautiful." We were so excited by it that Norah taught me how to two-step a little bit. It was just a great moment.
Norah, were you familiar with Songs Our Daddy Taught Us?
Jones: I was a big Everly Brothers fan my whole life, but I didn't really know this particular album that well. I knew a couple of songs off of it, so when I got the email from Billie Joe that he wanted to do this, I checked out the album before we talked on the phone. I love the album, and I love that it's old, old, old songs. And I love that it's not their hits or anything. It made it easier to reinterpret these old kind of folk songs, especially since it's just a stripped-down album. There's a lot of room to play around with the arrangements, which is nice. Although we were obviously doing their album, it wasn't like we were trying to copy them, which would be pointless.
Songs like "Lightning Express" and "I'm Here To Get My Baby Out Of Jail" have pretty dark overtones.
Jones: These are real story songs and the lyrics are pretty heavy. … When we got into the songs, it was, "Wow, some of these are so dark!" We had a lot of fun in the studio. The vibe was really silly and we were goofin' off, all of us, but the songs are really heavy, and we'd think, "God, can you imagine? This is a real story." It was fun to bring the darkness out of the songs and play that up even more in the arrangements.
Armstrong: That's my favorite part. They're just old songs about mourning and loss and lost love and kids dying of consumption. I think it's a lot about poor people and working-class people, and the one way people can unite and grieve on is something in song. That's the one thing traditionally in America that we've had, because God knows, we can't have health care. [laughs] At least we've got songs.
Do you have an album favorite?
Armstrong: Today it's "Lightning Express." Tomorrow, it'll probably be something else.
Jones: "Long Time Gone." It's my favorite off the Everly Brothers' record and it's my favorite of our versions, too. It's less of a family death song and more of a cheated-me song, which I always love, but the melody is pretty special and the chorus — there's a lot of dissonance in the harmonies that I love.
Norah, you won your first five GRAMMYs for Come Away With Me at the 45th GRAMMY Awards in 2003. Do you remember that GRAMMY night?
Jones: Oh wow, you're going way back. I remember I was starving because there was no food anywhere. I was so hungry, and I couldn't believe that there was no food backstage. I was just ready to go party and eat. It was fun — a really crazy night. I'll never forget that cheeseburger I had after it was all over.
Last year, you accepted a Recording Academy Lifetime Achievement Award for your late father Ravi Shankar with your sister Anoushka Shankar.
Jones: It was nice to be there with my sister. It was really nice and special — he knew about it before he died. Had he been alive, he would have been able to be there. So it was kind of bittersweet, for sure. But I'm glad he got a chance to know about it before he died.
Billie Joe, you've won five GRAMMY Awards with Green Day. Which do you treasure most?
Armstrong: I think when we got Best Rock [Album] for 21st Century Breakdown [at the 52nd GRAMMY Awards in 2010]. That was a pretty grueling record to make, and right now, it's kind of standing out as my favorite Green Day record.
(Nick Krewen is a Toronto-based journalist and co-author of Music From Far And Wide: Celebrating 40 Years Of The Juno Awards, as well as a contributor to The Routledge Film Music Sourcebook. He has written for The Toronto Star, TV Guide, Billboard, Country Music and was a consultant for the National Film Board's music industry documentary Dream Machine.)
Billie Joe Armstrong, Norah Jones Talk Foreverly | GRAMMY.com