As unlikely as it seems, the forces behind the big summer smash "Party Rock Anthem" are carrying on the Motown legacy.
LMFAO promise "high-energy craziness" at their Sunday show at the Molson Amphitheatre with Ke$ha and Akon.
Nick Krewen
Special to the Star
Published on Fri Aug 12 2011
As unlikely as it seems, the forces behind the big summer smash "Party Rock Anthem" are carrying on the Motown legacy.
LMFAO, the electro-rap duo who advocate happy hedonism through dance, romance and alcohol consumption in such high-energy songs as "Champagne Showers," "Shots" and "I'm in Miami Bitch," comes by its funky R&B bloodlines naturally: L.A.-based DJs Stefan Kendal "Redfoo" Gordy and Skyler Husten "Sky Blu" Gordy are the respective son and grandson of Berry Gordy Jr., the impresario who founded the influential Tamla/Motown label in 1959 and scored just about as many hits in the bedroom, squiring eight children through two wives and four girlfriends, including Diana Ross.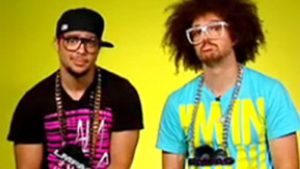 However, Redfoo — Sky Blu's uncle and the progeny of Gordy Jr.'s relationship with Nancy Leiviska, a former vice-president of Motown Records' video division (she directed vids for Stevie Wonder, Rick James, Marvin Gaye, The Temptations and another Gordy son, Redfoo's half-brother Rockwell) — maintains his relationship with the man who introduced Michael Jackson and Lionel Richie to the world rarely involved music.
"I grew up with my mother surfing and skating in the Palisades — the same place where they filmed Baywatch," he explained Wednesday over the phone prior to a Charlotte, North Carolina sound check. LMFAO plays the KiSS 92.5 Wham Bam 2011 at the Molson Amphitheatre Sunday with Ke$ha and Akon.
"Growing up, I got to visit my Dad during holidays and the occasional summer. Then I got to live with him in my teens, going through high school. I felt I absorbed so much of his personality and how he deals with people, and his competitive nature — we played pinochle and chess. I was playing tennis and he was my tennis coach. So it wasn't really a musical experience that I had with my father, it was life."
In fact, it was a tennis injury suffered in Sweden that prompted Redfoo to rethink his life.
"I broke my wrist," he says. "So I got two turntables, a four-track and a sampler, and started making music because I had time off. When my wrist finally healed, I didn't want to play tennis anymore. With music, I could travel around the world, talk with people and be social, but with tennis, I got to hit a ball every day, and be secluded. So I picked music."
After trying his hand at independent hip hop and standup comedy, Redfoo began hanging out with his nephew Sky Blu, assembling a mixtape for the 2008 Miami Music Conference.
"It was the greatest week of our lives," Redfoo recalls. "We'd go to bed late, wake up early, and the parties were all house music with European DJs. We said, 'This vacation can't end.' So we came back to L.A., saw a void — there was no hip-hop electro — and decided that was the next wave."
Redfoo's old school chum Will.i.Am called him up, signed LMFAO to his label via Interscope, and now the duo is all the rage, scoring massive sales with the albums Party Rock, the recent Sorry For Party Rocking, and the celebratory "Party Rock Anthem" with GoonRock and Lauren Bennett, which has topped the Billboard Hot 100 for the past six weeks.
Redfoo says the Toronto date will include the Quest Crew dancers, costume changes and "high-energy craziness and wild stuff."
"We're just trying to squeeze all the party rock juice out of the people."
LMFAO also appears on MuchMusic's New.Music.Live at 5 p.m. Monday.