Exclusive!!!
Nick Krewen
September 29, 2008
Even though he's raised over $14 million to help the plight of the American farmer with his annual Farm Aid concerts, country music legend Willie Nelson fears his efforts may be futile.
"I think it's a losing battle," says Nelson, who headlines Farm Aid '98 with co-founders Neil Young and John Mellencamp this Saturday (October 3) at the New World Music Theatre at Tinley Park, Illinois, just outside of Chicago.
Beach Boys founder Brian Wilson, South Carolina pop supergroup Hootie & The Blowfish, cult rockers Phish, country renegade Steve Earle, alternative rockers Wilco and veteran band The Doobie Brothers are booked to perform at this year's gathering, the 11th since its inception in 1985.
Despite his best efforts, the pig-tailed Texan who best known for pioneering the country outlaw movement and for such writing and singing such classics as "Crazy," "On The Road Again" and "Funny How Time Slips Away," says the farming situation has become critical.
"We started out with 8 million farmers, and now we're at less than two million," said Nelson in an exclusive Canadian interview from his bus.
"We're losing about 500 a week."
He bristles at the suggestion that the U.S. government should step in and help.
"What are they going to do about the six million we've already lost?" he asks.
"I think you have to make it profitable for a young couple, and ensure them enough money where they can survive."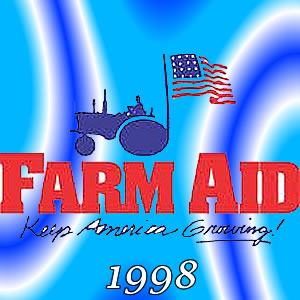 However, Nelson says that bankruptcy and foreclosure aren't the only aspects surrounding the farming crisis.
"Until our attitude changes, we're going to continue to lose family farms, abuse our soil, and spread enough pesticides and chemicals where every state and country is going to lose the ability to feed their people.
"The state of Iowa has already lost 50 percent of its topsoil, and things like floods and hurricane have led to further erosion. The land doesn't replace itself. We've got to take better care of our own land."
While Nelson can only do his part in helping to cure the farming malaise, at least he's taking better care of himself these days. At 65, an age where many contemplate retirement, he has no intention of slowing down.
His latest album Teatro , produced by Grammy-winning Canadian Daniel Lanois, was released by Island Records three weeks ago, and there are four more albums on the go as well as a couple of movie projects and the endless caravan of concert appearances that annually hovers around the 200-date mark.
Nelson says he's never felt better.
"I'm pretty healthy these days, and I'm singing better," Willie asserts.
"I'm trying to stay healthy by doing a lot of running. The road is good for one of two things, either exercise or sleep.
"It's sort of like a prison," he laughs.
He says the most challenging aspect of his life is the creative one: songwriting.
"It gets harder," admits Nelson, who struggled in earlier years as a DJ and a salesman before turning to music.
"I get a little more critical as life goes on, and I also think I get tougher on myself when it comes to assessing my own talent and being satisfied with what I write."
However, Willie has a plan.
"I think I have to start stealing ideas from other people now," he jokes.
If Nelson feels he's losing his touch, you would never notice it on Teatro , the follow-up album to his 1996 sparse acoustic triumph Spirit.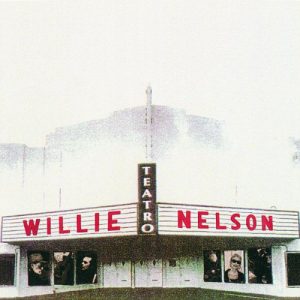 As intimate an album as his innovative Red-Headed Stranger or even his breakthrough standards collection Stardust, Teatro was unconventionally recorded over four days in an old Mexican movie theatre in Oxnard, California that has been converted into a recording studio by Lanois, one of its co-owners.
"It's unlike any album I've made before," says Willie proudly. "But it's an album that very much deserves to be a followup of Spirit. "
Lanois, the sensitive producer who gave Emmylou Harris' Wrecking Ball  its ethereal, ambient feel, is best known for his work with Bob Dylan and U2, as well as working on other groundbreaking pop albums by Robbie Robertson and Peter Gabriel.
What did he bring to the Willie Nelson sessions?
"A great phone book!" Nelson laughs. "He knows all the good pickers and players, and he knows what it takes to make a great album. I rarely allow myself to be placed wholeheartedly in a producer's hands, but I was willing to do it with him because I like his stuff."
He also gave Lanois free reign to arrange his material.
"What he does it that he takes what I do and enhances it. He comes up with different rhythms and arrangements than I would have imagined."
Lanois recruited two veteran members of Nelson's band — his piano and keyboard playing sister Bobbie Nelson and harmonica specialist Mickey Raphael — and complemented them with a wide variety of players from the jazz and pop worlds.
"The musicians were incredible," Willie reports. "I was impressed by them all."
Teatro boasts an unusual sonic combo: two drummers with rock backgrounds in Tony Mangurian from New York rockers Luscious Jackson and Victor Indrizzio from Los Angeles' Scott Weiland Band; almost no bass, except when producer Lanois himself provides it; Canadian guitarist Brian Griffiths, jazz pianist and vibraphonist Brad Mehldau, Lanois himself on guitar and Emmylou Harris on harmonies.
"Emmylou's an angel," says Willie of his old friend, who first duetted with him in his movie Honeysuckle Rose  and provides supporting vocals on ten of Teatro's  13 tracks.
"I'm willing to sing with her any place and any time."
Another distinctive aspect of Teatro is Lanois' decision to have Nelson reinterpret some of the inconspicuous older songs in his catalogue, particularly the early '60s.
"I'm happy he liked all those songs," says Nelson. "I've always thought that if it was a good song back then, it's a good song now. Most of the ones we chose were pretty obscure, so I don't think a lot of people have heard them."
Subsequently, newer songs such as "Everywhere I Go," "Annie" and "I Love You All Over The World" are counterbalanced by "My Own Peculiar Way," "Home Motel," and "I Never Cared For You," all written when Nelson was going through some hard personal times, including a disintegrating first marriage.
Even though each song had the potential to raise painful old memories, Willie says the passage of time has dulled wounds.
"Most of these songs were written during the hard times when I was struggling, but enough time has passed that I can go back and sing them and not get too attached to them emotionally. "
Nelson says he handed producer Lanois about 200 songs for consideration.
"I don't know how many of them he listened to, but he picked 20 of them."
Willie also enjoyed the manner in which Teatro  was recorded.
"There was a lot of freedom," says Nelson, a veteran of so many albums that even he has lost count.
"Recording Teatro  in an old movie theatre felt like I was sitting at home in my living room. It was a nice atmosphere. We weren't separated at all. In most studios, you usually have the drums in one corner and the guitars in a seperate room, and you hear everything through your earphones. I don't really like to do it that way, and I'm glad Daniel didn't like it either. We were all in the same room. It was like jamming.
"We'd even watch old movies during the playback," Nelson muses.
"It was certainly different."
The intimate set-up also caused him to sing louder.
"You also have to sing out when you're singing above two drummers, a guitarist, a bass player and Emmylou Harris," he laughs.
Nelson says his Django Reinhardt tribute on Teatro ,"Ou Es-Tu Mon Amour (Where Are You My Love)?" is the best indication of where he's headed in the future.
"I'm interested in recording an instrumental album. That's what I'm working on at the moment," he says.
There are two others in the can.
"I've recorded a reggae album that still hasn't seen the light of day, and there's also a blues album that's done. I'm supposed to do some recording with Waylon soon, and pretty soon it'll be time to consider the follow-up to Teatro."
Also upcoming, a couple of films: a CBS TV movie called Outlaw Justice that was filmed in Spain and co-stars Waylon Jennings, Travis Tritt, and Kris Kristofferson; and Hi-Lo Country , a silver-screen effort with Woody Harrelson. Both are set for a January release.
And on December 6, Nelson is set to receive Kennedy Center Honors from President Bill Clinton, a bit of an irony considering the sex scandal nightmare currently embroiling Clinton was the subplot of another film the country singer had a small role in, Wag The Dog .
Coincidence?
"Oh God. I think the dog was being wagged a long time before President Clinton arrived," says Nelson. "I'm sure he's got enough problems. He doesn't need anymore."
Story postscript:  On September 29, 1988, I got a panicked call from a Universal Music Canada publicist. Apparently Willie had agreed to do a Canadian interview, but he and his team failed to inform anyone about it. So Universal got a phone call saying that Willie would be ready  to talk in five and the publicist thought of me as the interviewee. So I did the interview with no notice – and unfortunately, couldn't sell it to any of my outlets due to the extreme short notice and the fact it wasn't a local event. So here is a previously unpublished interview with Willie Nelson…still carrying on the Farm Aid cause with Neil Young, John Mellencamp and now Dave Matthews all these years later.