If you think the TV series Lost is cryptic and enigmatic, get a load of The Residents.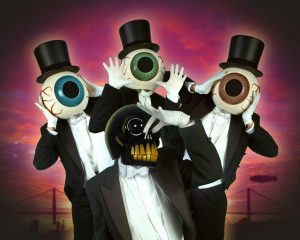 Nick Krewen
Special To The Star,
 Published on Sat Feb 13 2010
If you think the TV series Lost is cryptic and enigmatic, get a load of The Residents.
For 38 years, the avant-garde California-based performance art collective – they're most familiar to the masses as eyeballs dressed in top hats and tuxedos – has stunned and mystified audiences with a collection of more than 100 albums, EPs, singles, CD-ROMs, short films, DVDs and videos.
With an ever-morphing musical style that can veer from fiery rock 'n' roll to third-rate cabaret to synthesized dirge to dissonant jazz – often within the framework of a single song – The Residents, who make a rare Toronto appearance Saturday at The Opera House, have managed to evade categorization and compromise as effectively as they've shielded their identities and avoided the mainstream.
Even an exclusive phone interview with spokesman Hardy Fox – a representative of The Cryptic Corporation, the group's management firm, and a person who may or may not be with the band – only sheds so much light.
"The group's point of view is that they're a group, they like to present themselves as a group and they're very openly, in their presentation of themselves as a group, very active," Fox said before a recent New York performance on The Residents' current Talking Light tour.
"There's not really anything mysterious about what they do or how they do it. They're mysterious, perhaps, about the fact that they're not so interested in strutting around as individuals and proclaiming a `look at me' attitude. That is unusual, for sure, but I don't know if it's mysterious."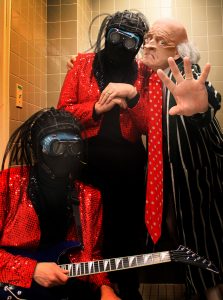 Fox does acknowledge that the public is frustrated. "You've got a weird situation here, because people really want to turn The Residents into a band but often that doesn't really work. The Residents is a much larger group of people that changes based upon the needs of the project. It's not a band, it's a concept, and that's hard for people to wrap their heads around."
Some of the songs, with names like "Harry the Head," "Lizard Lady" and "What Have My Chickens Done Now?" aren't any easier to digest, but one can certainly appreciate the ingenious satire in the murky depths of the collective's musically sophisticated arrangements – so long as you're willing to invest the time.
According to Fox, time is the one commodity that may be eluding The Residents as they move forward: death is one of the themes of the Talking Light multimedia road show. "There's definitely mortality attached to it," Fox explains.
"Mortality is attached to everything, really, and that's one of the points that they make: that life is a cycle, and death is one of the parts of that cycle. It's a thing to confront and accept, not to challenge or fight, because the big mystery of life is actually death.
"It's a reflection on aging and death, which is sort of what is going on with The Residents, because they are getting older. And they're sort of approaching death as a universal experience. So it's a dark show, but sort of a lighthearted dark show, if that make any sense."
Other things you may want to know: the Talking Lights tour – every performance of which is being sold digitally at www.residents.com – references material as far back as 1977 and now includes a cast of three instead of the four who usually make the rounds. "Yes, Carlos has retired," Fox offers without any elaboration.
Despite their stature as counterculture "eye-cons," The Residents have dropped the eyeball costumes.
"Actually, they were dropped 10 years ago," Fox says.
"The whole eyeball thing was created for one album in 1979 (Eskimo). It just proved to be a popular image and we, on the commercial side of trying to market the group, sort of ran with it. From a marketing standpoint, we really needed an image.
"About 10 years ago, they thought it was time to at least back it off to an iconic image and not a mask image."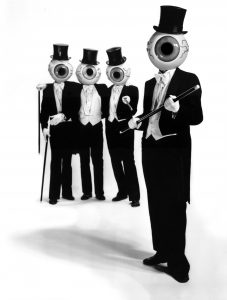 Although images are an important part of The Residents' oeuvre – check them out on YouTube if you're curious – Fox has a different theory to explain the concept's longevity.
"I think it has lasted because The Residents are not shy about evolving over time and reinventing themselves, about letting the requirements of a project be what's important and not their past or any expectations of people.
"They don't really have the expectations of performing a particular song that they're known for, because they're not really known for any."