Pink Floyd was resurrected as closely as it will ever be at the Air Canada Centre on Monday, with a lot of commentary along the way.
Nick Krewen
Music, Special to the Star,
Tues., Oct. 3, 2017
Boy, does Roger Waters know how to push your buttons.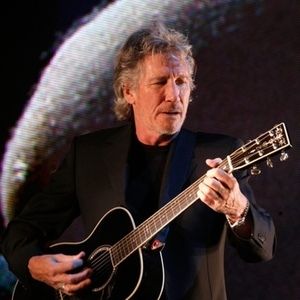 In a two-and-a-half-hour Air Canada Centre concert that was as much about performance art as it was about music, the Pink Floyd co-founder and his nine, sometimes 10-piece band, hit all the right notes in terms of rousing an audience ready to vent their frustration about the current political situation next door to Canada.
And the sellout crowd — the first of three that will gather again at the same venue on Oct. 3 and 13 — lapped up the Pink Floyd co-founder's social commentary like a thirsty puppy: especially when the vitriol was squarely aimed at a man named Donald Trump.
Framed against the musical backdrop of the classic Animals track "Dogs" and "Pigs (Three Different Ones)," during the second half of the 21-song set that was heavily — and not surprisingly — bent on the Floyd catalogue dating back to 1971's Meddle, Waters left little doubt how much he loathes the polarizing U.S president and, only slightly less so, the Apple corporation. A series of belittling and unflattering portraits of Trump were projected onto screens that split the length of the ACC, with slogans like "iWin" and "iLose" superimposed over those images, perhaps in symbolic relation to Trump's excessive use of Twitter.
In fact, during the instrumental interlude between verses of "Pigs," Waters and his entourage donned pig masks and sipped champagne in a scathing swipe against the self-congratulatory U.S. regime that has escalated warmongering to red-alert levels, while a giant inflatable offering another blast at American politics flew around the venue.
It was undoubtedly the evening's most powerful moment, contextually set in motion from the throbbing drone of synth that introduced "Welcome to the Machine" about five songs in, and built through the lyrical protests against oppression that have been Waters' doctrine for the better part of 40 years.
Twenty-four hours removed from another senseless tragedy, where too many people lost their lives, this one at a Las Vegas country concert, the audience seemed ripe for the message, although Waters never addressed that particular issue in concert.
In fact, his most overtly political verbal statement was in his pre-"Mother" monologue near the end of the show after he introduced the band.
"One of the things I really, really like about Canada is that you don't have a nuclear weapon," Waters declared. "It would be nice if nobody did, because then we wouldn't have to worry about these crazy maniacs shouting and threatening one another."
Although he was ostensibly on tour to promote his latest solo album Is This the Life We Really Want? the 74-year-old Waters knows where his bread is buttered, and spent the majority of the evening covering selections from the canon of a band that has sold hundreds of millions of albums.
With guitarists Dave Kilminster and Jonathan Wilson alternating the role of original Floyd axe man David Gilmour both vocally and instrumentally, Waters rolled through generous selections of seminal efforts Dark Side of the Moon, Wish You Were Here, the aforementioned Animalsand The Wall, the latter highlighted by a special appearance by Regent Park School of Music students for some timely lip-synching and choreography to "Another Brick in The Wall (Pt. 2)."
Performances were smooth, although at times Waters looked a little cartoonish as he ripped into the bass or his electric guitar, and the dual visual of Lucius singers Jess Wolfe and Holly Laessig dressed in matching blond China-doll wigs, sparkling black tops and platform shoes gave the show a slight sci-fi feel, matched by the visuals that flooded a giant screen behind the entertainers.
Wolfe and Laessig had their moment to shine, taking the dual lead on "Great Gig in the Sky," but even their combined effort seemed to be missing the emotional impact of the original Clare Torry recording back in '73.
Not that anyone was complaining: this was Pink Floyd resurrected as closely as it will ever be and the masses were grateful, even if there was an underlying feeling of manipulation to the proceedings.
Still, Waters managed to convey his overall message quite convincingly on this Us + Them tour: through 40 years of prescient progressive rock: walls, both figuratively and literally, are still being built, dividing nations between political and public interest.
Waters' solution? Resist!
Roger Waters offers the hits and his hatred for Donald Trump in concert: review | Toronto Star