A VERSION OF THIS APPEARED IN THE KW RECORD NOVEMBER 23, 1999
By Nick Krewen
Jim Johnston may not be a household name, but he's ready to rumble.
Last week, he bodyslammed Mariah Carey's Rainbow to the mat and placed Foo Fighters' There's Nothing Left To Lose in a Tongan Death Grip. He drop-kicked Counting Crows' This Desert Life out of the ring and bulldogged Choclair's Ice Cold into submission.
As the musical composer behind World Wrestling Federation — The Music Volume 4 — an album of WWF wrestler entrance themes no less — Johnston unloaded a major can of whoop-ass on his competition, outselling some of pop music's most revered names in first week sales.
In Canada, SoundScan reported sales of Johnston's album at 18,000, good enough for a fifth place debut. But Dominique Zgarka, president of KOCH International, Johnston's record label, laid claim to the #2 spot, including an additional 12,000 copies rung up through non-music retailers like Blockbuster and Toys 'R Us.
In the U.S., the picture was much clearer.
Carey and Rage Against The Machine tag-teamed their way to Billboard's #1 and #2 retail chart spots, but Volume 4 placed a figure-four on #4, selling an impressive 215,000 copies and clobbering competitive Santana, Backstreet Boys, Counting Crows and Foo Fighters albums.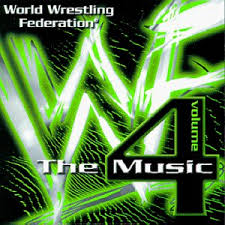 "We were thrilled, but we were very optimistic about this record," says Johnston, the 6'0, 175 lb. St. Louis, Missouri composer who has head-butted the WWF to more than 5 million album sales over a 15-year association..
"After all, Volume III  got to #10. I think between now and Christmas Volume 4 will be an incredibly strong record."
The WWF isn't the only contender for wrestling musical supremacy. Last Tuesday arch rival World Championship Wrestling (WCW) entered the fray with their first collection of entrance-theme music. Mayhem: The Music boasts 26 cuts that pairs contributions from Metallica, Limp Bizkit and Cypress Hill with themes for WCW wrestling staples Goldberg, Diamond Dallas Page and Sting.
Why are entrance themes so popular?
"The music is played during our television shows, so every superstar has their own brand of music," says Carl DeMarco, the 6'3, 280 lb. president of WWF Entertainment Canada Inc.
"As soon as that music plays — before wrestlers even walk out on stage — fans recognize the cue. It's the type of music that motivates them to get out of their seat and get them excited. They're on top of their seats, yelling, screaming, shouting, cheering, just like a rock concert."
"It's just another way to feel connected to the wrestlers," says Al Isaacs, the 6'1, 190 lb. news columnist for the daily wrestling on-line magazine Scoops (www.scoops.com).
"These kids live vicariously through these characters, and look forward to seeing them every Monday night on television."
Monday nights are the key, the action-packed kick start to the weekly combination of soap opera, athleticism and high volume drama that draws an estimated weekly viewing audience of 35 million south of the border and 3 million in Canada. It's WCW's Nitro versus the WWF's Raw Is War , and both are angling for a ratings pinfall.
It's loud, rude and ugly.
Bruce Allen, the boisterous rock manager whose clientele includes Bret "The Hitman" Hart, squaring off tonight for the WCW World Championship at the Air Canada Centre's Mayhem pay-per-view, dubs wrestling the new rock 'n roll.
"If you go to see wrestling shows now, it's all rock music, pyrotechnics, great lights, and in-your-face antics from pro wrestlers," says Allen, who stands 6'0, half-inch and weighs 205 lbs.
"That's what rock 'n roll was like at one time. Rock 'n roll was loud, bombastic and kicked ass. Then of course grunge came in, and that was the end of rock. Now rock is pretty wimpy.
"People who want to punch their fists in the air and chant or yell at rock concerts are now going to wrestling matches, and wrestling has capitalized on it. That's why it's doing so well."
Wrestling and music have long enjoyed a chummy association, dating back to manager Fred Blassie's novelty hit "Pencil Neck Geek" and NRBQ's mid-80s album Lou And The Q with Captain Lou Albano.
But it wasn't until pop star Cyndi Lauper, riding high with "Girls Just Want To Have Fun," legitimized wrestling for a pop music audience with her weekly appearances on WWF programs.
"She brought in a whole generation of MTV fans who suddenly realized, 'Hey, wait a second! This could be cool,'" says Al Isaacs.
"Then in the early '80s, wrestling became almost like Batman in the '60s, when it was cool to be seen doing a cameo on the program. Suddenly a lot of rock stars were willing to pop up in wrestling."
Television ratings skyrocketed as the Cyndi Lauper-Hulk Hogan storyline progressed, and eventually Ozzy Osbourne, Alice Cooper, Aretha Franklin, Ray Charles, and Reba McEntire all flocked to appear on Wrestlemania pay-per-views.
"You had a lot of different rock stars showing up to get the crossover audience," says Isaacs. "It was the same group they were trying to reach with their music, so it was a pretty good fit."
When broadcast magnate Ted Turner entered the fray with WCW's Nitro in 1995, the stakes changed as TV wrestling became more competitive. Musical celebrities became commonplace, with some even written into active storylines. Megadeth, Motley Crue, KISS, country singer Chad Brock, rappers Master P and Insane Clown Posse have all appeared and performed on WCW and WWF stages the past year, helping to introduce new characters, or in the case of ICP, actually duke it out in the ring.
Al Isaacs claims there's also been an increasingly hardcore element to the music due to the introduction of tougher, no-holds-barred matches by the third major organization, Extreme Championship Wrestling (ECW).
"The same time the ECW style affected the WWF, the music affected it as well," he explains. "When you're bringing in the harder edged hardcore matches, the music that matched the cartoon nature of the characters had to change to heavier rock and metal sounds."
Isaacs says rock bands now see TV wrestling as an important musical outlet and promotional opportunity.
"It's alluring to the heavier bands because of its attitude," says Isaacs. "There's that rebel, outlaw attitude of "Stone Cold" Steve Austin and DX;  the same message rock bands are trying to get across, being delivered through wrestling. It's another way to for their brand to be seen by millions."
The lines seem to be blurring even further. When WCW wrestler Vampiro faces Berlyn in a chain match at the ACC tonight in front of 14,000 screaming fans, he'll have the legendary New Jersey punk outfit The Misfits in his corner, clocking in at a combined weight of 775 lbs.
The association is reciprocal. Vampiro has officially joined the band.
"It turned out that (Misfits singer) Jerry Only wanted to be a wrestler more than anything else in the world, and I wanted to be in the Misfits more than anything," says Thunder Bay's Vampiro, 6'3, 240 lbs.
"So I said, 'You should be my partner in wrestling.' He said, 'You should be playing in my band.' That's how it worked out."
Meanwhile, Jerry Only has a more immediate goal: kicking some Berlyn butt.
"Berlyn is in big trouble. That big bodyguard of his, The Wall? He's targeted. They might as well start chiseling a tombstone with his name on it."