Nick Krewen
GRAMMY.com
Nov/Dec 2005
Legacy Recordings' reputation for mining its vaults and producing superb compilations received another boost this past summer with the release of such acclaimed packages as Johnny Cash's 4-CD box set The Legend, Miles Davis' quintuple-disc The Complete Jack Johnson Sessions and Bob Dylan's Martin Scorsese-driven No Direction Home.
One watershed anthology, however, got lost in the shuffle: the best of Shel Silverstein – his words his songs his friends.
Although he was publicly revered as an author of children's books, a poet and Playboy emissary, cartoonist, and columnist, the Chicago-born Silverstein has often been overlooked when it comes to his achievements as a songwriter and talents as a recording artist.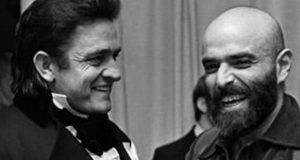 Beginning with 1959's Hairy Jazz on Elektra Records, Silverstein recorded 11 modestly selling albums that spanned the jazz, folk, rock, country and children's genres — including 1984's Grammy-winning Where The Sidewalk Ends as Best Recording For Children — before a heart attack at his Key West home in 1999 filched his life.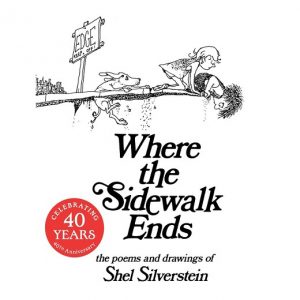 And while no Dylan in terms of social influence and no Cash in terms of stardom, Silverstein could be viewed as a Davis-sort of trailblazer: a songwriter with a unique knack of delivering tunes that often mixed humor, profundity, debauchery and a childish sense of whimsy across a multitude of styles.
But as the best of Shel Silverstein – his words his songs his friends indicates through nine of its 25 selections, the tunesmith often relied on others to be his voice. Among his stellar hits: The Irish Rovers' "The Unicorn," Johnny Cash's "A Boy Named Sue," Bobby Bare's "Marie Leveau" and a pair of Dr. Hook & The Medicine Show classics,  "Sylvia's Mother" and "Cover Of The Rolling Stone."
And that's just scratching the surface of an 800-plus-song catalogue.
"People tend to be really surprised when they hear all of the songs that he wrote," says Laura Grover, Legacy freelance product manager and project director of this recent Silverstein anthology.
"There are some very significant hits there."
More significant, perhaps, was Silverstein's standing among his peers.
"Personally, I think Shel is the greatest lyricist there ever was or is," says country music legend Bobby Bare, who has recorded dozens of Silverstein songs over the past 33 years. "He only had about three or four melodies, but as a lyricist, there's no equal."
Bare, whose new Dualtone album The Moon Was Blue features Silverstein's memorably tragic "The Ballad Of Lucy Jordan," says one of the keys of his close friend's songwriting success was his fearlessness.
"When it came to writing and being creative, he had balls bigger than my head," says Bare. "He was not afraid to go over the top."
It's a quality he finds lacking in today's tunesmiths.
"They don't have his guts," says Bare. "Where everybody else leaves off, that's where Shel began."
Whether penning some of the bawdiest pop songs ("Masochistic Baby," "Stacy Brown Got Two") or the most endearing of children's ditties ("Peanut-Butter Sandwich," "Boa Constrictor"), Silverstein embraced the extremes with enviable mastery.
"He allowed children to reach up and he allowed audiences to reach down a little," notes Dennis Locorriere, who shared the vocal role of Silverstein interpreter with Ray Sawyer in Dr. Hook & The Medicine Show.
"(The 1973 Silverstein solo album) Freakin' At The Freakers Ball was just a bunch of sleaze. You could get offended if you wanted to — and some people did — but I think it was part of the same thing: embracing the adult part of the child and then embracing the childish part of the adult."
Locorriere says Silverstein — who would have turned 75 this year — would cover his hands with scribbled notes if an idea hit him and there was no paper around.
"He was all about the work," says Locorriere.
Silverstein also resisted the spotlight.
"Shel wasn't the kind of guy that wanted to be on stage," says Locorriere, who recently narrated the audio version of Silverstein's posthumous best-selling children's book Runny Babbit: A Billy Sook
"'Hook' got a lot of opportunities because Shel didn't want to be out there. He did it to do it and didn't even want to be famous.
"I always thought that if Shel was more of an attention-seeking performer, there's a whole lot I wouldn't have had to do. "
Although he was aware of Silverstein and "all these killer songs that went from completely ridiculous to unbelievable storytelling" as a teenager, Locorriere didn't become personally acquainted with the songwriter until Dr. Hook auditioned for the obscure 1971 film Who Is Harry Kellerman (And Why Is He Saying These Terrible Things About Me?) starring Dustin Hoffman.
"When the guy brought in a cassette and said, 'Listen to these two songs and learn them' and it was Shel's voice, I just freaked out," Locorriere recalls from his home in Sussex, England.
"I probably would have signed my soul to the Devil at that point just to work with and be around Shel. He liked the way we interpreted stuff and then he wrote most of the stuff on our first two albums."
Locorriere describes Silverstein as a private man and an obsessed perfectionist who did allow some liberties with his art.
"Shel was very fussy and he'd work on stuff forever," he remembers. "One of the reasons my relationship with Shel endured was because I was very flexible to his material.
"He'd write a song that'd just kill me, and say, 'Do me a favor, Den. Sing it for me.' He'd turn his book around and let you bend the melodies because he figured you knew that better than him. But he wouldn't want you to change a single word — he'd kick your ass."
Grammy winner Bobby Bare met Silverstein after he threw a challenge that Nashville songwriters failed to answer.
"Shel came down here at the time I was trying to get all the great songwriters of Nashville to write me a concept album – something with a thread not running through it and not just a bunch of songs," Bare recalls during a break from a rehearsal in Nashville.
"But Shel understood what I was trying to do and he responded. I was with him on a Saturday night in Nashville. He went back to Chicago and he called Monday and said he had me an album. So we got started and it was great."
That 14-song album, Bobby Bare Sings Lullabys, Legends and Lies, provided Bare with "Marie Leveau" — his only No. 1 hit — and "Daddy, What If," his Grammy-nominated duet with five-year-old son Bobby Jr.
It also marked the beginning of a lifelong friendship.
"In 1975 when my daughter Cari died, Shel came up and stayed with us for weeks, " Bare recalls. "He was a real good friend and cared about his friends. My kids are still heartbroken over the death of Shel."
At least the creative partnership ended on a high note with 1998's The Old Dogs, a 20-song effort of Silverstein songs recorded by the legendary collective of Bare, Waylon Jennings, Jerry Reed and Mel Tillis. It was the last album both Silverstein and Jennings work on before their deaths.
"On the Old Dogs thing, we never laughed so hard in our lives," Bare recalls. "We worked on it for over a year and Jerry said it was the most fun he ever had with his clothes on. Shel didn't want it to end.
"We loved each other's company. We always had a lot of laughs. I miss him every day. He was a great man."
Bare says he hears Silverstein's lasting influence in the country music of today.
"Anytime you hear something outrageous, Shel had an influence on it," he says. "He showed them that there were a lot of new places to go with songs.
"For instance, some of those albums I did with Shel – Toby Keith told me they're his favorite albums. Toby would rattle off some of Shel's songs that he said he loved. Every one of Shel's song paints a picture or creates a movie."
Although his music has been silence, there are pending plans to celebrate the songs he left behind.
"I've been talking for a long time with Hal Willner – hopefully we can put together a tribute record to Shel," says Mitch Myers, the songwriter's nephew and family representative in charge of the Shel Silverstein Archives in Chicago.
"We've had a lot of people who have said they'd like to participate and we have our own wish list.  We've talked to a few record labels and there are some possibilities for the coming year."
Myers reveals he'll also edit a collection of Silverstein's Playboy comic travelogues for Simon & Schuster next year.
"Shel was a renaissance man," says Myers. "That's the bottom line."
For Dennis Locorriere, the bottom line was Shel Silverstein's immeasurable impact.
"He's added a big paintbrush of color to my life that I wouldn't want to do without."