Nick Krewen
For The Record
May 19, 1999
TORONTO:
Lorenna McKennitt learned about the importance of water safety the hard way.
McKennitt, the world renown Stratford based singer and songwriter, was mixing her live album last July at Peter Gabriel's Real World Studios in Bath, England when she received word that her fiancé, his brother and a friend were missing after a boating accident in Nottawasaga Bay, near Georgian Bay.
The body of McKennitt's fiancé, Ronald Rees, 28, was recovered within a week. Although he wore a life jacket, he died presumably from either drowning or hypothermia. The bodies of Rick Rees, 26, and Gregory Cook, 17, have never been found.
During the traumatic days that followed the tragedy, McKennitt rushed back to the Bruce Peninsula and kept vigil at the Canadian Coast Guard office.
When the search for the two remaining boaters was called off, she carried it on privately, hiring a U.S. firm that owned state-of-the-art underwater search-and-recovery equipment to continue the quest.
The extra measure proved fruitless, but the ordeal underlined the necessity for better equipment and additional public awareness water safety campaigns.
With those goals in mind, McKennitt and members of the Rees and Cook families established The Cook-Rees Memorial Fund For Water Search & Safety last October as "a meaningful legacy" for the victims, donating a $60,000 Sea Scan sonar system designed to detect objects in deep water to Ontario Provincial Police Underwater Search and Recovery Unit.
Yesterday in Toronto, McKennitt and the Canadian Coast Guard added a $75,000 Shark Marine multipurpose remote operated vehicle (ROV) to the cause.
"With its mechanical arm, the ROV is able to retrieve objects from depths divers cannot safely reach," explained Superintendent Rick Deering of The O.P.P. Emergency Management Bureau in accepting the gift.
"Equipped with a camera, the ROV records every movement it makes allowing those on the surface to see exactly where it has been."
McKennitt also announced that net proceeds from her new double live album Live In Paris and Toronto would be donated to The Cook-Rees Memorial Fund.
"Out of my love and respect for Ron, Rick and Greg, I feel a responsibility to do anything I can to prevent such an accident from happening again," McKennitt said during a morning press conference at a downtown Toronto hotel.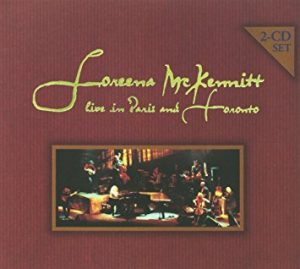 The $30, 17-song double CD of McKennitt's Celtic madrigal pop is now available exclusively through her own Quinlan Road label by calling 1-800-361-7959 or by visiting the www.quinlanroad.com/orders.html website. An initial pressing of 30,000 copies could raise as much as $300,000 for the fund, and McKennitt, who has sold over 8 million albums worldwide, plans to offer it directly to her own mailing list of 100,000 over the next two weeks.
"It seems to me that there is a tremendous need for heightened awareness of water safety issues," said McKennitt, "For many, water safety is not a very sexy subject. The lack of awareness can lead to a false sense of security and complacency, which can quickly turn fun activities into a living nightmare."
The O.P.P. reports that in the past five years, 30,000 Canadian boating accidents have claimed nearly 1000 lives. The O.P.P.'s Superintendent Deering said dive teams have already responded to more than 30 calls in 1999.
"This donated ROV will make a difference," he said.
However, Deering admits they could use more help.
"This equipment is scarce," said Deering. "With the donation of this ROV, the O.P.P. are the first police agency in Canada to have this equipment. How many do we need? I guess the more we have, the easier it gets to do the job."
McKennitt is doing her part. She says the formation of the Cook-Rees Memorial Fund also provides a little comfort to a senseless tragedy.
"What the families and myself felt is what you are left with is an opportunity to make a difference. That's what we've set out to do."
If you wish to make a further donation, make cheques payable to The Cook-Rees Memorial Fund, P.O. Box 21030, Stratford, N5A 7V4 or call 273-5522.