PUBLISHED IN THE KITCHENER WATERLOO RECORD Wednesday, March 26, 1997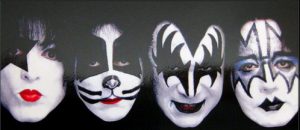 NICK KREWEN
The Kitchener-Waterloo Record
March 26, 1997
Not only are Paul Stanley, Gene Simmons, Ace Frehley and Peter Criss, KISS in make-up, but they've kissed and made up.
A reunion during a taping of MTV Unplugged in August 1995 following the band's groundbreaking convention swing sparked forgiveness between the seminal New York glam rock band's founders — Stanley and Simmons — and Criss and Frehley, whom both been summarily dismissed in 1981 and 1982 respectively from the band's ranks for substance abuse problems.
"To be honest, we weren't expecting much," said the serpent-tongued, bass playing Simmons last week from a New York hotel.
"But they were free and clean. There was no sign of substance abuse, or self-delusion. We were shocked, and delighted."
Plans were drawn up for a reunion tour in full flame-throwing, blood-spitting, armor-plated KISS regalia — explosions, explosions and even more explosions — and a nostalgia-hungry crowd transformed the shows into the Hot Concert Ticket of 1996, grossing over $43.7 million.
As far as Simmons is concerned, KISS is picking up in 1997 where it left off last year.
"This tour is the #1 ticket seller in the world," he claims, and knowing this is no idle boast, smugly adds: "Hey, I'm cocky."
However, if anyone has earned the right to be confident over the years, it's been KISS. Since their formation in 1973, the band has released over 30 albums and sold more than 70 million records, dumbfounding critics and outlasting fickle pop music trends. The KISS Army has soldiered on to become one of the most dominant , defiant and mystical cross-demographic configurations in pop history, enlisting the young and the old in common appreciation for four wildly costumed musicians whose most profound declaration is "I wanna rock and roll all nite, and party every day."
This irony is not lost on Gene Simmons.
"What we do is not essential," he states. "Farmers, teachers, garbage collectors: they're important. I'm serious. Try to see how society functions for a few days without garbage collection. Try eating without the farmer providing your food.
"We are very, very lucky guys. What we do is not a practical job."
However, Simmons also recognizes that KISS is adored, and says the least the band can do is offer the sonic and visual equivalent of a thrilling rollercoaster ride for over two hours.
"There's a lot of self-delusion from rock stars, where so many bands feel as though they're doing you a favor by being up on stage," he says.
"You bought the ticket! You're the boss! We work for you!"
Simmons goes as far as to suggest KISS owes it to their audience to deliver the best dollar-for-dollar spectacle on the planet, and will settle for nothing less.
"People are willing to pay us enormous amounts of money to play, and women want to have our babies," states Simmons. "The least we can do is live up to that loyalty and love."