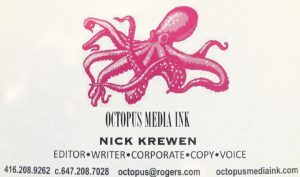 If you love music and are hungry for content of substance, then you've come to the right place.
Hi. My name is Nick. Allow me to bid you a warm welcome to my site.
As a Toronto-based wordsmith who has spent the better part of his life writing for major newspapers and music magazines, I've posted at least 500 stories here – the majority of them music-driven – that are both historic snapshots of times gone by and very recent.
And that number will grow.
Most of the artists that I've interviewed either by phone or in person are included within these virtual walls: Bob Dylan, Prince, Gord Downie and the Tragically Hip, Kate Bush, B.B. King, Bebe Rexha and Lukas Graham to name a very few.
Also covered are a majority of genres: Pop, rock, blues, hip-hop, grime, country, jazz, R&B, Americana… because I love all kinds of music.
You'll also find a number of stories about the music industry – some of the less-covered aspects of the trade, because that is the other type of writing I'm very passionate about: marketing.
What's different about me as a music writer is that – unless it's a review that specifically asks me to be – I'm not opinionated. The articles I write are not about me – they're about the artist and their creative process. People are not tuning into these articles to learn about me; they want to read about the artist. So I hope, in most cases, I've lifted the veil and given some insight as to how some of your favourites have answered their calls of inspiration.
In terms of navigating this site, it's probably best that you enter your desired artist's name, topic or genre in the search engine, which should transport you to any related article. You may also wish to check out the "Categories" and "Archives" sections.
This site is a continuous work in progress, so please check back often and if you have any comments or criticism, please e-mail me at the address listed on my business card above.
Oh yes, the business card…my ulterior motive, mwaa ha ha ha! (I wish you could see me twirling my imaginary moustache.)
My point is: I like writing.
I like writing well.
I like writing on all sorts of topics and making my clients happy.
Although I'm based in Toronto, I can telecommute anywhere.
So here is my shameless self-promotion plug: I'm hoping that you'll find my samples of writing and my voiceover reel attractive enough to hire me for your content and voice needs.
Oh yeah – here's my voiceover reel. I'm represented by KB Artists:
So please enjoy these various snapshots of music and history and time, and celebrate the power of the written word as much as I enjoy creating them.
And let's start a conversation to see how I can fulfill your professional needs.
Thanks for taking the time to read this – and here's hoping you enjoy my site.
Nick
P.S. Two more items:
1) I've tried, wherever possible, to use either promotional photos or Creative Commons-approved art for my features, with direct links back to the original sources of where they were first published. If you're a photographer and you see some of your uncredited work here, please reach out to me at the e-mail listed on my business card and let me know.
2) All work, with few exceptions, is © Nick Krewen during the year it was first published, as well as 2018 for the overall site. Again, reach out to me via my e-mail above if you wish to reproduce this work in any way, shape or form so we can make an arrangement and I can grant permission.
P.P.S. I make great impressions. Just make sure the object you're flinging me into is either high enough, or far enough, away…