Paul White recalls that "Love Me Do" was a "love me not" when he released it on Feb. 18, 1963
By: Nick Krewen Special to the Star, Published on Mon Feb 18 2013
Fifty years ago Monday, the song that launched The Beatles was released in Canada.
Feb. 18, 1963, may have been the date that "Love Me Do," the debut single from the most influential pop group on the planet, was first introduced to Canadians, but the earliest response to the song was "love me not," according to the man responsible for releasing it.
"For my efforts, it sold 170 copies," recalls a chuckling Paul White, the Capitol Records Canada executive who was in charge of the company's artist-and-repertoire division at the time.
White selected which new records the company would release in the territory and he admits that not only did the first effort from the four lads from Liverpool — John Lennon, Paul McCartney, George Harrison and Ringo Starr — land with a thud, so did the two singles that followed.
"I tried for another record, 'Please Please Me,' and that sold about 280," remembers White, 79, from his Danforth-area home.
"The third record, 'From Me to You,' sold 300, and then 'She Loves You' was released and went berserk."
Released in September 1963, "She Loves You" became such an explosive hit that White was forced to reissue the earlier songs to keep up with public demand.
"'Love Me Do' ended up selling close to 100,000 copies," says White. "So it all turned out OK in the end."
Even more significantly, thanks to White's efforts, Canada was the first country across the Atlantic to embrace The Beatles and the impending British Invasion that revolutionized pop music.
"It's a great source of pride when dealing with Americans over the years that The Beatles broke in Canada almost a full year before they broke in the States," says veteran music industry trade journalist Larry LeBlanc, senior writer with L.A.-based CelebrityAccess.
And it was all due to White, a mild-mannered former news reporter who emigrated from England in 1957, started at the Capitol Records warehouse three weeks after he landed, and worked his way up to A&R and radio promotion.
Not bad for a guy who almost got fired before he began.
"I saw a job for a shipper at Capitol Records and, quite frankly, I didn't know what a shipper was because they were called warehouse men in England," recalls White.
"But I went for it anyway and there were 50 guys for two jobs. I only got the job because the guy who hired me thought it was a joke that someone applying to be a shipper brought references.
"He gave me the job for $40 a week. The next day I forgot where the building was and I almost got fired for showing up late."
Eventually White found himself in the promotions department of the label and inherited the A&R position when the president of the company asked him to compile an album of music by late English saxophonist Freddy Gardner in 1960.
In an era where White says that "grown-ups bought albums and teenagers bought 45s," he spearheaded the early successes of Cliff Richard, The Shadows and many other British pop stars, and was given carte blanche to decide what material Capitol Records would issue domestically.
"They were good days in the record business then because people like myself could take a chance on things," he notes. "Now it's so corporate that you're having a meeting every half-hour."
White said he'd receive 50 samples weekly from Capitol's parent company in the U.K. The batch containing "Love Me Do" arrived around Christmas 1962.
"When everybody went home from work, I used to sit in the office and listen to the samples I had, and 'Love Me Do' was among them. I decided to give The Beatles a try because I liked the simplicity of the record. It was quite different than anything coming out at the time."
Once "She Loves You" broke in Canada, White began releasing a cavalcade of singles to meet the band's skyrocketing popularity: "Roll Over Beethoven," "All My Loving" and "Twist And Shout" flew off the racks as teens gobbled up everything Beatle.
White's influence also spilled south of the border.
"I was releasing singles like crazy and a couple of them weren't available in the States," he recalls, citing "All My Loving," "Roll Over Beethoven" and "Twist and Shout" as titles that Capitol Canada manufactured and sent over to the States.
"We probably exported over 100,000 copies of each. They went up quite high on the charts in Billboard and that's when I got told to cool it," he laughs.
According to Beatles expert Piers Hemmingsen, author of the upcoming The Beatles in Canada: The Origins of Beatlemania, the export totals were closer to 350,000 copies each.
Throw in White's trio of Canada-exclusive compilation albums — Beatlemania! With The Beatles, Twist And Shout and Long Tall Sally — and he sold almost three million singles and albums before the U.S. label caught on.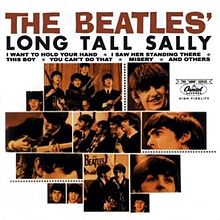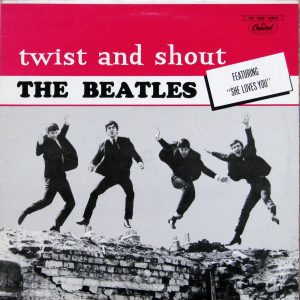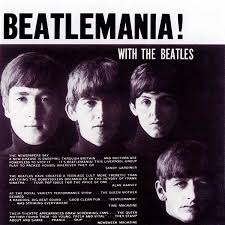 Two of the White compilations — 1963's Beatlemania! at 192,000 copies, and 1964's Twist And Shout at 250,000 copies — outsold the initial Canadian runs of the Fab Four's original studio albums through 1967's landmark Sgt. Pepper's Lonely Hearts Club Band.
"I was the law," remembers White, who designed and compiled the albums.
"Nobody ever said to me, 'What are you doing with these guys?' because management at the time couldn't care less. That's why I pretty well had a free hand."
White eventually lost his Beatles autonomy in January 1964 when Capitol U.S. took "I Want To Hold Your Hand" to No. 1.
"After that happened, Capitol in the States decided that everything in North America had to go through them," White explains. "That was the first time I was told: no more 45s, no more different LPs."
However, White's success with The Beatles enabled him to take the lead in other areas. He jumped on the British Invasion bandwagon, securing Canadian releases for The Dave Clark Five, Gerry & The Pacemakers, The Hollies, The Animals, The Yardbirds and others.
He was also given free reign to develop homegrown talent.
"It allowed me more money to sign Canadian acts, because Capitol Canada was suddenly in the money," says White, rhyming off an impressive roster of signings that included a pre-Steppenwolf Jack London and the Sparrows; The Staccatos (which eventually became Five Man Electrical Band); Edward Bear ("'Last Song' was a huge hit," he recalls) and a young singer from Springhill, N.S., whom he inked when he promised her an $18,000 budget for her 1969 album This Way Is My Way.
"I saw Anne Murray on the Singalong Jubilee TV show and I was so thrilled to hear her voice because I just thought, 'Oh my God, I've never heard anything quite like this,'" White recalls.
Although the album contained the international million-selling hit "Snowbird," White admits it wasn't their first choice for a single. Nor was it their second, third or fourth preference.
"We had four hopefuls and I was in love with folk music at the time, so I decided to release a song called 'Thirsty Boots' and it didn't do anything," White admits.
"We all ignored 'Snowbird' and put it as a B-side on the second single. It was a promotion guy from the publishing company in the States who got it going."
But it was the groundbreaking Beatles that financed these future successes and White treasures his role in helping make it happen.
"I feel elated," says White, who stayed with Capitol for 21 years until he jumped to Murray's Balmur Entertainment in 1978.
"It established Capitol Records in Canada as the dominant force and it certainly didn't do anything bad for my ego," he laughs.
LeBlanc says White's pioneering role in the industry should be celebrated.
"If there was a Mount Rushmore of the Canadian music industry, Paul White would be part of it," says LeBlanc.
"His influence on the Canadian music industry, on the placing of it on the international stage, is incalculable."
http://www.thestar.com/entertainment/music/2013/02/18/how_the_beatles_got_their_start_in_canada.html